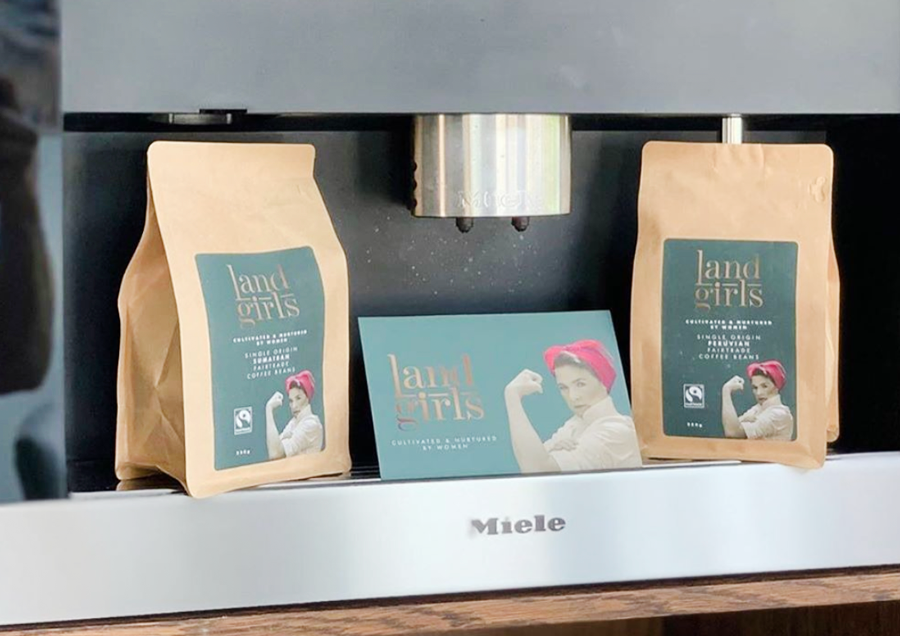 Coffee fans can now buy beans and grounds with a conscience, from a brand created by a woman passionate about supporting female growers who are striving to survive in a male-dominated industry.
Land Girls celebrates inspirational women in farming who determinedly go against the grain by supporting themselves and their communities. The launch of its first two products ­– Fairtrade coffee beans ­– is part of founder, Emma Brown's mission to assist the women farmers who grow the beans to continue to support their families.
Emma, who runs a smallholding in Rutland, explains: "We source the best Fairtrade coffee beans from carefully-selected small farms across the globe; fair not only in price but fair for the women growers whose hard work shines through in their outstanding produce."
Land Girls' roasts, Sumatra and Peru perfectly complement one another. Sumatra is an earthy, dark and spicy coffee, with hints of citrus and apricot, making it full of flavour and the ideal choice to start the day. Peru has a smooth, well-rounded taste with a balanced berry sweetness and a hint of cocoa, making it a coffee that's easy to drink at any time.
For Emma, finding the right farmers to work with was just as important as sourcing a delicious coffee. She was inspired by the small, close-knit community of farmers in northern Peru who work together to produce better coffee and fairer opportunities for their members. While the beans for Sumatra are grown by the women of Koperasi Ketiara, a cooperative of Indonesian farmers founded to help them feed their families.
Emma comes from a long line of fiercely independent women farmers. As a child, her grandmother – who farmed single-handedly – taught her how to sow seeds and tend the plants as they grew. Though destined to follow in her grandmother's steps, she has had to fight to be respected and remain resilient in a male-orientated industry. When her application for a farm tenancy was turned down, Emma was determined not to be beaten and decided instead to focus her attention on supporting other women in farming who 'go against the grain' every day.
"From a handful of coffee beans, Land Girls will continue to grow as a brand and as a voice for female farmers across the world," says Emma. "We plan to work with farmers both at home and abroad to introduce new products and with consumers' support, we could change the future for generations of female farmers to come."
Emma lives in Rutland with her husband Matt and two daughters, she raises pigs and a small flock of Hebridean sheep on her smallholding. She hopes her own journey, and those of the female farmers she supports, will inspire other generations to follow in her entrepreneurial footsteps.