"A vision for the future, strong roots in the past"
Thurlow Nunn Standen spoke to Farmers Guide to share the story of its long history, dating back more than 140 years…

Agricultural machinery dealer Thurlow Nunn Standen describes itself as a company "with a vision for the future and strong roots in the past". Its deep history goes right back to 1875 when George Thurlow set up in business as an oil merchant and engineer in Stowmarket. The company moved into the supply of steam engines and threshing tackle, becoming one of the country's leading distributors.
George Thurlow & Sons Ltd acquired the Massey-Harris franchise in 1911 following the purchase of Woods & Co in Stowmarket, and today it is recognised as the longest operating distributor of this brand (now Massey-Ferguson) in the world.
In 1968, George's great-grandson John Thurlow took over the running of the business when his father died, shortly followed in 1970 by the merger between George Thurlow & Sons Ltd and their neighbouring Massey-Ferguson dealer, Frank J Nunn & Sons, to become Thurlow Nunn & Sons Ltd. This merger allowed for expansion west and into Norfolk.
The expansion continued in 1985 when Thurlow Nunn & Sons Ltd purchased F A Standen & Sons Ltd and formed Thurlow Nunn Standen Ltd – this doubled the size of the Massey-Ferguson trading area and allowed for expansion into Cambridgeshire. Soon after this, the company's head office relocated from Elmswell in Suffolk to Ely in Cambridgeshire.
In 1994 TNS expanded into East Suffolk, purchasing two sites from Cowies Eastern Tractors at Melton and Wrentham.
Heading into the Millennium, the TNS St Ives branch closed and merged with TNS Ely (TNS head office at the time), until 2008 when the TNS Ely branch was closed and the site was sold. The branch operation was merged with TNS Downham Market and relocated to a new purpose-built branch at Littleport, just outside Ely, where it remains as the company's head office today.
Into the last 10 years, TNS further expanded in Norfolk when the company acquired Randell Norfolk Farm Machinery, with branches at Attleborough and Sculthorpe.
In 2020, John Thurlow retired after 65 years' service but retains an active interest in the business. His son, James Thurlow took over as chairman of Thurlow Nunn (Holdings) Ltd and Balsham (Buildings) Ltd. He remained managing director of Thurlow Nunn Standen Ltd.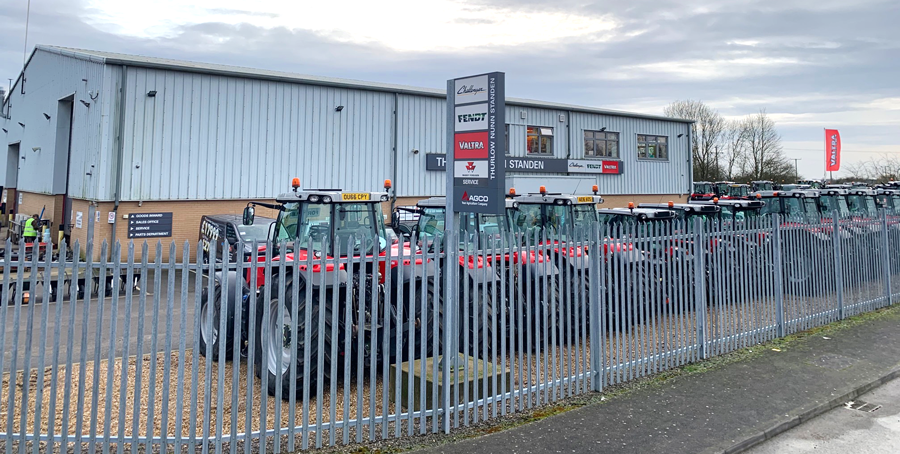 James and his sister, Sally Tew (HR Director), represent the fifth generation of the Thurlow family to be involved in the business and Will Tew (Sally's son) represents the sixth. Will was appointed managing director of Thurlow Nunn on 1st March 2021.
As a mainline AGCO dealership, TNS holds the franchises for Fendt, Massey Ferguson and Valtra, and to complement the AGCO brands it also holds franchises for brands such as SUMO, HE-VA, Opico, Claydon, Kverneland, Manitou and more.
Its groundcare business continues to grow, and it now holds franchises at its branches for respected brands such as Kubota, Major, Stiga, Stihl, Allett and, most recently, the Honda ATV range.
Thurlow Nunn believes that its continued investment demonstrates its commitment to the future of agriculture.
It remains a family owned and managed business, operating from 19 locations across Suffolk, Norfolk, Cambridgeshire, Bedfordshire and Buckinghamshire.
Visit the TNS website HERE.