All the best features in one
Fendt has added the Cargo T955 telehandler to its expanding full-line product range.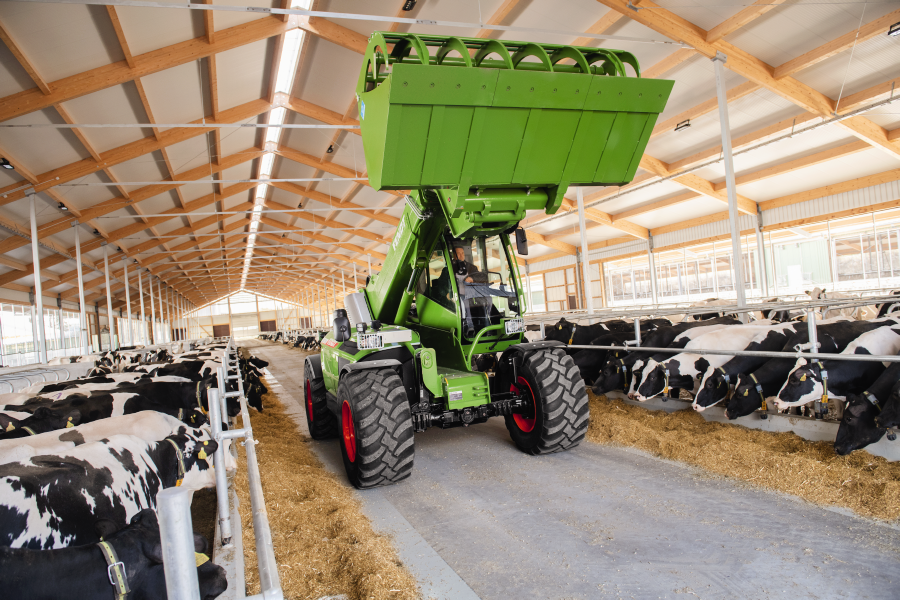 Fendt has added the Cargo T955 telehandler to its expanding full-line product range. The telehandler is marked by its unique lifting cab with vibration damping and its tough, durable build. It may seem all-new, but look closer and you'll see its quintessential Fendt. With its unique technology, the Cargo T offers more comfort and performance than any other telehandler.
The Fendt Cargo T combines the best of both worlds: the lifting height, reach and stability of a telescopic loader, with a solid construction and enormous breakaway forces otherwise only associated with wheel loaders.
With a load of 5.5t and a lifting height of 8.5m, the Fendt Cargo T can meet the highest demands in loading work. When it comes moving loads up and down, Fendt's home-grown Fendt Cargo front loader has been a best seller for many years. The new telehandler is also marked for its excellence in advanced charging solutions. Hence the name: Cargo, plus the T for telehandler.
The Cargo T reaches new heights with its unique lifting cab that can be raised to a viewing height of 4.25m. Just lifting the cab by a mere 20-30cm gives you the best 360° all-round view – the likes of which have only been seen on wheel loaders and telescopic wheel loaders. There is independent control of the cab, so the height can be set to suit which could be ideal if loading lorries or stacking, as the operator's eye level is able to be at loading height.


With no dashboard to obstruct the lower part of the continuous windscreen, this gives the operator unrestricted views of the surroundings. Together with the lifting cab, this gives the driver the perfect view of the attachment tool in almost every working position. Loading is even more precise and the driver stays comfortable on long working days. The cab is vibration dampened, so the driver can enjoy the levels of driving comfort we have come to expect from Fendt. The drive intelligently regulates the power distribution offering variable driving speeds of up to 40km/h.
Whatever the job, the Cargo T is at home on the farm, in the fields and doing transport work.
See for yourself, and register your interest in the Cargo T HERE.