Born to Farm event brings new products and features
Massey Ferguson has announced new 6S and 7S tractors, additional 8S models, and upgraded hay and forage machinery. David Williams reports.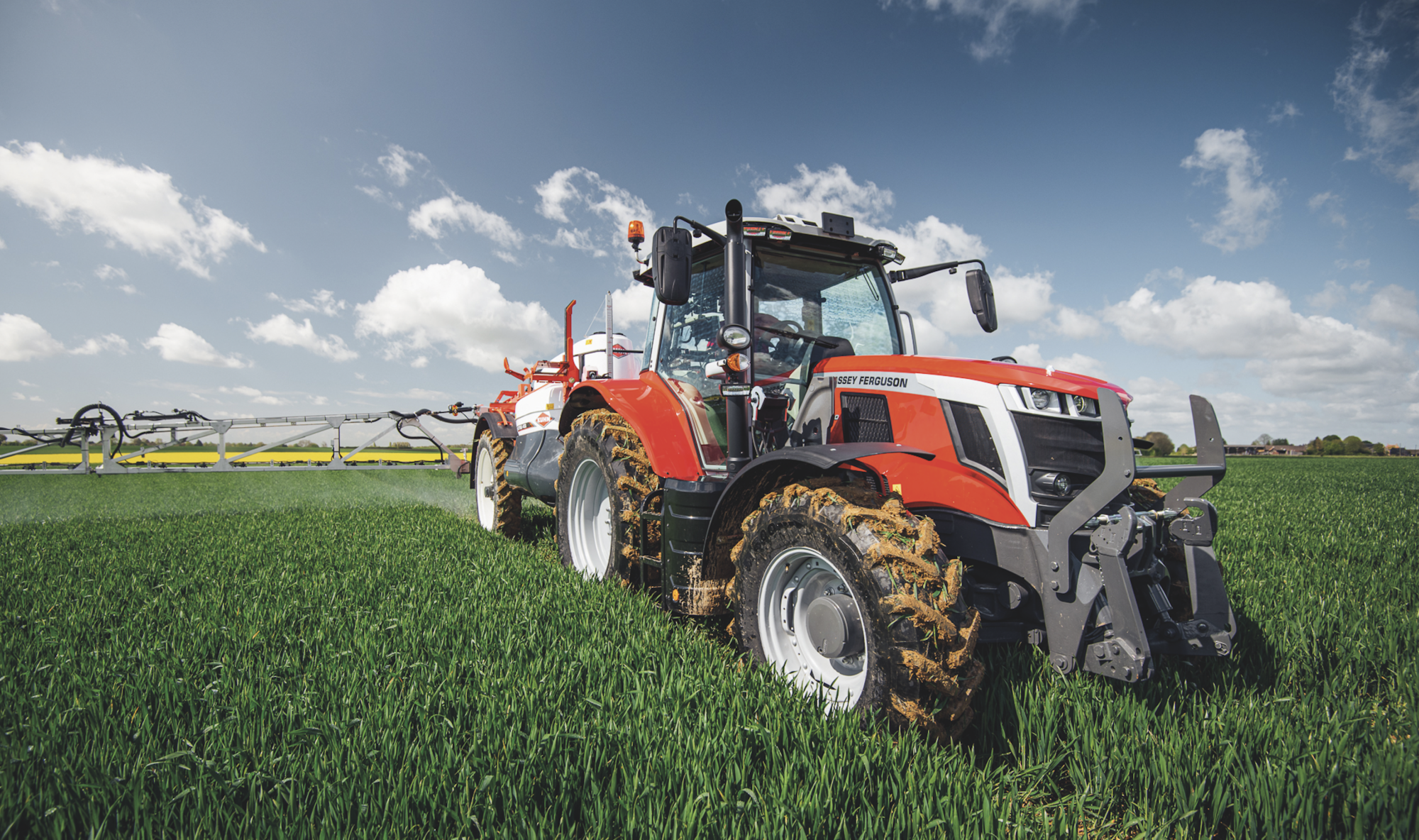 6700 S replacements
The new 6S series brings an improved user experience, connectivity and smart farming technology to the 135– 180hp sector. The five new models have 4-cyl engines and replace current 6700 S tractors and boast an exceptional power-to-weight ratio.
Engine Power Management (EPM) provides 15 or 20 extra horsepower depending on the model, and gives the 6S.180 series flagship up to 200hp.
Essential, Panoramic, Efficient or Exclusive specification variants are available.
The new 6S-series cab includes features from the larger award- winning 8S-series of which deliveries to farms started earlier this year. The cab gains improved climate control and noise levels are reduced to only 70dBA.
Exclusive and Efficient versions gain a new armrest – linked to the seat and housing controls for the engine, transmission, hydraulics, linkage and PTO, plus the radio and phone.
Mechanical or active mechanical cab suspension is available. A suspended front axle is also an option.
Cabs with a Visio roof can be specified, offering great vision for loader work.
Multi-function single lever control
A new Multipad, Isobus-compatible joystick includes a linkage control rocker switch, cruise settings, driving mode pre-sets and MF Guide activation. It also comes with a micro joystick for convenient control of two electric spool valves.
An additional joystick is available to operate a front loader or front linkage, and can also be used for tractor direction and speed control.
The new, brighter 9in Datatronic 5 terminal increases functionality and is easier to use with short-cut keys providing quick menu access. It manages the main tractor functions and MF Technologies including MF Guide and comes with a quick set-up Go Mode. MF Section, MF Rate Control and MF Task Doc data are all available through the display.
A new Fieldstar 5 terminal option enables smart operations to be run on a separate screen.
Smart loading
Loading accuracy is improved through Massey Ferguson's new E-Loader. Individual fork or bucket loads of materials can be weighed, and the total recorded. Maximum operating heights can be set and stored for safe operation in low buildings.
Transmissions to suit
Transmission options include Dyna-VT Super-Eco infinitely-variable CVT, or Dyna-6 Super-Eco semi-powershift with AutoDrive. Both come with the  MF Power Control lever on the left of the steering column for clutch-less shifting with an adjustable response.
Dyna-VT comes with a new Automatic Mode. Activated by an armrest-mounted switch, this allows forward speed adjustment using the Multipad lever or the foot throttle while the engine speed is adjusted to suit the working load and travel speed. Minimum engine speeds can be set on the hand throttle.
Super-Eco Dyna-VT can achieve 40kph at only 1,450rpm to reduce fuel consumption.
Dyna-6 Super-Eco 24×24 semi- powershift allows 40kph travel speed at 1,500rpm. AutoDrive is standard on all models, and automatically shifts the gear ratio relative to the work load and speed.
A Super Creeper option provides precise control with speeds down to 70m/hour at 1,400rpm.
Brake-to-neutral is standard on all models.
MF 6S models have a 2.67m wheelbase and are highly manoeuvrable, with a 4.75m turning radius which the manufacturer claims is the tightest of any 200hp tractor.
The new tractors weigh 400kg less than their new 7S-series counterparts which have 6-cyl engines. Gross vehicle weights up to 12,500kg, and a Gross Combination Weight (GCW) of 44.5t means they can safely and legally haul heavy trailers.
Rear lift capacity is 9,600kg and 110 litres/min closed-centre, load-sensing hydraulics are standard. A 150 litres/ min hydraulic flow option is available for Dyna-6 models while Dyna-VT versions can have 190 litres/min.
Many 6S tractors will be bought for loader work, and a factory-fitted integrated loader sub-frame is available.
7S models
The new 7S series brings in similar upgrades to the new 6S models, but has a longer wheelbase and is powered by 6-cyl, 6.6-litre engines with 155–190hp (rated), and up to 30hp extra available through EPM, giving the flagship MF 7S.190 up to 220hp.
Transmission choices
New Dyna-VT Super-Eco is available for all four models, and Dyna-6 Super- Eco with Automatic Mode is an option for models up to 180hp.
Capable but compact
The 7S series comes with a long 2.88m wheelbase for optimum stability and traction, but still manages to achieve a tight 4.93m turning radius.
Gross vehicle weight up to 14t and GCW up to 44.5t make the tractors ideal for handling and towing heavy loads.
Maximum linkage capacity is 9,600kg at the rear, and 4,000kg at the front.
Superb cab
The 7S cab shares the design with the 6S-series tractors. A new air-suspended seat is standard, and there is also a high-specification version available with heating, ventilation and dynamic damping that responds automatically to uneven surfaces.
LED light options include up to 16 work lights.
Connectivity
The Datatronic 5 display manages tractor functions as well as Isobus- equipped implements and GPS guidance through the MF Technologies Precision Farming Suite. MF Guide, MF Section Control and MF Rate Control are all available.
Data recorded by TaskDoc is transferred using a USB memory card, and Task Doc Pro allows application maps to be created and synchronised wirelessly with farm management software. MF Connect telemetry is standard on all 7S models.
Additional models
The 8S series tractors have proved extremely popular with users since they were announced last year, but many customers have been waiting for Dyna-VT transmission. The option has now been added for the full 8S-series, which also includes two additional models at the top of the line-up with 285hp and 305hp, extending the choice to six models from 205–305hp, with EPM boost up to 20hp depending on model. The new flagship 8S.305 is available only with Dyna-VT transmission and has 305hp for all applications, which is achieved at only 1,850rpm. An extremely flat torque curve provides 1,280Nm of torque between 1,000–1,500rpm, making the new 8S.305 ideal for heavy draft work. The flagship comes only in Exclusive specification, which includes Datatronic 5 and MF vDisplay terminals, active cab suspension, automatic air-suspended seat with dynamic damping, a multi-function armrest, Multipad controls, four electric spools and 16 LED work lights. Other 8S models can have Exclusive or Efficient.
Like the models launched previously, the new 8S.285 and 8S.305 both have the Massey Ferguson Protect-U design – a 24cm gap between the front of the cab and the engine and bonnet which insulates the cab from noise, heat and vibration. Noise levels down to just 68dB make it one of the quietest tractors in its class.
Like the 6S and 7S series, the new Dyna-VT transmission for the 8S has Automatic mode allowing the Multipad lever or foot pedal to adjust the forward speed while the engine revs are optimised to suit the speed and load.
The Super Eco version of Dyna-VT allows a top 40kph travel speed to be achieved at only 1,450rpm.
The new MF 8S.285 has up to 285hp, plus a 20hp boost from EPM for a 305hp maximum for transport, PTO and demanding hydraulic applications. Exclusive or Efficient equipment packages can be specified. Transmission options include Dyna-VT Super Eco; Dyna E-Power dual-clutch with 28 forward and reverse speeds plus seamless shifting through an efficient mechanical drive, or Dyna-7 semi-powershift transmissions are all available.
Complete connectivity
The latest Datatronic 5, 9in terminal controls the tractor's systems and manages MF Technologies including MF Guide, MF Section and Rate Control and MF Task Doc data capture and transfer through a single screen.
An option allows the display to also control the radio and mobile phone with inputs through Bluetooth, USB or a lead.
The Fieldstar 5 terminal option can be added for separate control of GPS functions.
Rear disc mowers
New hay and forage machinery announced includes MF DM TL rear disc mowers with 8.6 or 9.6m working widths. The MF DM 8612 TL model has an 8.6m width and six discs with two blades each side, and the MF DM 9614 TL version has a 9.6m working width and seven discs with two blades each side.
They come with improved mounting, TurboLift suspension, and a new compact mounting and anti- collision system.
Working width adjustment allows the operator to set the rear mower to match the front mower and maintain a uniform cut even when cutting around corners.
A new, lower mounting system ensures a folded height under 4m for transport, and allows safe vertical storage without extra stands.
TurboLift provides a lateral swing angle up to 19 degrees downhill and 30 degrees uphill for close contour following to protect the sward, reduce contamination and improve forage quality. The ground pressure can be set to suit the conditions.
Both mowers come with a new generation cutterbar.
Front mowers
Available as a mower or a mower- conditioner with roller or tine conditioning – the 3.1m MF DM 316 FP front-mounted mowers come with new mounts for closer coupling and have greater linkage oscillation for improved ground following. Spring suspension is an option for all models and hydro-pneumatic suspension is an option for mower-conditioners.
A pendulum pivot allows contours of up to +/- 7.5 degrees to be accurately followed.
Upgraded rakes
A new hydraulic lifting front axle enables Massey Ferguson's new generation 10.6–12.5m four rotor rakes to fold to under 4m for transport.
Easily operated from the cab, there is protection to ensure the rotors only lift or lower when the axle is in the correct position.
Upgrades for the larger MF 1404 TRC-Pro include an 11.5–14.0m working width, along with steering tandem axles as a factory-fitted option, as well as new sensors, improved front rotor suspension and modified cam tracks.
Additional options for all four-rotor rakes include air braking, 550/45-22.5 tyres, a swath former and a retro-fit Isobus control kit.
Round balers and baler-wrappers
RB round balers and MF Protec baler/ wrappers are upgraded for 2022.
Film tying is new for the MF RB F Protec baler-wrapper combination as well as a new bale tipper and options including a hand-wash tank, LED lighting and a hydraulic jack.
Film tying can be installed with net tying allowing operators to choose the most suitable material for the crop. Switching takes less than two minutes using the Rapid Reload System. This holds up to three rolls of net, film or a combination of both types. Replacement rolls are loaded easily from the ground using Comfort Load.
New Silage and Comfort option packages are available for MF RB F & V series Xtra (fixed and variable chamber balers) as well as the MF RB F & V Protec (baler/wrapper) range. An uprated 1,000rpm gearbox option is available for the MF RB F Xtra and MF RB F Protec machines. Capable of transmitting 20% more power, it improves cutting capacity in heavy crops and reduces fuel consumption.