Current potato dessication trials allay fear of diquat loss
Potato growers are very concerned about effective potato desiccation after the announcement banning the use of the broad-spectrum herbicide diquat. However FMC agronomy manager Jeff Fieldsend, says adopting a flail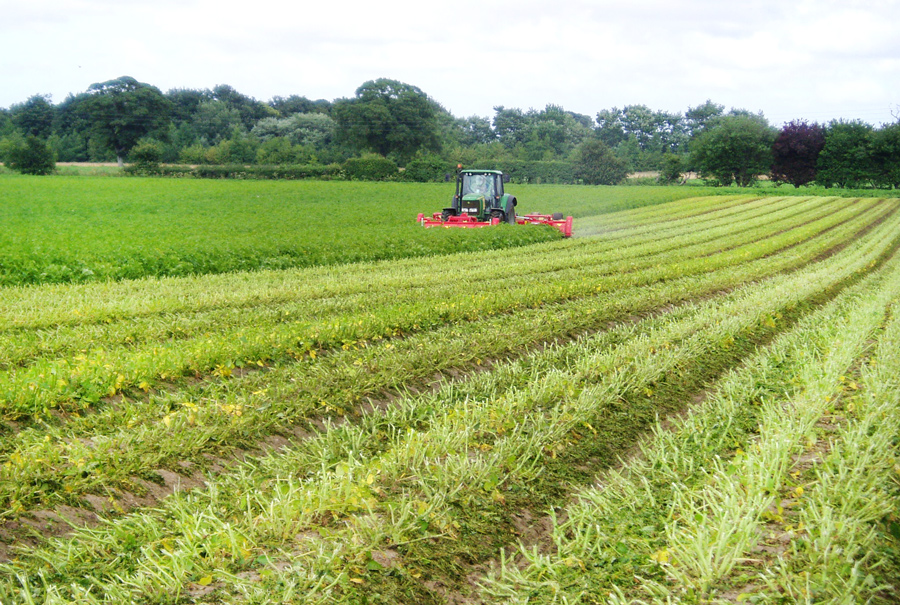 Potato growers are very concerned about effective potato desiccation after the announcement banning the use of the broad-spectrum herbicide diquat. However FMC agronomy manager Jeff Fieldsend, says adopting a flail and spray approach using Spotlight Plus (carfentrazone-ethyl), can produce very similar results compared to foliar based treatments when using diquat alone.
Following flailing, he says stems should be allowed to wilt and dry for 24 hours prior to application of Spotlight Plus at a rate of 1.0 l/ha in a minimum of 300 l/ha water from mid-morning to mid-afternoon. A follow up treatment might be required at a rate of 0.6 l/ha, 5-7 days later.
FMC's demonstration plots at Potatoes in Practice this year showed the contact potato desiccant Spotlight Plus when applied twice, performed well when included as part of programme particularly in a flail and spray situation. However when the product was applied as part of a foliar only application programme at seven day intervals, there was a clear difference in the performance on the plots in terms of overall desiccation when comparing 300 litre to 450 litre of water with the later rate noticeably more effective.
The best performing plot on FMC's site was the mix of Spotlight Plus with Gozai (pyraflufen-ethyl) and Ranman (cyazofamid) applied twice using the maximum total dose of each product applied seven days apart.
"The performance of this sequence was comparable to two applications of diquat," says Mr Fieldsend. "The result was very encouraging and applications were made onto a plot of Maris Piper which was flowering at the time of application, so you could say this was stiff test."
As yet however this mix is not supported by either manufacturer as further work needs to be carried out to ensure there are no issues concerning tuber quality such as skin set, vascular browning or in fact yield.
In the future however, Mr Fieldsend says mechanical flailing followed by chemical application will not be the right approach for every situation particularly after heavy rain, significant eroded ridges or on organic soils. In these situations a chemical foliar approach based on Spotlight Plus is likely to be the preferred option.