Driverless tractor concept progresses to next stage
Two Germany-based machinery manufacturers have joined forces to develop a fully autonomous full-sized traction unit capable of making 'decisions' regarding work strategies and implement settings to optimise performance. David Williams had an early invitation to see it at work.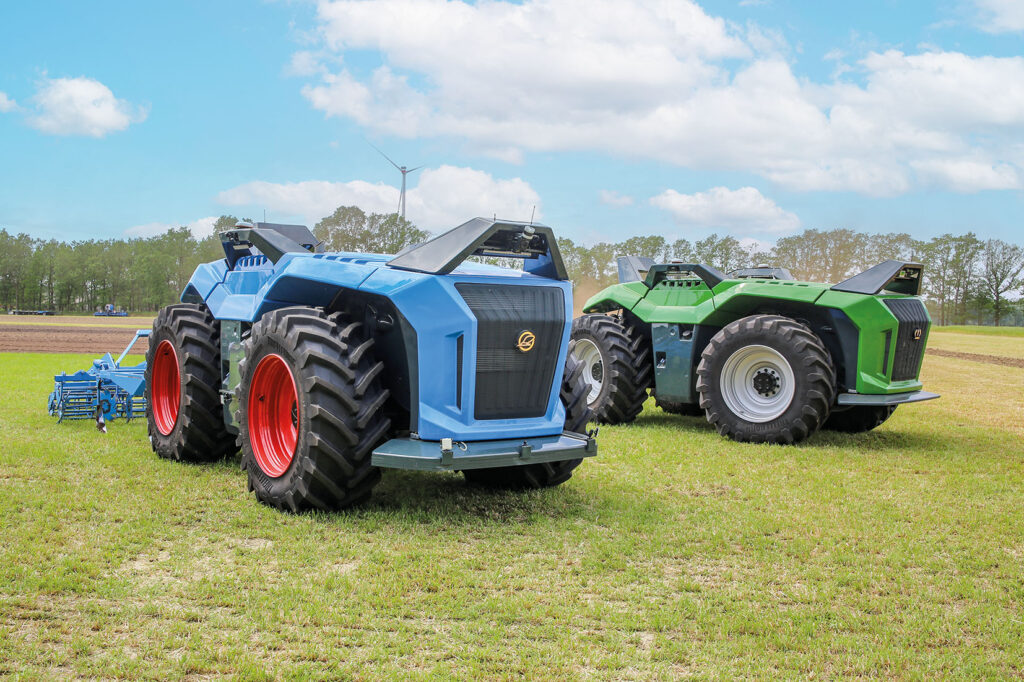 'Combined Powers' is a joint design concept between Lemken and Krone. Both businesses are family-owned, with headquarters in the same region of Germany. Lemken produces implements mainly for arable field tasks from ploughs and cultivators to drills, spreaders and hoeing machines. Krone's agricultural range is mainly harvesting machinery for grass, forage, and straw. This makes the companies ideal partners for the autonomous traction unit project as they have no competing products.
During a presentation explaining the project, the designers stressed that the implement is the most important part of the field operation, so tractor control based on work quality monitoring is essential.
Autonomous navigation
Autonomous navigation is key to successful operation, and the team explained that generic requirements (for all tasks) include path planning; track guidance; localisation and mapping and environmental perception. Process specific requirements (for a particular task) include setting a driving strategy; specifying an operating speed; monitoring functions; monitoring work quality and adjusting the machine settings.
The designers explained that successful autonomous operation can only be achieved by continuous evaluation of the work quality. This depends on the working conditions as well as the machine setting, and evaluating performance and changing settings to optimise the result is one of the most complex tasks carried out by human operators. Therefore, replacing the driver with an autonomous system is a challenge. When to operate which function and what to do at each headland as well as how to handle disturbances as they occur during the task – including blockages or breakages – are all implement and task specific.
The objective isn't just to achieve satisfactory results, but to continuously achieve equivalent performance to the very best operators, explained the development team.
Currently, most of the implement adjustments are being carried out by the team, but more self-adjustment will be added as the project progresses.
Long-term project
The project started in 2017, using a robotic power unit derived from a Krone M500 self-propelled mower. Route guidance and optimum path planning strategies had to be developed.
By 2019, route optimisation strategies were incorporated to reduce non-productive time and, in 2021, the three current second generation test machines were in action.
Until now the development has been carried out entirely by the 20 research and development team members, without seeking the views of potential users. This is partly because the whole project has been so secret that the traction units have operated only at a discreet location close to the research and development centres away from public view. However, now that the machines have been shown to the press and are functioning well, the next generation three machines will be developed using feedback from potential users. An online questionnaire will allow customers to enter data regarding their farming operations and state what they consider to be the most important criteria. The intention is to build five third generation machines and to operate them at various locations including on large farms in Eastern Europe.
High power and specification
The Combined Powers traction units have a 170kW (230hp) MTU diesel engine which drives the transmission and PTO through electric motors – one for each axle and other for the PTO. The load-sensing hydraulic pump is driven direct from the engine. The power rating was selected as it is suitable for many tasks on typical arable and grassland farms, although the development team says it will consider alternative sizes in future.
The diesel-electric propulsion system makes it easier to achieve precise control of the travel and PTO speeds and will also lend itself to the use of alternative power sources using different fuel types in future. The diesel engine operates at the minimum revs needed to achieve the required amount of electrical power, so economy and operating efficiency are optimised.
The traction units have 650/65R38 tyres, and a 6.5m turning radius. There is no suspension as there is no operator comfort to consider, and there is no need for a central tyre inflation system as the traction units are designed to remain in the field rather than travelling on the road. They weigh approximately 7.5–8.0t and the electric driven PTO can be set to operate at any speed up to 1,000rpm. No Eco mode is needed as the PTO speed is independent of the engine which always operates at the minimum to match the power requirement.
Guidance is achieved through standard RTK
Current second-generation test traction units have only a single three-point linkage, but third-generation versions due next year are likely to feature linkage and PTO at both ends. There is no front or rear as the traction units operate equally well in either direction, and the demonstration included 'front'- and 'rear'-mounted implements.
The tractors are fully Isobus (plus TIM) and CCI compliant.
Task planning
The task planning procedure was demonstrated. A human-machine interface (HMI) allows the manager to specify the task and location, and to set operating parameters including the process to be used for headland turn and path planning. Complex headland turns including stepped bouts or teardrop-shaped manoeuvres are possible. Once the field boundary is set, then the traction unit's complex computer management system selects the most efficient working strategy, while considering overriding priorities such as starting grass harvesting in the centre of fields and working outwards – for wildlife protection.
Because the Combined Powers development team are focusing on work results rather than the traction unit, a wide range of sensors are being tested. Some are on the traction units, but many are also mounted on the implements – including four high-definition cameras on the simple Lemken cultivator. These monitor the result but can also recognise blockages or breakages such as shear-bolts failing, or a leg or tine becoming damaged. If failures occur, then an alert is sent to the manager who can view footage from the cameras to determine whether a visit to the field is needed before work recommences.
Cameras and sensors monitor the traction unit's surroundings and will immediately stop the machine if there is an obstruction.
The Combined Powers team aims to achieve an open platform, allowing any brand of implement to be used. It was stressed that the biggest challenge is achieving equivalent problem-solving capability to an experienced operator.
Successful demonstration
The demonstration included a Krone branded traction unit operating a Krone EasyCut F 400 Fold 4m front mower, and then a Vendro 820 8m tedder, and a Lemken traction unit which worked in stubble cultivation using an adapted Karat 10 cultivator, and then worked with an eight-row Azurit 10 K mounted precision drill.
Average work rates with the mower were 5–6ha per hour including time taken in the small field for headland turns.
The traction units were 'driven' to the work areas by operators using manual remote controls, then the automatic operation commenced within parameters set through the HMI programme and sent wirelessly to the machines using the agrirouter data exchange hub.
Verdict
The demonstration was impressive. These are full-size traction units with four large, equal-sized wheels. Where other research projects have focused on tractor development, the Lemken and Krone teams regard the implement and results achieved as the priority. Using complex sensor systems to monitor performance and results, and artificial intelligence to analyse the data and identify where changing settings will provide an improvement is very clever. Stating an objective that production machines will be capable of achieving results equivalent to the best human operators is ambitious – but appears realistic.
The test traction units carried out all the tasks extremely well – and adapted to simulated irregular field shapes and unequal headlands as well as various working strategies without a problem.
When will they be available?
According to the design team, there is no legislation preventing the traction units' general use on European farms now, but deciding who is liable if accidents occur remains an issue which must be addressed before the machines are made commercially available. Testing will continue – with more traction units and different implements on a larger scale. It is likely that the first public display will be at the German Agritechnica show – although whether it will be at the 2023 event or 2025 is unconfirmed.