Ayr County Show
May 10, 2019

-

May 11, 2019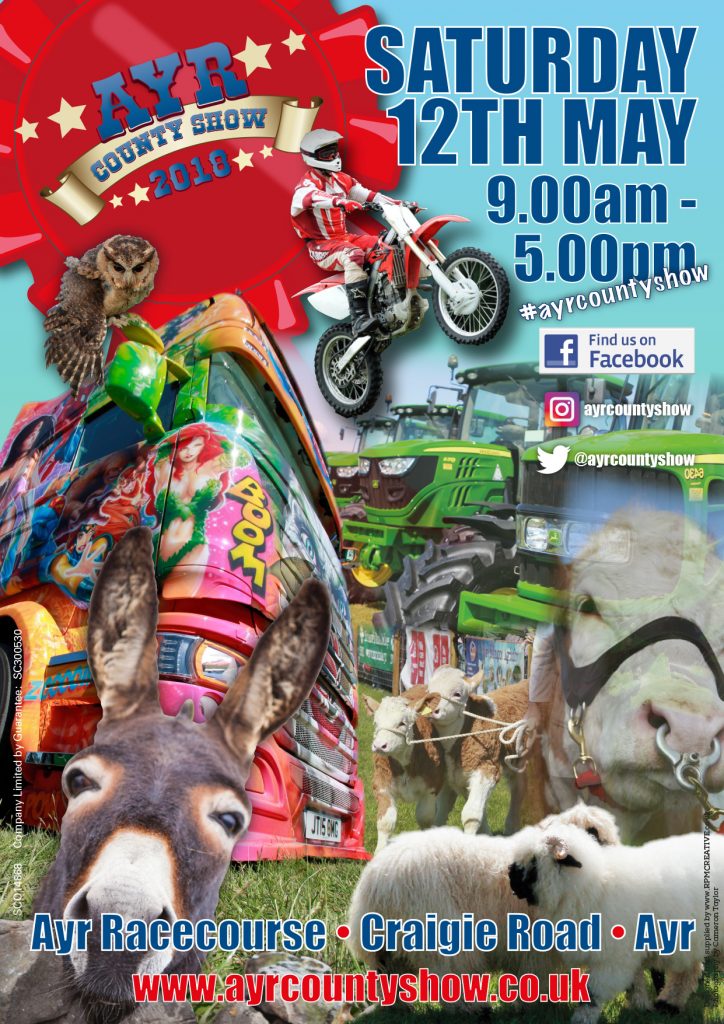 Location : Ayr Racecourse, Craigie Road, Ayr, Ayrshire, KA8 0JE
Ayr County Show is held annually to offer a great day out for the whole family to enjoy.
The Show opens at 9.00am
Admission Charges:
Adults – £15
Children (aged 14 & under accompanied by an adult) – FREE
Car Park – £4 per car
Dogs: Well behaved dogs on leads are welcome at Ayr County Show (except in the Poultry Marquee)
Visitors Attractions
The gates will be opening on Saturday, 12th May for the spectacle that is the Ayr County Show. This year being a special year for the show with it being their 175th Show in their 181st Year, with its winning formula of celebrating the traditional and embracing the future the Ayr County Show has earned its place as a ' must do' event on the calendars of both the farming community and families looking for a good value day out. The event includes exhibition & competition of many types of animals, Trade Stands, Crafts, Vintage Tractor Display, Sticks & Crooks, SWI Competitions, Young Farmers Competitions, Family Entertainment, Music, Children's Marquee and Truck Ayr Lorry Show. Food & Drink is very much part of the event creating the very important link 'Field to Fork'. The Ayrshire Agricultural Association are committed to keeping this event going forward with a good range of attractions throughout the show field whilst not losing the true agricultural roots of Ayr County Show.
Hundreds of animals of a wide variety of breeds will be judged throughout the morning. The Light Horse & Pony classes will start at 8.00am, British Show Jumping classes at 8.45am & Clydesdale Horse classes at 10.00am. While the Cattle & Sheep classes start at 9.30am and Sticks & Crooks at 10am. Within the Clydesdale Horse Section; a Stud Cart Mare or Gelding driven by a Lady or Gentleman, this will take place in the Main Ring at approx. 1.00pm. The individual Champion animals from each section meet in the main ring around mid-afternoon for the Champion of Champions to be judged and the winner be presented with the £1000 Prize sponsored by Rotherwood Furniture. This, along with the Grand Parade of Livestock, are sights to behold.