Ben Burgess & MANNS Charity Football Match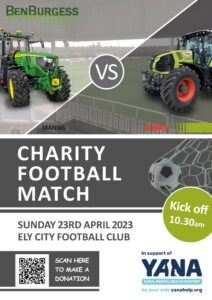 On Sunday 23rd April 2023, Ben Burgess will taking on Claas UK in an 11-a-side football match at Ely City Football ground to raise money for Rural mental health charity YANA.
YANA has a mission to improve mental health in agriculture and rural businesses in East Anglia.
Over the past 2 years (2020 – 2022) YANA has seen helpline calls increase by 164% and this year has been the busiest yet.
YANA has trained over 300 people as Mental Health First Aiders which means there are people able to notice if someone might be struggling, have conversations, and help into further support our and about, in work, with family and friends, and in their communities. This year will see a further 70 Mental Health First Aiders trained.
Events like this are important to help promote good mental health, as well as raising vital awareness and money. This enables ongoing helpline and counselling support to be accessible and available at the time it is needed.