Essex Auction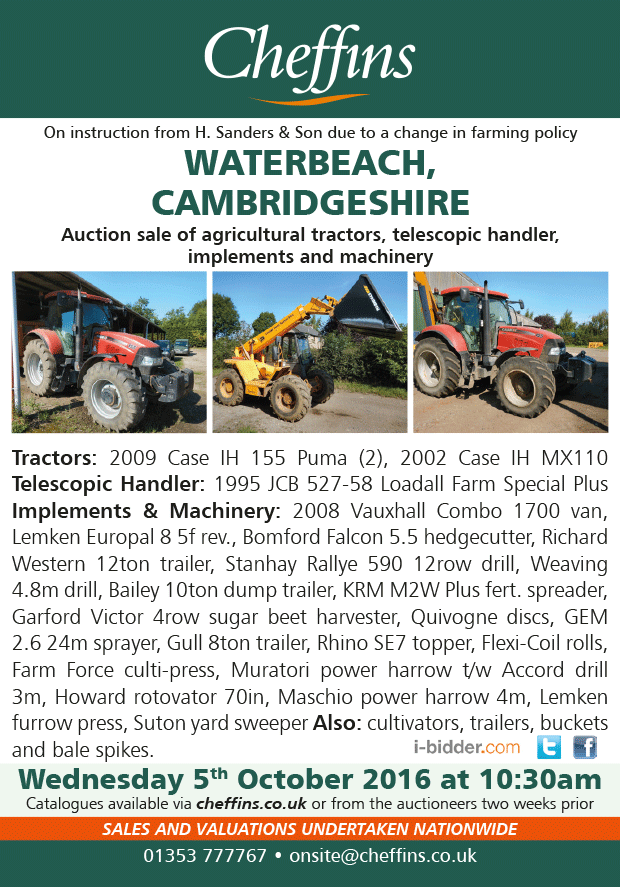 Auction sale of agricultural tractors, combine harvester, grassland equipment, implements and machinery.
Location : PRINCES GATE FARM, NAVESTOCK SIDE, BRENTWOOD, ESSEX, CM14 5SH
10.30am
On instructions from R & RA Hoyle due to a change in farming policy.
Tractors: 2018 JCB 4220 Fastrac with Quicke Q6M loader (700hrs), 2016 Massey Ferguson 7720 Dyna-VT, 2002 Valtra 6300. Combine Harvester: 2012 Claas 430 Tucano 20ft cut (800hrs), 1979 Shelbourne Reynolds SRE swather. Vehicle: 2012 Nissan Navara Outlaw V6. Machinery: 2016 Kuhn Megant 600 drill 6m (350acres only), 2015 Amazone UG3000 Special trailed sprayer 24m, 2009 Amazone ZA-M Ultra fertiliser spreader, 2010 Sumo Trio 3 min-till cultivator, Vogel & Noot S555 5furrow reversible plough, 2008 Twose TF500 hedgecutter, Gaspardo 520 Spring 6row maize drill. Grassland Machinery: 2012 Krone 1270 Multi-Bale Big Pack baler, 2009 Case RB344 round baler, 2000 McHale 998 bale wrapper, 2015 Kuhn GF10802TGII DigiDrive 6star tedder, 2011 Claas Liner 2900 rake, 2013 Krone KW7.82/6×7 6star tedder, c.2009 Pottinger Eurotop 421N rake, 2014 Krone F320CV Easy Cut front mower conditioner, 2011 Claas 3050C Disco Plus mower conditioner, 2004 Spalding MX2800 flail 2.8m, Park Land bale accumulator. Also: cultivators, trailers, spares and workshop equipment.
Catalogues available via cheffins.co.uk or by post from the auctioneers two weeks prior.