The Future of Farming: A National Conference
July 17, 2019

-

July 18, 2019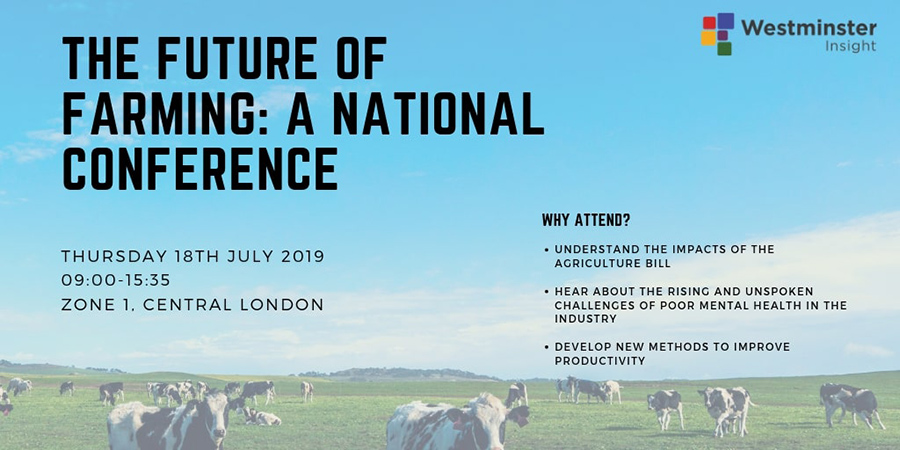 Zone 1, Central London
09:00 – 15:35
Exploring the challenges facing the farming sector, join major stakeholders at Westminster Insight's Future of Farming Conference, where you'll learn more about the advanced approaches being undertaken to ensure a more progressive, profitable and sustainable environment for British farmers.
Discussing the impact of the Agriculture Bill, you will gain insight into innovative practice methods and technological methods that can improve farmers' yield and help increase productivity. You will also learn about the sustainability of current methods and review the trend towards organic, ethically sourced plant-based products.
Confirmed Speakers:
Guy Smith, Deputy President, NFU
Keith Davis , Director, EU Exit and Defra, FCO and DFID value for money, National Audit Office (NAO)
Charles Smith, Chief Executive, The Farming Community Network
Jonathan Hall, Director of Policy, NFU Scotland
Liz Bowles, Associate Director Farming and Land Use, Soil Association
Andrew Swift, CEO, Fera Science Ltd
Belinda Gordon, Strategy Director, Green Alliance
Dr Alastair Leake, Director, Allerton Project, Game and Wildlife Conservation Trust
Phil Bicknell, Market Intelligence Director, AHDB
Emily Norton, Head of Research for the Rural, Energy and Projects Division, Savills
Dr Jess Davies, Senior Lecturer in Sustainability, Lancaster University
Dr Ludivine Petetin, Lecturer in Law, Cardiff University
John Martin, Conservation Team Leader, Royal Society for the Protection of Birds (RSPB), Northern Ireland
Experts will also explore the impacts on farmers' production plans as livelihoods have become susceptible to changing environment conditions.
Special focus will be provided on the on-going efforts in de-stigmatising mental health in the farming community. You will also hear how financial incentives can protect farmers.
View the agenda | Reserve your place
Promotional Codes:
FGUIZO-HBSP for 1 delegate (20% off)
FGUIEO-HBSP for 2+ delegates (30% off)