Youniverse Online Event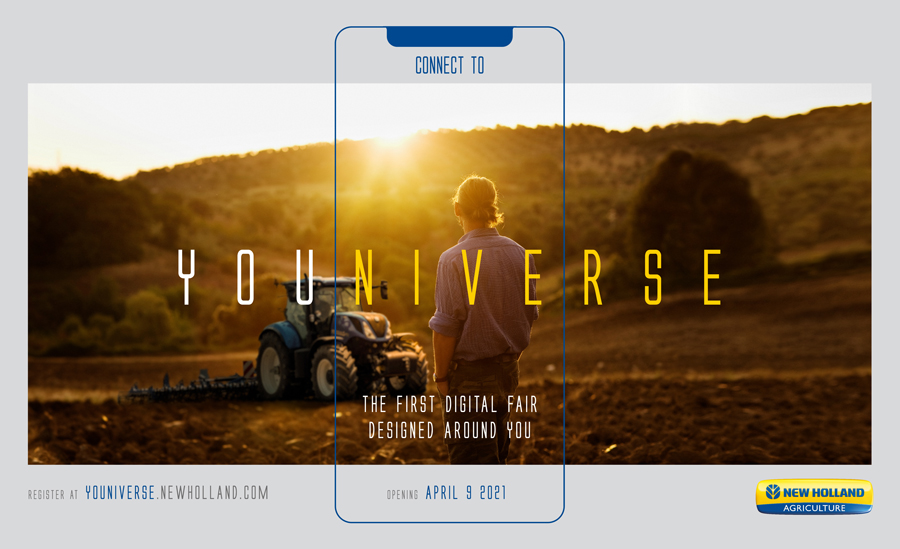 CNH Industrial has announced a new immersive 'infotainment' experience that promises to offer much more than a live streaming event or showroom – featuring brands New Holland, Case IH and Steyr.
Instead of waiting until farming trade shows can restart, leading agricultural machinery manufacturers will be presenting a 'not-to-be-missed' online event of their own.
Using state-of-the-art online technology, the 'Youniverse' digital agricultural machinery fair is designed around farmers, contractors and dealers. Organisers say it is not just another live streaming event or virtual showroom, but promises to be a totally immersive, infotainment experience like no other.
Sean Lennon, New Holland vice president Europe, commented: "Coming up with new ways to communicate with our audience is essential, especially at a time when the user experience has become increasingly important, and opportunities to meet with our customers have been severely curtailed by lockdowns, travel restrictions and the cancellation of agricultural trade fairs.
"The Youniverse event is an exciting new way of connecting with our customers, inviting them to join us in this virtual New Holland world, where they can interact with our products and 'meet' with our New Holland experts."
Ville Mansikkamäki, vice president Case IH Europe, added: "Youniverse is an exciting concept and will include a broad range of content to appeal to a wide audience, so we would encourage everyone involved in farming and the wider agricultural sector to take a look.
"In these difficult times, we are 100 per cent dedicated to staying connected with our customers and partners. Our investment in this unmissable event demonstrates that beyond doubt."
As well as demonstrating the Case IH and New Holland ranges, Youniverse will provide a wide range of information and opinion across the key issues in agriculture, including the changing demands of the food industry, agronomy, new technologies and the environment. Speakers have been drawn from the European farming media, technology companies and across the CNH Industrial group.
Case IH will be focusing on its latest products, the Quadtrac AFS Connect and Puma CVXDrive tractors, together with the Axial-Flow combine harvester series combine and LB436 HD large baler, which will be shown using special 3D presentations. Other key products in the Case IH range will also be included in the show, and users will also be able to explore the company's sister brands, the AgXtend range of leading-edge precision technologies and FPT Industrial powertrains.
New Holland will showcase its latest introductions: the Big Baler 1290 in its Packer model; the CH7.70 Crossover Harvesting combine; the T6160 Dynamic CommandTM tractor; the brand-new W170D wheel loaders, and the new implement ranges. Also in this area will be the record-holder CR10.90 Revelation combine and the T7.315 Heavy-Duty tractor, as well as the T6.180 Methane Power tractor, which will enter the New Holland range later in the year.
Visitors will be able to see a selection of products in an immersive farm setting, accessing a wide range of multimedia content, 3D simulations and full details on the machines. Other products will be on display in a dedicated show area of the brand's Youniverse virtual world.
On 12th April at 6pm GMT, New Holland will also broadcast a live event on the dedicated, online Youniverse TV channel. It will be hosted by Carlo Lambro, New Holland brand president, and British television presenter Nicki Shields. They will introduce the fair, cover the brand's latest news, and highlight the new products.
Accessible on all computers, tablets and mobile devices, Youniverse's platform uses impressive presentation technology and a dedicated app, so users can connect, cultivate and grow networks. They can interact with dealers and specialists and even 'meet' industry experts and other farmers. Registration is free at youniverse.caseih.com.