From hairdresser to chief shepherdess
When Zoe Colville left city life and a job as a hairdresser to farm full time, she wanted to keep her family and friends up to date via her Instagram account. Now, six years later, she is one of the top 'farmfluencers' in the UK, with 22.2K followers. We caught up with her to find out more.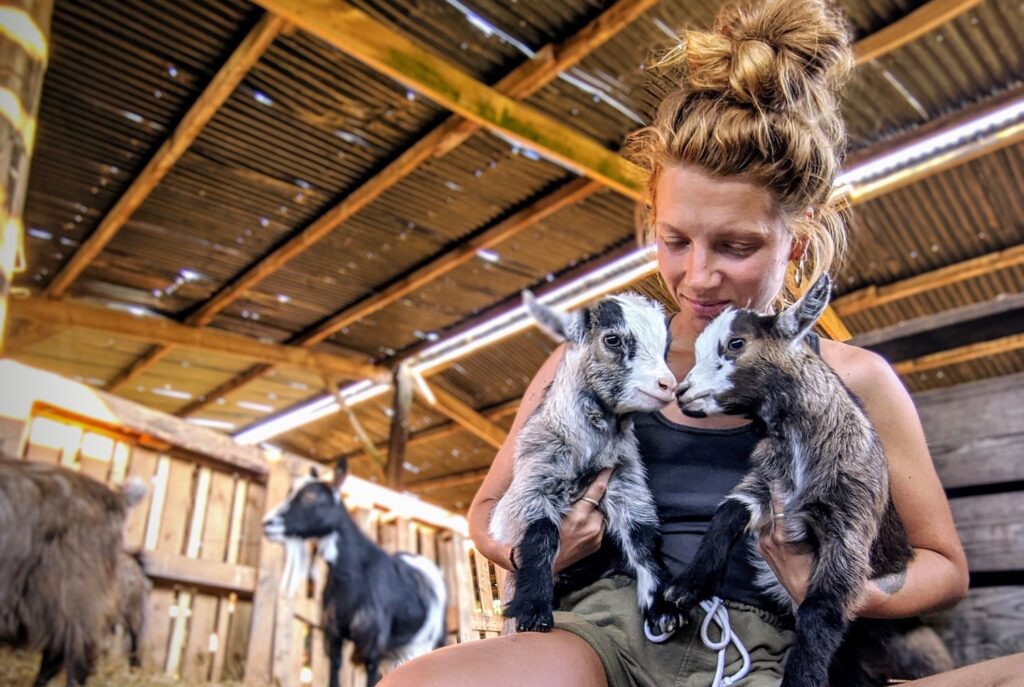 Despite loving animals and the outdoors, Zoe Colville said farming had never been on her radar and she moved to London at the age of 18, where she lived a very cosmopolitan lifestyle and worked as a hairdresser. After meeting her partner Chris, who was working as a plumber but had farming roots, they moved to Maidstone, Kent, to farm full time. Now, Zoe says she can't imagine doing anything different.
When she started her Instagram account, she says she chose the handle @thechiefshepherdess as a joke, as she was new to farming. We spoke to Zoe to find out more about her journey from hairdresser to farmer.
Q. Can you tell us a bit about your farming business?
A. We keep sheep, cattle and goats, over nine locations at times. We rent all the ground and are not very hopeful to ever own a farm but feel confident a tenancy will come up one day. We decided in April 2020 to start a business, The Little Farm Fridge, to sell our meat direct from the farm. We built the entire business ourselves, mainly to cut costs, so we refurbished the portacabin to meet guidelines, laid the concrete and built the website.
Running a farm full-time with just the two of us is challenging, but the aim is to find ourselves a butcher now. We learnt off YouTube to process the animals ourselves but we don't have the years of experience to quicken our pace.
Q. What do you most enjoy about sharing your stories on social media?
A. Firstly, helping to show people from all different walks of life what actually goes on at our farm or in our lives. The whole idea was to document our day-to-day lives ­– even when things are dark. The things on my stories may be a little graphic or take a bit of explaining, but it's scenes and footage that people may struggle to see elsewhere for fear of 'farmers getting a bad name'. I feel there's very little you can't show as long as you explain what has happened and why and how you will handle it – or even how we might do things differently.
Also, I love chatting. As a hairdresser I enjoy finding common ground with people and it's a space where people feel comfortable to ask questions, because not so long ago I learnt it all myself!
Followers or likes don't mean much to us, that was never the goal. It kind of just took off and most days I feel overwhelmed with how invested people are in us and mainly our animals.
Q. What do you like most about your rural life and work?
A. I like the fact we can do what we want when we want. If we want some calves to rear, we go and buy them. Fancy breeding goats… do it. And that feeling is one I've not had before; hairdressing is very structured with your timings etc, which I struggled with. Also I love the fact that we get to be so in sync with the seasons; it feels really natural, especially waking up with the sun. I probably should say working with Chris and sharing all these experiences with him but that's only true 80 per cent of the time… the rest of the time is us swearing at each other for not tying the gate up!
Q. What do you feel are the biggest challenges facing farmers?
A. Connecting those dots from farm to consumer. People are slowly becoming more open to learning about where their food comes from and we just need to keep pushing that wherever we can. Not forcing it down people's throats – not everything needs to be a lesson – but just explaining things. A personal challenge is that we have built a business that's doing well, but when lockdown is over and normality resumes, we just hope people still continue to shop local and sustainably rather than queuing back up in supermarkets!
Q. What are your thoughts on the sometimes-negative portrayal of farming in the media?
A. I think that there are always going to be negative stories on any industry in the media. We try not to read or listen to any of it, we just stick to what we are doing. It's important to concentrate on all the positive things. There are some down-to-earth and gritty accounts online, showing people the real life and offering a window into their world… some are more comfortable with this than others but it's a huge movement of young people passionately showing an insight into their job.
Q. What tips would you offer to farmers looking to share their own stories on social media?
A. Don't be scared of negative messages or trolls, just block them. Some of my most gruesome or heart-wrenching stories or posts have made the biggest difference. For every 1,000 messages I receive, only one will be nasty. People do want to listen and we are so fortunate to have a platform. I chat to people all round the world about our practises and why we do what we do – mainly there is no judgement.