Heifers reign supreme at the Winter Stock Festival
Limousin heifer 'Fancy That' won top honours at the Winter Stock Festival at the East of England Showground in late November/early December. Judge Robin Roberts chose the 18-month-old beast from
Limousin heifer 'Fancy That' won top honours at the Winter Stock Festival at the East of England Showground in late November/early December.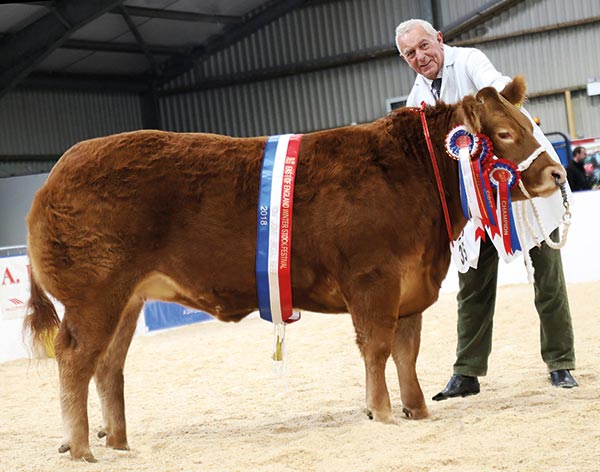 Judge Robin Roberts chose the 18-month-old beast from Phil and Sharon Sellers as his supreme champion with another heifer – Black Opium from Ben Beckitt – in reserve.
In the sheep lines, Supreme champion pair of lambs went to a pair of Beltex crosses from Robert Garth and Sarah Priestley. The supreme champion pig was from Mark Wilson.
Commercial Beef (Judge, R. Roberts, Anglesey)
Supreme Commercial Beef Champion Sup., P. &. S. Sellers, Fancy That; res., B. Beckitt, Black Opium
Native Champion Sup. H. Heath & N. Beardsley, Risbury 1 Sonia 2nd; res., J.R. Williams. Pinguis Henry
Continental Champion Sup., the Geary Family, Littlewood Magic Moment; res., M. Dickens & Family, Park Hill Narnia
Champion Pure Bred Beast Sup., H. Heath & N. Beardsley, Risbury 1 Sonia 2nd; res., the Geary Family, Littlewood Magic Moment
Champion Native Heifer Sup., W. Timms, Maddy
Champion Native Steer Sup., Barwood & Padfield, Flash
Champion Continental Heifer Sup., P. & S. Sellers, Fancy That; res., B. Beckitt, Black Opium
Champion Continental Steer Sup., G. & J.A. Sedgewick, Diame; res., B. Beckitt, Black Jack
Baby Beef Champion Sup., A. Harrison, Bootylicious; res., J. Hyslop, Dancing Queen
Sheep (Judge, S. Gibbons, Powys)
Supreme Champion Pair of Lambs Sup., R. Garth & S. Priestley (Beltex cross); res., C.D. Timm (Beltex x Charollais)
Champion Cross Bred Pair of Lambs Sup., R. Garth & S. Priestley (Beltex cross); res., C.D. Timm (Beltex x Charollais)
Champion Pure Bred Continental Pair of Lambs Sup., R. Garth & S. Priestley (Beltex); res., H. Heath (Blue Texel)
Champion Pure Bred Native Pair of Lambs Sup., H. Williams (Llandovery White Face); res., P. Kettle (Ryeland)
Champion Breeding Ewe Lamb Sup., G.E. Jackson (Mule); res., Mr & Mrs R.J. Woolway (Blue Texel x Suffolk)
Champion Pair of Butchers Lambs Sup., R. Garth & S. Priestley; res., C.D. Timm
Pigs (Judge, R. Bowring, Nottinghamshire)
Champion Modern Pair of Pigs Sup., K. Arden (Landrace); res., C. Hudson (Landrace)
Champion Traditional Breed Pair of Pigs Sup. & res., C. Bull (Berkshire) 
Champion Cross Bred Pair of Pigs Sup., M. Wilson (Pietrain x Saddleback) & res., A. & P. Schofield (Large White x Welsh)
Supreme Champion Pair of Pigs Sup., M. Wilson (Pietrain x Saddleback) & res., K. Arden (Landrace)
Champion Modern Pig Sup. & res., K.&B. Arden (Landrace)
Champion Traditional Pig Sup., C. Bull (Berkshire); res., D. Aldous (Oxford Sandy & Black)
Champion Cross Bred Pig Sup. M. Wilson (Pietrain x Saddleback) & res., A. & P. Schofield (Large White x Welsh)
Supreme Champion Pig Sup., M. Wilson; res., K. Arden (Landrace)