Holidaying bees help the fruit orchards bloom at Hadlow Estate
More than 680,000 bees are on a unique spring break at the Hadlow Estate in Kent, to help it get the very best from its fruit orchards.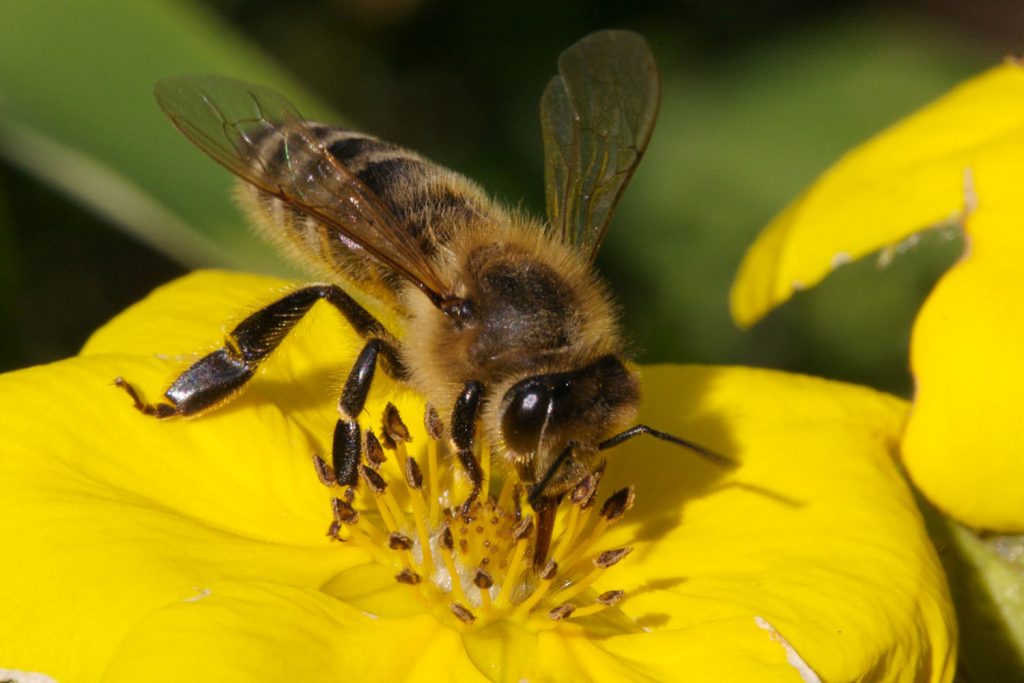 More than 680,000 bees are on a unique spring break at the Hadlow Estate in Kent, to help it get the very best from its fruit orchards.
As part of a managed pollination scheme described as a five-star working holiday for the bees, they're spending their time foraging 80 hectares of sumptuous apple and pear orchards at Hadlow Place Farm, which is located between Golden Green and Tudeley.
Crucial to the success of the annual harvest is the cross pollination of the flowers on the trees, and this is where the bees have a very important role to play in helping to generate thousands of tonnes of fruit each year. Beekeeper Sergio Pignagnoli brings 34 of his hives to the farm and places them around the orchards, before the bees get to work. The project has been running for many years.
Kate Teacher, of the Hadlow Estate, said: "Bees and orchards have been working together for hundreds of years and we have continued that tradition by bringing a bee farmer here each year. We really do rely on them as without the bees our yields of fruit would be much lower – the native wild population of bees and other insects would not be enough to ensure a high quality, sustainable crop."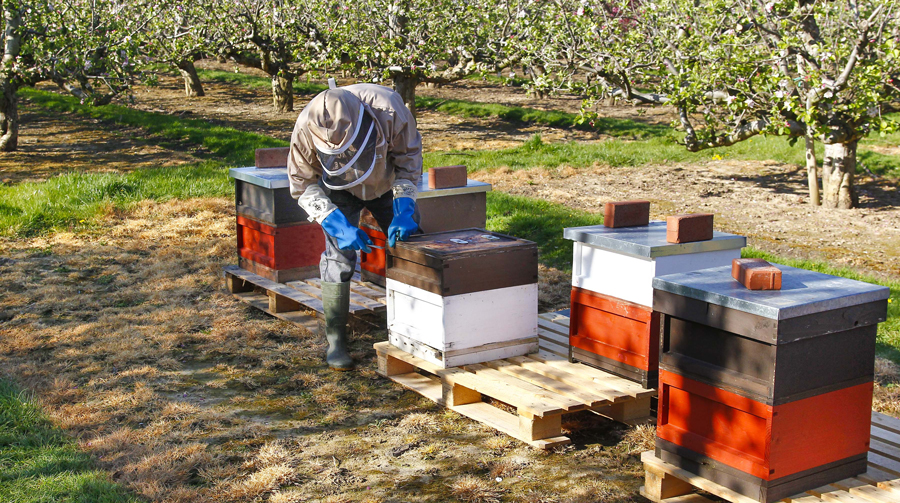 The bees spend around two weeks pollinating the pear trees and then their hives are moved on to the apple orchards for four weeks. The fruit is sold immediately in major supermarkets and to food and drink producers, while some goes into on-site cold stores to provide supplies throughout the autumn and winter months. In a good year, the farm can produce up to 25 million pieces of fruit for sale.
The hives are brought to the farm as part of a national scheme led by the Bee Farmers' Association, which matches growers with professional beekeepers who are able to meet their needs.
As Sergio Pignagnoli explains, it benefits his bees just as much as it does the orchards. He said: "It really is like a five-star holiday for the bees as there is such an abundance of good quality, fresh pollen and nectar for them to forage. This in turn helps them to feed their young which then expands and strengthens the colony. Each hive will have around 20,000 bees inside it when it arrives at the farm. By the time I collect them, that number will have doubled."
Kate Teacher continued: "I have been lucky enough to watch Sergio checking on the hives and his bees, and it is fascinating to see the care and understanding he has for them. It really does go to show how the cycle of nature and how the production of food from farming carries on, despite everything we are facing at this time, and people are working hard to make it happen. That is something very special indeed."
There are now plans to have a number of beehives located at the farm throughout the year. Kate is also hoping to be able to sell some of the honey produced, on behalf of Sergio.
Kate added: "Due to the lockdown it is harder for Sergio to sell his honey to customers so we are hoping to be able to sell this delicious and natural product here locally."
This Friday (1st May) we are all being encouraged to download the new 'beescount' app and join the World Bee Count, which aims to help us understand why bee numbers are declining. To find out how to take part, visit https://beescount.org.