Iconic farm pick-up gains extra power and comfort – Hilux 2.8 auto reviewed
Introduced to the market in 1968, the Toyota Hilux is an icon when it comes to practical farm load movers. David Williams tried the latest model.
A completely new 2.8-litre engine with extra power has been added to options lists for the eighth-generation Hilux pick-ups, announced last year but arriving in limited numbers now. The previous 2.4-litre 148hp engine remains available, but the new 2.8-litre power unit packs in 201hp and up to 500Nm of torque resulting in a 10.7-second 0–60mph time – more than two seconds quicker than the smaller engine.
Other changes to the range include revised front-end styling, uprated suspension for an improved ride and better handling, and new interior styling with an 8-in infotainment display in the centre of the dashboard.
Choice of transmissions
As well as two engine options, there is a choice of manual or automatic six-speed transmissions, and three body styles – two-door single cab, four-door extra cab and four-door double cab. However, only the base 2.4-litre manual version is available in two-door single, and two-door extended cab body styles. The 2.4-litre auto and 2.8-litre manual and auto are available only as four-door double cab. All UK models come with selectable 4wd as standard. There are five trim and equipment levels – with availability dependent on the engine and body style.
All Hilux pick-ups carry well over one tonne, allowing them to meet the requirements for flat rate benefit-in-kind car tax.
The model supplied for the Farmers Guide week-long test drive was the Hilux 2.8-litre automatic double cab in the Invincible specification. This is the lowest of three specification levels available with the 2.8 auto set-up, with Invincible X and GR Sport versions offering extra styling features and greater comfort.
Performance
With the smaller 2.4-litre engine the Hilux is no slouch, but the 2.8-litre power unit is noticeably livelier and likely to be preferred for towing trailers. With six speeds – the automatic transmission is very flexible and driven gently the gear changes are barely noticeable. Cruising at the legal maximum, the new Hilux maintains constant speeds without frequent gear changes even climbing significant slopes. Rapid acceleration makes the gear changes more noticeable, but they are never aggressive. According to Toyota – an exceptionally long, flat torque curve means that the 500Nm maximum is available all the way between 1,600–2,800rpm. Maximum power is between 3,000 and 3,400rpm. At 70mph, the Hilux auto runs at approximately 2,000rpm.
The latest models feature an improved automatic transmission, with lock-up in 4th, 5th, and 6th gears for maximum efficiency and power transmission at higher speeds. An electronic management system determines whether top gear should be used or not; for optimum driving flexibility and fuel economy – depending on the driving conditions. The fuel supply is cut off during periods of engine braking to maximise fuel efficiency, and lower gears are automatically selected. Manual control is available by pulling the gear stick to the right – then pushing it forward or back to move through the gears. A drive-mode switch allows the driver to prioritise Power or Economy. In Eco mode the accelerating characteristics as well as the heating and cooling system are all tuned to save fuel, whereas in Power mode there is a sharper throttle response.
Official fuel consumption figures for the Hilux 2.8 auto version tested by Farmers Guide state 28.5–30.0mpg, although during the week-long test which included several hundred miles of higher speed journeys on major roads, some towing, and a morning on off-road tracks – we averaged 31.8mpg.
Handling
The latest Hilux retains the practical rear leaf spring suspension of previous versions but with an improved twin shock absorber arrangement for extra stability on road and allowing a large amount of articulation off-road. Steering on the latest models is improved – with a variable oil flow for lighter steering at low speeds and a more direct response at higher road speeds. The Hilux also features an innovative pitch and bounce control system which automatically adjusts the engine torque in response to surface conditions. Information from speed sensors on the wheels is used to determine whether the vehicle's nose is rising or falling due to road undulations. As the nose lifts – the engine torque is momentarily reduced, and as the nose falls it is increased. The action is subtle, but Toyota claims that it improves the ride and creates the impression of a flatter road surface. There is no escaping that the Hilux is a load carrier, and its suspension is tuned for optimum handling when fully loaded, but although the ride is always firm it isn't harsh and long journeys are completed in comfort.
Off-road
Generous 310mm ground clearance, a 700mm wading depth, and 29- and 26-degree approach and departure angles mean the latest Hilux is as capable as ever when it comes to challenging off-road situations. A twist selector on the dashboard selects 2wd high, 4wd high, or 4wd low range. Low range is very low and there was no need to select it while off-road driving during the test week. A new, automatic limited-slip differential is fitted. The driver activates the system by pressing the VSC-off switch when driving in 2wd high mode. If a loss of grip is detected, then the brake is applied to the spinning wheel and torque is directed to the wheel with more traction. The limited slip differential is in addition to Active Traction Control which operates in 4wd low range.
Dry weather and ground conditions meant there was little opportunity to assess the traction during the test, but dry, deep ruts were tackled with ease. The steering is light but there is enough 'feel' for the driver to monitor the ground conditions and respond accordingly.
Hill descent control is standard – maintaining controlled constant speeds when descending slopes and leaving the driver free to concentrate on monitoring the surroundings, and steering.
Practicality
The rear load bed is practical and functional, with no unnecessary obstructions. The test vehicle came with a premium spray-on load liner, giving a useable area 153cm long, 150cm wide, and with a 110cm gap between the wheel arches. There are four decent tie-down points for securing loads. The tailgate opening is 134cm across, and the tailgate itself is solid with decent hinges which will withstand goods rested on it during loading.
All Hilux pick-ups have 3,500kg maximum towing capacity. The test vehicle was driven with a loaded trailer on- and off-road and it performed very well.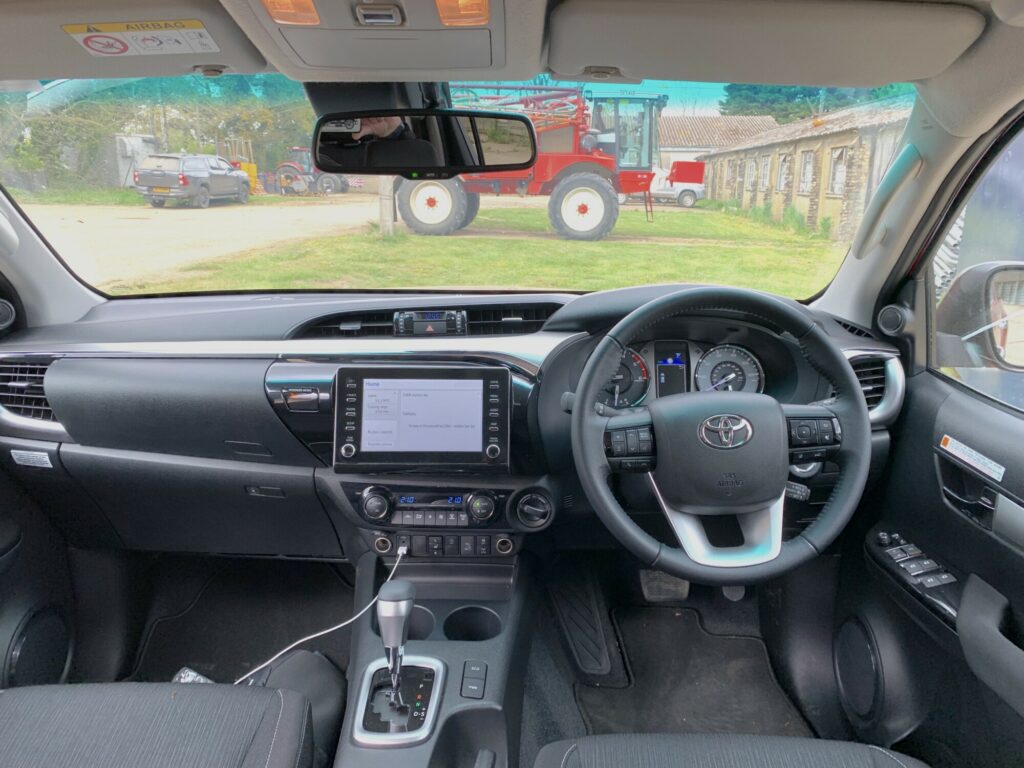 The dashboard is well laid out and the new 8-in touchscreen is clear, responds quickly and is easy to use.
Interior
The Invincible has comfortable fabric seats, and there is plenty of legroom in the front for a taller driver and passenger. Obviously maximum front legroom comes at the expense of those in the rear seats but sliding the front seats forward just a few notches means four or five adults can travel in comfort.
The rear seat splits 60/40 with a centre armrest and drinks holder, and the rear seat sections can be folded up to the seat back to create space for larger items in the cab. The Invincible specification includes heated front seats.
In-car storage is always a priority for those selecting a farm pick-up, and the new Hilux has two gloveboxes (the upper one is cooled), large storage pockets in all four doors, concealed storage in the centre armrest, pockets in the front seat backs, and smaller trays and cupholders in the centre console. Little space is wasted.
The Latest Toyota Touch 2 multimedia system is good, and the large 8-in touchscreen responds quickly. Apple CarPlay and Android Auto smartphone integration is provided, and sound is distributed through six good-quality speakers. The display provides a very clear image from the standard reversing camera.
All the expected safety features are included such as Adaptive Cruise Control, Lane Departure Alert, Road Sign Assist, and a Pre-Collision system.
Power-folding and heated large door mirrors are also standard as well as front and rear parking sensors, heated windscreen washer jets, keyless entry and engine start, and climate control. The rear window is heated.
Verdict
The latest Hilux is hard to beat for its build quality and finish. It's a hardy load carrier and provides comfortable transport for up to five people, and its performance on-and off-road is impressive. With a price difference of only £292 between the 2.4D auto and the equivalent 2.8D model, plus similar fuel consumption figures – it's likely most agricultural users will opt for the larger engine.
Peace of mind is provided by Toyota's three-year standard warranty, with up to 10 years' or 100,000 miles of total cover available by following stringent service requirements.
There are fewer brands and models of pick-up to choose from than just a few years' ago, but the UK market remains competitive, and after driving the latest Hilux we think it is well worth a look.
The latest Hilux double cab line-up starts at £28,920 with the 2.4-litre engine, manual transmission, and the base Active specification. The mid-spec Hilux 2.8 auto Invincible model tested costs £35,045, excluding the metallic paint, roll bar and bed liner.
Toyota Hilux Invincible Double Cab 2.8 diesel automatic
Engine – 4-cyl, 2,755cc, 16 valves
Power 201bhp @ 3,000–3,400rpm
Torque 500NM @ 1,600–2,800rpm
Transmission 6-speed auto with lock-up in gears 4–6.
Brakes Frt / Rr – Ventilated discs / Leading trailing drums
Suspension Frt / Rr – Double wishbone / Leaf springs with twin shocks
Max speed 106mph
Acceleration 0–60mph 10.7 seconds
Official fuel consumption 28.5–30.0mpg (During week-long test – 31.8 average)
Gross vehicle weight 3,210kg
Payload 1,010kg
Towing capacity (braked) 3,500kg
Minimum ground clearance 310mm
Approach / departure angles 29 / 26 (degrees)
Wading depth 700mm
Wheels and tyres 265/60R18
Commercial vehicle on-road price £35,045.