Innovative fire extinguisher offers environmental benefits over traditional products
The P50 AFFF Composite Fire Extinguisher from Cherry Products comes complete with a full management software programme.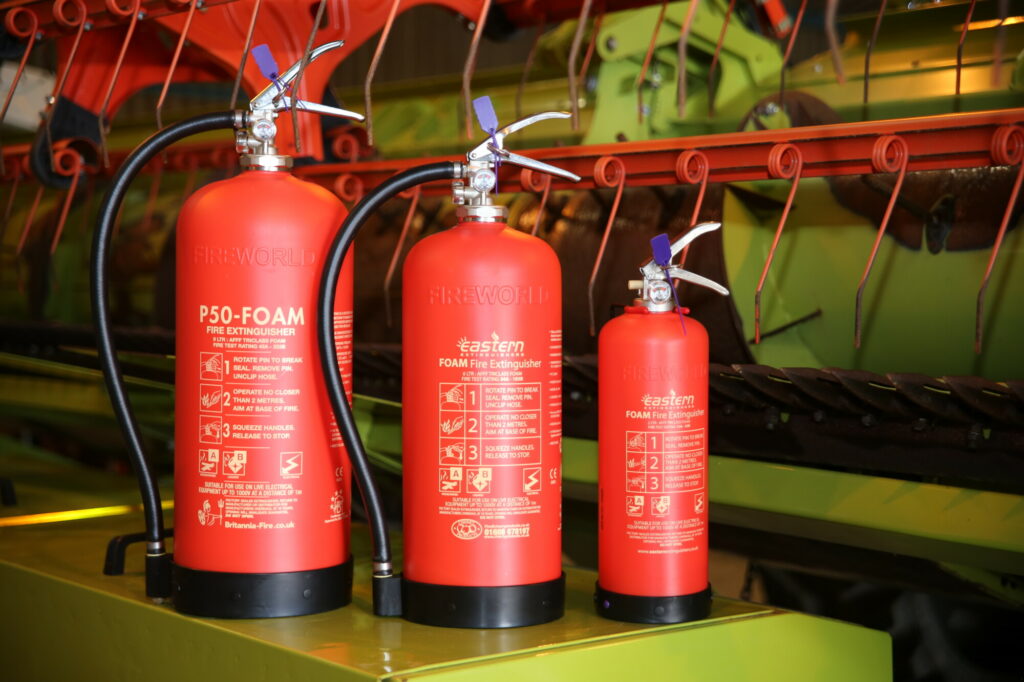 Established in 1980, British company Cherry Products supplies brands such as JCB, Claas, and New Holland. Each year it says it seeks to build on its excellence in service and build quality through its existing range of products, priding itself on its personal service an ability to adapt to changes in the agricultural sector.
The company has been manufacturing agricultural material handling equipment for over 40 years and is now a preferred UK supplier of attachments and demonstrations for many of the industry's leading names, Cherry says.
Its focus is on meeting farmers' needs with simple product designs and supplying durable products with less downtime.
The P50 fire extinguisher
One particularly noteworthy product is the P50 AFFF Composite Fire Extinguisher, which comes complete with a full management software programme.
This innovative product is British made and uses state-of-the-art clean manufacturing processes. Cherry claims it can save clients an average of 48% on costs over a 10-year period.
P50 extinguishers employ technology pioneered by the motor racing, defence, aircraft and aerospace industries.
All P50 extinguishers meet the highest legal and safety standards and are fully compliant with British standard, EN3, BSI. They are also CE marked and endorsed by Apragaz, certifying them to be used on electrical fires up to 1,000 volts at 1m, liquids and combustible materials. In most situations, current inventory can be reduced when replaced with P50 extinguishers, eliminating the need for two types of extinguishers especially inside buildings, says sales manager Ian Fenton.
An added benefit is its environmental credentials compared to standard extinguishers. The foam (AFFF) is watercourse safe and biodegradable. Coupled with the 20-year life cycle and 100% recyclability, this means it is a green option compared to traditional equipment, Mr Fenton says.
After 10 years, the extinguishers are given a return-to-base service before being reallocated back into the industry with another 10-year guarantee, charged at half the price of a new unit.
In addition to the extinguisher, an online management programme allows the client to keep records. It can handle multiple sites, users, and even vehicles can be registered with drivers. There are also helpful training tutorials for servicing and using the management programme.
A number of major companies are in the process of rolling out the extinguishers, including seven NHS trusts, Heathrow Airport, Thames Valley Police, Pepsi Co, Walkers, B&Q and Marston Brewery, among others.
Cherry partnered with Eastern Attachments, then Eastern Extinguishers to strengthen its manufacturing and distribution network in the UK. Since rolling out the extinguisher in its specialist area, it has also opened the door to many other industries such as forestry, building, manufacturing and retail.
Cherry says its aim for the future is to recruit more household-named businesses to help the product reach more clients as it looks to expand further into the fire extinguisher market.
The company will be showcasing its products at two events at Birmingham's NEC: The LAMMA Show on the 4th-5th of May, The Farm Business Innovation Show on the 2nd-3rd of November and in 2022.