Jeremy Clarkson helps "heartbroken" child whose farm stall was robbed
Countless well-wishers including Oxfordshire farmer Jeremy Clarkson have come to the aid of a little boy who was left heartbroken after his honesty shop was raided by thieves.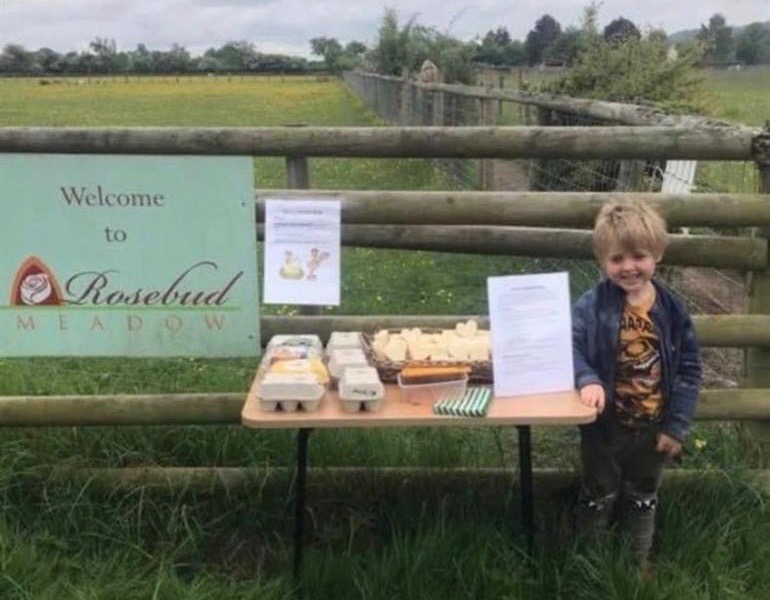 Five-year-old Harry Clare first set up his shop during lockdown when he read a book for school about a shopkeeper and decided he wanted to be one.
From his table-top shop on his parents' glamping site at Rosebud Meadow in Malvern, Worcestershire, Harry sells eggs from his own chickens, as well as natural lip balm and goats' milk soap, made from the family's herd of Golden Guernsey goats. Harry uses the money he makes from his shop to buy Peter Rabbit and Paw Patrol magazines.
When he went to check his stall and retrieve his takings before school last week, however, he found all of his stock and takings gone. Since then, hundreds of people have been in touch offering to reimburse him, including Jeremy Clarkson, who wrote on twitter: 'I will make good all that was lost. Please get in touch. And then let's feed the thieves into a combine.'
Since the theft was reported in the media, hundreds of people have offered support from all over the world, including Canada, Australia, the US and Malaysia to name a few.
In a post on Facebook, Harry's mother Rosie said Harry had asked for all his donations to go to Acorns Children's Hospice, where the family take their therapy pony Moo Moo, to offer support to the children there. Harry said: "Mummy I would like to make other children happy again too, like these kind people have done for me."
A JustGiving page for Acorns Children's Hospital has so far received more than £7,000 in donations. The charity is close to the family's heart and supports babies, children and young people aged 0-18 who have life limiting or life-threatening conditions and associated complex needs.
Acorns commented on Twitter: 'As well as doing some amazing fundraising he's also being rewarded with a load of amazing Paw Patrol goodies! He certainly deserves it, what a little star.'
As well as donating to Acorns, Rosie said: "People have been so kind and generous, [Harry's] been sent sweets, toys, magazines, cakes, Quail eggs to sell on his little shop and even received his own embroidered clothing! It's been completely overwhelming. We have been blown away with the huge response he has received."
She added: "Harry has been blown away that so many people have been so kind and it's certainly restored his faith in human nature again. He says he still preferred his old shop but will still run his new shop (it's exactly the same, just different baskets)."
Harry's shop has been restocked and he is now saving up for a shed to put his shop in so it can stay out even if it rains and can be locked up at night.