Latest tine drill brings increased flexibility and work rates
Weaving has added a wider 8m model to its popular Sabre drill range – increasing the options available for larger farms looking for a versatile, all-weather drill. David Williams saw the first 8m version working on a Northamptonshire farm.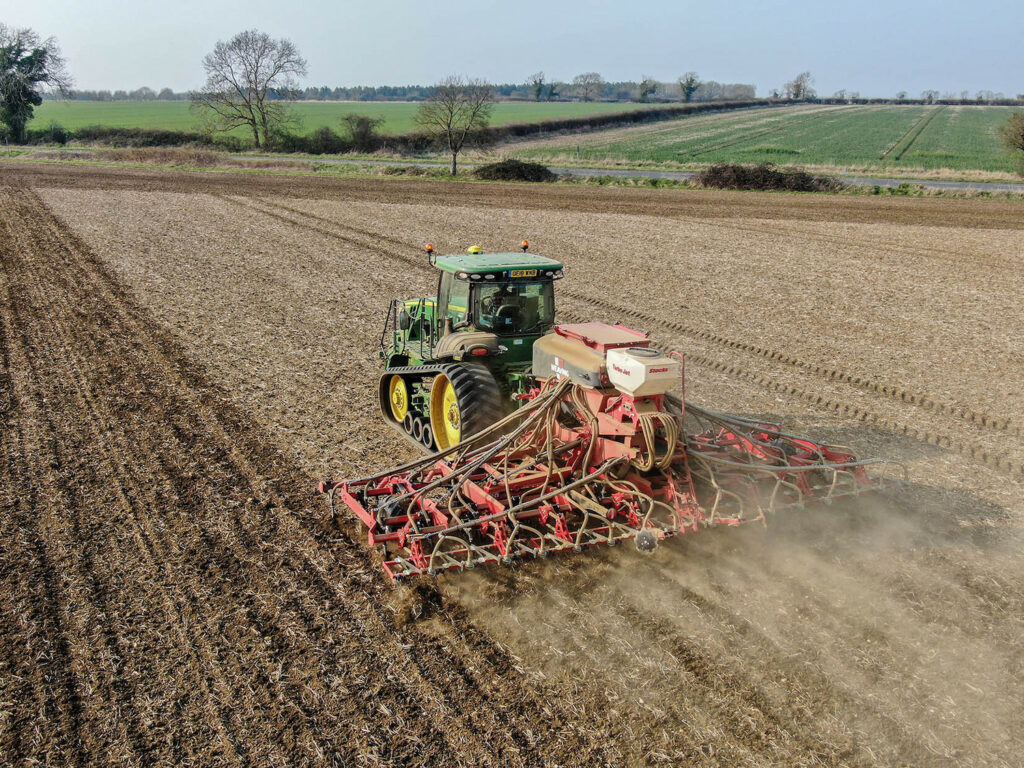 Weaving introduced new Sabre tine drills at LAMMA 2020. The new models were completely redesigned but retained the manufacturer's simple and proven tine coulters. "The Sabre drill works well in almost any conditions," explained sales director Simon Weaving. "When conditions are suitable, it can direct-drill to minimise soil movement, but it works equally well on ploughed or pre-cultivated ground – so it's often regarded as a half-way house between minimum tillage and conventional crop establishment."
With the addition of new, larger versions this spring – the Sabre line-up includes 3.0, 4.8, 6.0. 6.4, 7.2 and 8.0m working widths. They all feature a graphite grey plastic hopper which replaced the previous steel unit – saving 200kg but retaining the 1.5t seed capacity. All models have four rows of tines, with an extended 1.2m calming area halfway along the tine bank between the second and third rows. The 12mm tines have tungsten tips and seed is delivered through stainless steel tubes at the rear. The four row tine layout results in tines spaced at 500mm within each row for excellent trash flow. The previous Sabre drill had three sections across the working width, and the outer two folded upwards for transport, but the latest model has only two sections carried on overhead linkages. Each side can move independently up to six degrees side-to-side and front-to-back around the central depth wheels, allowing them to adapt to uneven terrain.
Seeding depth is easily set by fitting coloured shims which restrict the depth wheel movement. A wide-spaced zig-zag tine harrow at the rear ensures good seed coverage and leaves a level surface but allows trash to flow through.
All-weather solution
"It's almost impossible to block the drill now," continued Simon. "With more cover crops, more farms moving towards direct drilling and more trash to deal with – our range of Sabre drills is future-proofed, and ideal for those 'feeling' their way into direct-drilling while also being suitable for conventional establishment regimes. Growers don't want drills which might mean they are caught out if seasons are too wet or too dry, and if the latest Sabre drill won't work then a power-harrow combination drill wouldn't work either. In a season when it's too wet for large, trailed air drills then it's best if heavy, high-horsepower tractors are kept off the fields too, and even the widest 8m version is easily pulled by tractors of only 280–300hp."
Fully mounted convenience
Like the smaller models, the 8m Sabre drill is fully mounted. It has a bigger frame to cope with the extra weight and stresses, and Cat 4 linkage mounts are standard.
The Weaving metering system is controlled by RDS Isocan, and Isobus compatibility is an option. Hydraulic switching is on the drill, so only two hydraulic service connections to the tractor are needed.
The 8m Sabre drill is available to order now for spring 2023 delivery and Simon believes its main customers will be those wanting to move towards reduced-disturbance or direct-drilling seeding regimes as well as those currently using 8m and 12m conventional drills and not wanting  to sacrifice working width just because conditions turn wet.
"It's simple, effective, it's good value to buy and to run, and it will do the job it's bought for," added Simon. "It will also help reduce fuel use for many farms which is a significant attraction with prices currently so high."
First 8m delivered
Trading as Shelton Estates Ltd, and based at Shelton, near Northampton, the Beers family farms approximately 1,150ha of arable crops. The land is either owned or farmed on tenancy agreements and soils are mainly heavy clay loams but there are also areas of sand and stone. The family manages the enterprise as three separate farm businesses, although most of the machinery is shared.
The challenging land means that mounted tine drills are favoured, and a fleet of three includes the new 8m Weaving. "Tine drills suit our land well, and mounted versions are preferred for their ability to continue working in conditions where trailed drills would struggle. Where it is particularly wet, they can be eased out of the ground to continue working. Mounted drills also offer greater convenience for working around field obstructions and into tight corners," explained the new drill's main operator Tom Beers, who works with his father Peter, Uncle William, and grandfather Gerald, running the farm.
Reduced tillage solution
Black-grass is a constant issue, and stale seedbeds are created to keep on top of the weed. A minimal tillage establishment regime has replaced ploughing for most crops, and the only preparation prior to drilling is either subsoiling by one of two 3.8m Flatliners fitted with Weaving low-disturbance points, or disc cultivation by an 8m Horsch Joker.
Higher work rates
As well as the new 8m Sabre tine drill, the farm has a similar 6m model purchased last year.  The farm also has a 6m drill of another brand, which has been converted for operation with Weaving tine coulters.
"We like having an 8m drill for the higher work rate," continued Tom. "The new Weaving Sabre replaced our previous Weaving 8m tine drill which still worked well after seven seasons. We like to replace our equipment while it is still in good condition and capable of attracting a good price as a trade in. After buying one of the first of the new design 6m Sabre drills last year and being impressed by its performance, we asked Weaving to supply the larger 8m version as soon as possible, and so far it's proving equally good."
Useful upgrades
The 8m Sabre drill was delivered in mid-March and went straight to work establishing spring crops. "The previous model with three tine rows worked well, but the extra clearance and open design of the four-row version is an improvement, and we have seen this on both our 6m drill last autumn and the newer 8m model too. It's easier to see all the tines, and if coulters become blocked then this is quickly noticed as seed spills out of the vents.
The zig-zag harrow is another improvement. Our new 6m Sabre drill was used last autumn in wet conditions and the harrow remained clean, in conditions where a press roller might have blocked with sticky oat straw residues. The harrow is effective, seed is covered, the surface is left level and it's suitable for all weathers."
User-friendly and cost-effective
Tom said that the two Sabre drills share additional features making them even more user-friendly than the previous model. With the two sides folded into the transport or storage position they create a stand, leaving the base of the drill hopper and metering system fully accessible with plenty of clearance for the operator to work safely underneath. The access is also an advantage if the hopper needs emptying as there is space to fit a large container or sack underneath.
Operating costs are low. The low power requirement saves fuel and the only soil wearing parts are the tine points, and seed tubes located at the rear of the coulters – both of which are easily and quickly changed. There are no discs or disc bearings to replace.
The farm operates the 8m Sabre drill behind a John Deere 8370RT twin-track crawler, and Tom commented that the tractor has more than enough power and handles it easily on the heavy land at speeds up to 13kph. During the short spring drilling season, average work rates of 40ha in typical eight-hour days were achieved, and up to 60ha when working days were extended and conditions were good.
Flexible drilling
"The latest Weaving Sabre drills are even more resistant to blocking than the previous models but retain the simple tine coulter design which works so well in all conditions," said Peter Beers. "Operating two 6m drills plus the 8m version suits us as it gives us great flexibility. Both working widths are compatible with our 24m tramlines, but the wider drill gives us higher work rates and reduces the number of wheelings. The two 6m drills can be used with our smaller tractors, and the 8m model is well matched to our twin-track crawler. With all three working, we can achieve a lot of drilling in a day.
"We find the Weaving team very easy to work with and the company values our feedback and is always interested in how we get on with the products."