Latest tractors, handlers and new electric telehandler – hands-on test
An early June demonstration at one of JCB's Staffordshire farms provided an opportunity to test-drive the latest JCB Fastracs, new TM articulated loaders and the eagerly awaited electric-powered Loadall.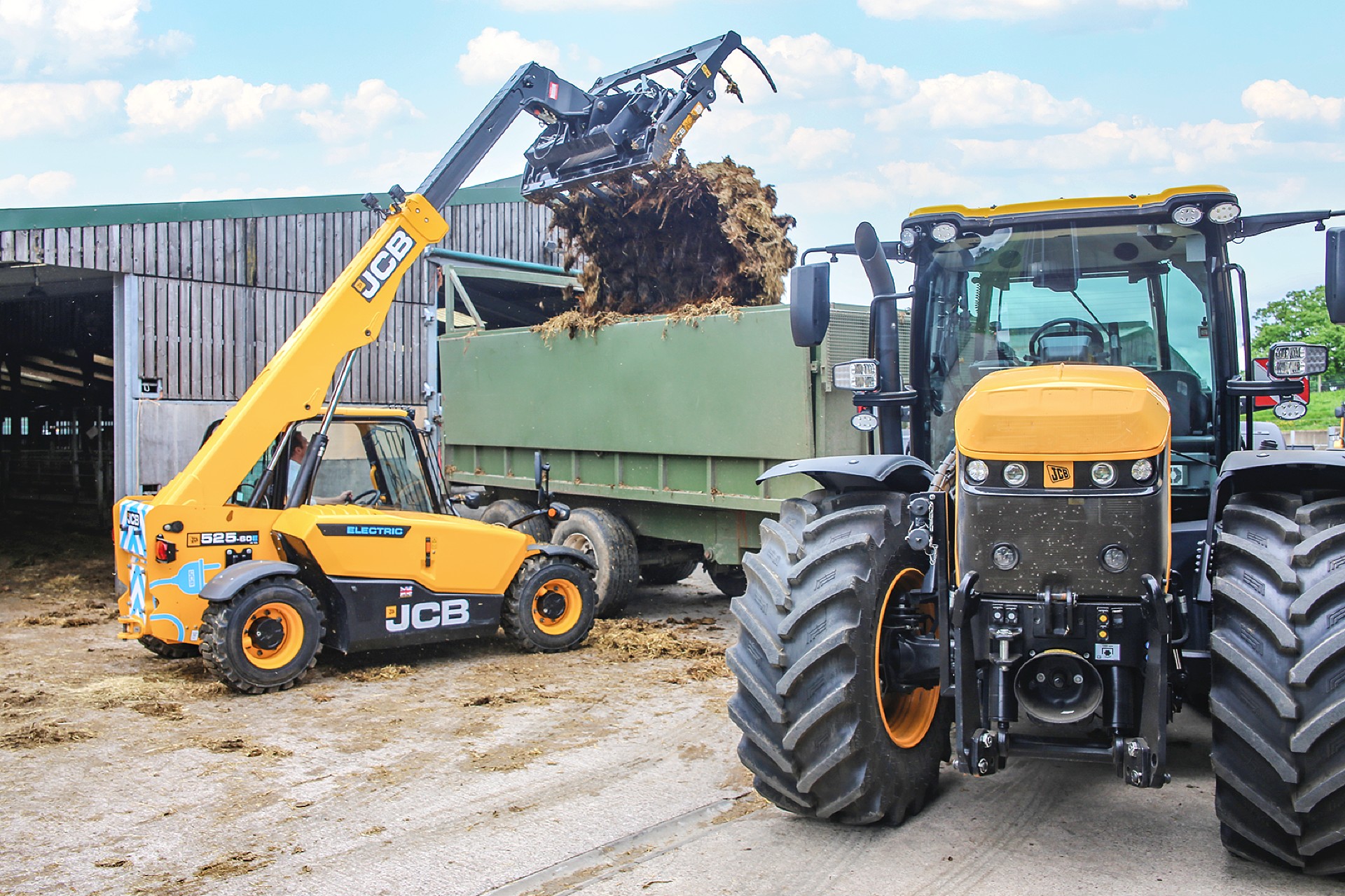 Fastrac updates
Meeting Stage 5 emissions regulations for both 4000- and 8000-series Fastracs has been achieved by adding a DPF which works with the SCR (AdBlue), but without exhaust gas recirculation (EGR) which was a previous feature of the engines. The new DPF is under the right side of the cab so visibility isn't affected, and regeneration intervals will coincide with routine dealer servicing although manual regeneration can also be initiated. 4000-series Fastracs have an extended 600-hour service interval, partly due to changing to hydraulic tappets which are already on 8000-series models.
The latest 4000-series tractors have gained heavy duty axles and hubs, plus new brake discs 10 per cent larger than before. These have helped raise the maximum permissible gross vehicle weight to 14.5t. "We found that customers were using the previous version for a larger range of in-field applications than ever before and seeing fantastic tractive performance so it made sense to upgrade the drive gear and allow users to make more of its capability,"explained JCB senior Fastrac sales engineer James Coxon. "With the extra weight there is more grip, and we have also added new VF tyre options to optimise performance."
The new Twin Steer steering mode was demonstrated. This uses the Fastrac's four-wheel steering and two GPS guidance systems to create separate AB lines for the front and rear axles. When working on slopes, the front and rear steering operate independently to correct side slip and maintain the correct position.
For operating on slopes or level ground, Twin Steer can also be used in a crab steering mode to optimise weight distribution. Cultivating a grass ley provided a good demonstration. First an AB line was set for the front axle, then crab-steer mode was selected and a different AB line was set for the rear axle so that the wheels maintained different tracks. At each headland the tractor turned normally, then the autosteer was re-engaged and the previous wheel offset was achieved. The system compensates for left or right turns so that the offset is always to the correct side for accurate bout matching.
JCB developed Twin Steer with Trimble, but other GPS guidance systems are compatible, making it ideal for customers with mixed fleets.
"Most operators don't realise how much tractors slip on side slopes until Twin Steer is activated, and then it feels strange maintaining a straight path," added James. "It's a useful feature and JCB is the only manufacturer which can offer it."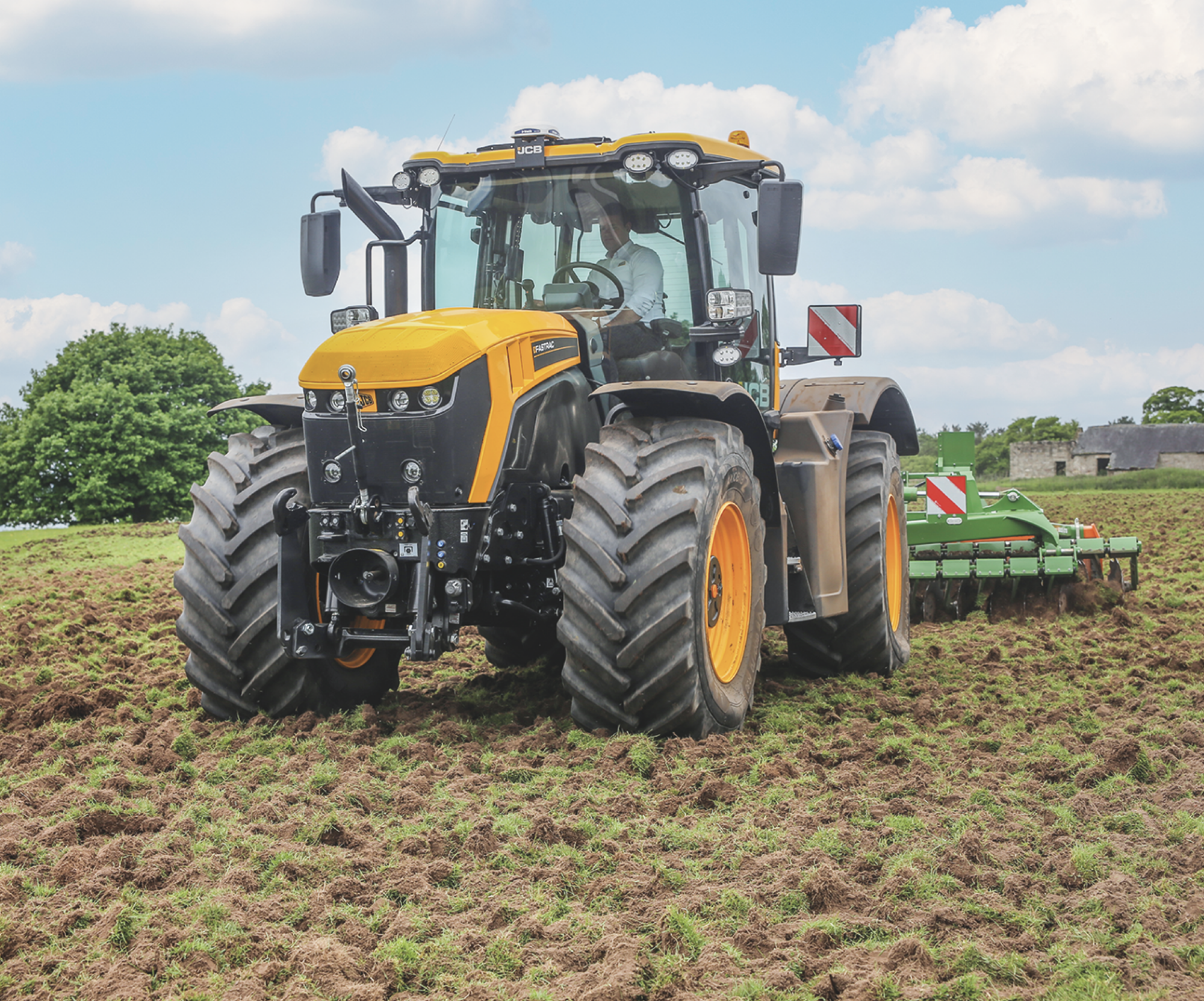 8000-series
Updates to 8000-series Fastracs announced in 2019 included meeting Stage 5 emissions standards. Other improvements included revised engine and transmission management software. Previously drive take-up from stand-still could be aggressive, but updated models have smoother drive engagement which starts as soon as the accelerator pedal is pressed.
Previous 8000-series Fastracs had coil suspension at the front and hydraulic suspension at the rear, but latest models have active hydraulic suspension all round – similar to the proven arrangement on 4000-series machines. This maintains a constant ride height when front mounted implements or ballast are attached, and also improves weight transfer to maintain close to 50/50 weight distribution for maximum traction. Front end dipping during heavy braking is reduced. Maximum permissible gross vehicle weight has been increased to 18t, and rear deck load capacity is up to 5t, allowing larger tanks and hoppers to be mounted.
New VF tyre options allow extra load carrying at lower inflation pressures. Mitas VF 480/70R38 front, plus VF 480/80R46 rear tyres can be specified for row crop applications and there are also new 600-and 710mm options with VF technology.
Electric Loadall
JCB announced its 525-60E electric Loadall last November. Only one model is available currently, based on the diesel 525-60 with 2.5t lift capacity and 6m maximum lift height.
The electric version is designed to provide identical performance to the diesel model, and it has dual electric motors which separately power the wheels and hydraulics. An on-board 96V, 24kWh lithium-ion battery provides capacity for an average day's work for 90 per cent of users, based on use analysis gathered through LiveLink telematics data from 525-60 diesel machines all over the world.
Externally the 525-60E looks  little different to the diesel machine, although JCB stresses that it is far from being an electrified diesel. The main battery is under what would otherwise be the engine hood and a separate 12V conventional battery provides power for the cab systems. An on-board 34kW charger allows the Loadall to be plugged in and charged from a single-phase supply in eight hours for a full charge, or five hours from 25 per cent which better reflects predicted typical use. An optional off-board rapid charger can fill the battery in only 1.5 hours from 25 per cent remaining capacity. Other charging options for less intensive use include using a 110V, 1.2kW supply or a standard 240V domestic mains supply to charge the battery in 21 hours. Whichever charger is used, a charge point safety flap prevents the machine from being driven away while connected to the supply.
Portable power
JCB has also added an electric 'refuelling bowser' to its product line-up. This provides additional charging options including the ability to charge the power pack at night or from a 'green' power source, then use it to charge the handler's battery wherever it is working – including in locations without mains power. The mobile power supply can also power other electrical equipment making it extremely versatile.
The Loadall's lithium-ion battery is maintenance-free with a predicted 5,000-cycle working life, after which the capacity drops below 80 per cent.
Efficient drive
Power to the hydraulics is from a 22kW motor driving an 80-litre/min hydraulic pump. The wheels are driven by a 17kW motor. The axle is the same as the diesel version, although a drop-box replaces the standard transmission between the motor and axle. Power is recovered during deceleration to extend battery life, and there is no conventional front brake.
The cab is also similar to the diesel machine, but the front, rear and right-hand windows are heated. The seat is also heated and there is a 2kW fan heater. Hydraulic functions are all through the main joystick and the operator can change direction using a shift lever by the steering wheel, or a joystick-mounted switch. The steering has three operating modes.
Test drive
An opportunity to muck out a cattle shed and load the compacted manure into a high-sided trailer using a large muck grab provided an ideal test. After operating conventional diesel machines, it took a while to get used to the battery model. Switching on brought the main display to life, then operating the joystick started the quiet pump motor and the boom lifted. The pump motor always operates at full speed so progressive control is achieved by gentle use of the joystick – just as on conventional machines. Selecting forward or reverse and then pressing the accelerator pedal, the Loadall moves away smoothly.
Because it is so quiet, there is an expectation that it might lack the real-world performance of the diesel model – but during the test it proved equally fast and capable. Pushing hard into the compacted manure and angling the grab to pack in as much material as possible, the handler easily lifted and carried it to the trailer.
Extending the boom to reach over the side of the trailer, there was again an expectation that the quiet machine might not be up to the job but was just as well balanced as the diesel.
The overload protection system is the same as on other JCB handlers, with pillar-mounted indicator lights informing the operator as the limit is approached.
Although the 525-60E boasts the same performance figures as its diesel sibling, there are situations where it out-performs it. The diesel engine's maximum power is shared between all the systems so in heavy working conditions as the revs reduce under load, the hydraulic performance becomes slower and there is less torque at the drive wheels. Even when the wheels of the battery machine require full power, the hydraulic performance is not affected.
Comfort
The cab is very quiet, and silent when it is stationary when a diesel engine would typically be idling. This makes it easier for others working in the same area to communicate with the driver, improving safety. The statutory reversing beeper seems louder than on a conventional machine as there is no engine noise to drown it, but with the electric model's near-silent operation it is essential.
Verdict
The Loadall 525-60E surprised the Farmers Guide test operator with its impressive performance. It is excellent and with less maintenance needed than an equivalent diesel-engine machine, there is less downtime and service costs should be lower. JCB is confident that for most users it will work a full day between charges, and with zero emissions during use it is a clean and quiet option for working in packhouses, glasshouses and livestock buildings, and will help boost the 'green' credentials of suppliers. It is definitely worth considering when similar-size diesel models are due for updating, and it might just be the start of a new generation of farm machinery to come.
Other handlers
The latest mid-size Loadalls have all gained DieselMax 4.8-litre, 4-cyl engines meeting Stage 5 emissions requirements. Agri Super versions gain 5hp and have 130hp, and Agri Xtra models also gain 5hp and 7 per cent extra torque with 150hp and 600Nm. Base Agri versions retain their 109hp power units.
DualTech Variable Transmission has been added to the range options
for mid-spec Agri Super models, whereas previously it was only available on Agri Pro models. The new 532-60 Agri Super is an addition to the line-up, complementing the existing base spec 532-60 Agri. The new model is an ideal size for use in and around farm buildings, but with the premium transmission it offers extra performance and versatility.
It is powered by a DieselMax 130hp engine driving a 140 litres/min load-sensing hydraulic pump. The exclusive DualTech VT transmission provides hydrostatic drive for precise, low-speed operations, and powershift mechanical drive for high-speed transport efficiency up to the maximum 40kph.
Wheel loaders
A test-drive on the latest ultra-compact 403 Plus wheeled loader demonstrated its superb manoeuvrability.
With twice the power of the existing ultra-compact 25hp 403 Smart Power, the new 403 Plus has a Perkins 50hp engine paired with a 60-litres/ min hydraulic pump for demanding tasks and higher work rates. Standard 2.6m or high lift 2.8m versions are available, and it lifts up to 616kg. Twin hydraulic supplies to run attachments can be selected through an improved in-cab diverter valve, and a choice of headstocks are available. The standard cab is a canopy, although a fully glazed cab or a quick folding ROPs frame are also available. A trailer hitch is a new option.
JCB says the UK market for this size of handler is growing, although previously most demand has been for export to mainland Europe.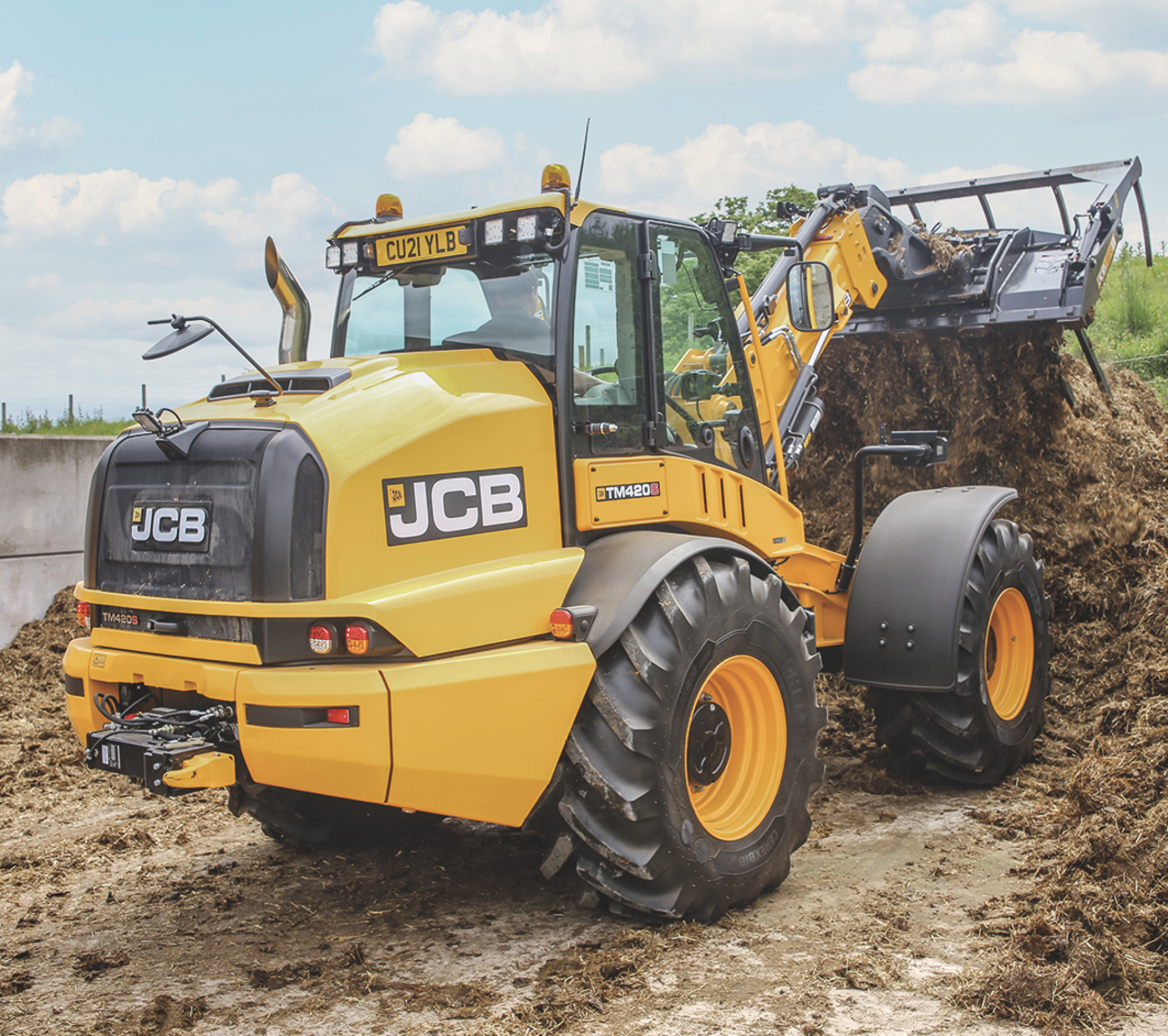 TM loaders
A test-drive of the new TM420S Agri articulated loader included manure handling in the yard and travel at high speeds along a hilly route through the JCB estate.
The new 420S flagship is the most powerful of four models in the TM320 Agri and TM420 Agri line-up, and is powered by a 173hp version of the DieselMax 4.8-litre engine. All four models share a new 'intelligent' eight- speed powershift transmission with manual or automatic operating modes. A higher specification version, standard on the TM420S and an option on the TM320S, allows 50kph maximum speed and features lock-up in all gears including reverse for maximum power and efficiency – making it ideal for demanding applications such as silage clamp construction. The 'intelligent' automatic shifting provides relaxed gear changes at low revs for maximum fuel economy, but under heavy loads gear changes are delayed and take place at higher revs for maximum performance. The TM420S, and TM320S with the 50kph transmission gain dual-circuit brakes and oil immersed discs in both axles.
The TM420S has a 160 litres/min, twin-displacement hydraulic pump for fast cycle times even at low revs.
Cab improvements include a one-piece windscreen offering an increase in forward visibility by 13 per cent, programmable work lights and a standard rear-view camera. Most switches have been relocated to the cab pillar under a rubber membrane. A programmable joystick button can be assigned for multiple functions and adds convenience. A new Pro Pack specification for the TM320S and
TM420S includes a half-leather heated seat, 360-degree lights and extra storage. Z-bar linkage is standard and the nose cone of TM420 models is cast for extra strength.
The steering angle is up to 40 degrees on TM420 models and 43 degrees on TM320 versions, and the pivot point oscillates up to +\- 10 degrees.