Ktwo announce 5-year partnership with North American importer
Ktwo, a leading British manufacturer of farming machinery, has now secured a 5-year export partnership to continue to serve their growing audience across North America.
Ktwo saw an opportunity in the North American market for strong high-quality agriculture trailers after being approached by several companies across America and Canada in early 2020. They needed a manufacturer with the capacity and experience to fulfil their need for strong, large silage trailers to hold volumes up to 75m3.
"We see big potential for our machines across North America,'' explains Robbie Polson, Ktwo Managing Director, ''and we are very pleased to announce we have secured a 5-year partnership with an experienced and reputable importer to cover the region and grow our dealerships.''
Ktwo has already grown their dealership network in North America in the recent months with new dealers now covering Michigan, Minnesota, Ontario, Manitoba and Quebec states.
"We're excited to have Ktwo in Michigan. The innovative, yet simple design of Ktwo products will make them successful with our customers." Says Blake Laethem of the Farm Depot which has locations across Michigan.
''When we choose new product lines to carry they are carefully vetted by our sales, service and parts teams. It is important that we can support buyers from the first handshake to the field.  We are confident that farmers will be excited to get to know Ktwo in 2021.'' Says Cameron Currie of Delta Power Equipment which has multiple locations across Ontario.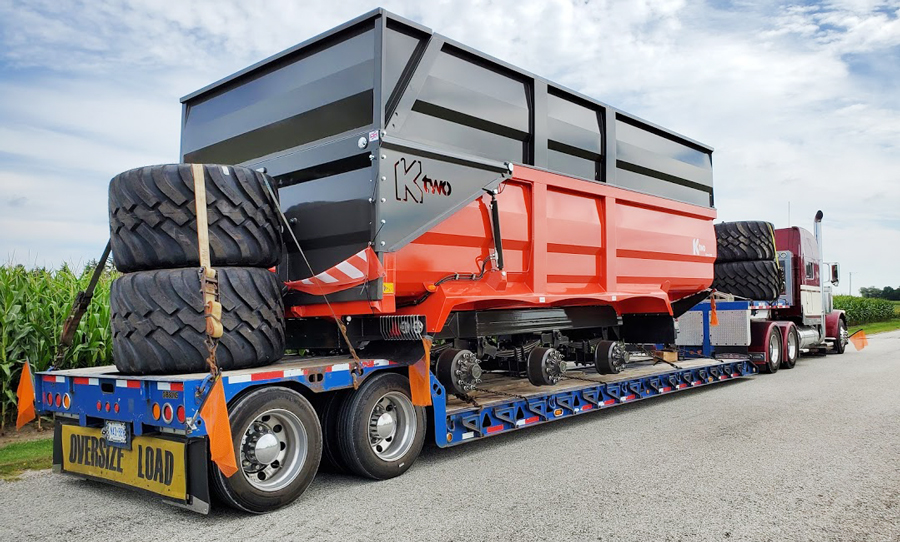 Ktwo developed their popular Ktwo Roadeo Curve Trailers and increased the width from 2.5m to 3.2m wide specifically for North America in the summer. The largest Roadeo Curve Trailer being developed has four axles and two steering axles to cope with the larger size and capacity.
Along with their large tipping trailers, Ktwo already has examples of their UK leading Roadeo Compact and Push trailers operating in North America and they have developed a greater range of their manure spreaders. Their larger spreader range includes tandem axle horizontal and vertical beater machines which are being well received across America and Canada.
For more information on the Ktwo North American range and their growing dealership locations visit their North American website: www.ktwomachinery.com