Making the most of the 'staycation' boom
With Covid-19 continuing to complicate holidays – particularly overseas – many are looking to enjoy a break in the British countryside. Cabins, Logs & Pods gives the low-down on its range of glamping pods.
As farmers are presented with a wide range of challenges, from Brexit to Covid-19 to increasing extreme weather events, a growing number are set to diversify to provide an additional revenue stream. With more and more people enjoying the great outdoors and choosing to stay closer to home for holidays, farmers could be making use of spare land to capitalise on these trends.
Glamping pods
Glamping Barrel Pods from Cabins, Logs & Pods will comfortably sleep four people in large bunk beds, providing a means for a greater return on price per night. Or, they can be set out for a more luxurious double bed arrangement with or without bunks.
Regardless of the internal sleeping arrangement, the company says pods will soon offer a return on capital cost and, subject to bookings, can return the capital cost on investment in as little as one season.
Able to be used across all seasons, The Barrel Pods can be supplied either as a flat-pack self-build, or delivered fully assembled. Optional extras range from:
Electrical connectivity with sustainable Solar and or Wind Turbine supply for internal USB connection points as further options, which will provide for a fully compatible Wild Camping experience
Where mains supplies are available, the Pods can be hooked up to the supply as a touring-caravan-type experience
Radiant Heat Panels in the roof to take the chill off in deepest winter
Range of soft furnishings
Fully stained and/or painted to your own particular colour scheme or style.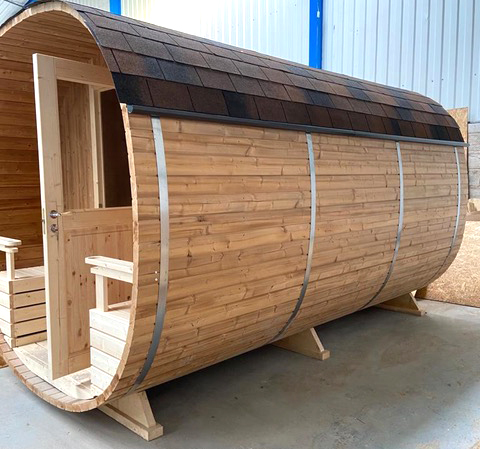 If you have the room to build these yourselves, it is a relatively simple process and they should ideally be placed undercover. Cabins, Logs and Pods says it builds theirs in around four days with two men and only simple tools.
The Barrel Pods are made from thermally-treated wood of Nordic spruce, 44mm thick for the barrel and 28mm thick for internal walls with 18mm thick floorboards inside. The doors and window packs have tempered double glazing and the door locks are of premium quality.
Once assembled, the roof can be covered in the shingle pack, which, once heat treated, will fully provide weather protection for five years without any major maintenance. The shingles can be repaired without major intervention.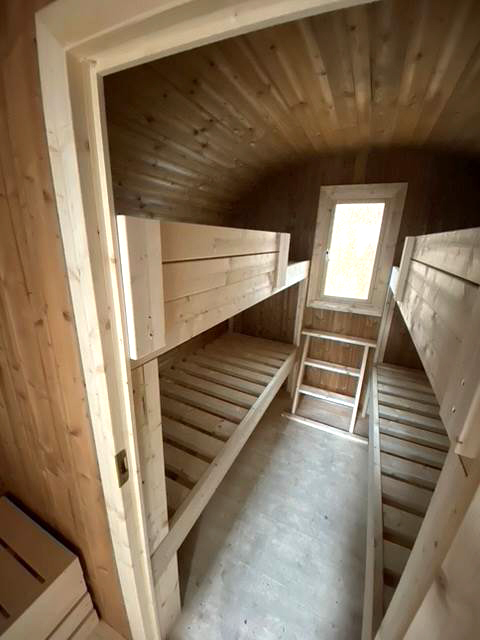 Regular annual re-painting/staining of the exterior maintains the appearance and will ultimately prolong the Barrel Pod life.
Only thermally-treated timber is used in the pods, the company says – unlike others on the market selling pods with untreated spruce. The company says its pods are guaranteed for 10 years.
Benefits of thermal-treated timber
Thermal-treated timber uses a natural process that has been utilised across the Scandinavian and Nordic lands for over 1,000 years. It is created by heat-treating Nordic softwood – in this case Artic Spruce – to temperatures ranging from 180–230° in special chamber kilns for 4-6 days. The steam used becomes a protective gas and helps to prevent the wood from splitting and becoming damaged during treatment. This process does not use any chemicals and is therefore completely natural. It is the primary means of producing timber for saunas and is therefore highly adaptable for producing camping pods.
This provides a much more stable timber that is:
Dimensionally stable – The intensive heat the timber is exposed to during its production dries out deep into the core, causing all moisture and resin to be removed from the timber. The timber therefore doesn't react to changes in humidity as drastically as untreated wood (the risk of swelling, cracking and shrinkage is decreased), allowing it to retain its shape far better. The timber will also not secrete sap or resin, even in high temperatures, which the variants of the British summers can affect most untreated timbers
Has an increased longevity – this process extends the life span of the timber
Environmentally friendly – timber is from a managed FSC source.
Resistance to rot and fungi – Due to the heating process breaking down the hemicellulose, the timber no longer has the natural elements which allow rot and fungi to grow and develop
Provides for improved insulation – Thermal-treated wood is much better as an insulating product, retaining heat as well keeping the pod cool in summer
It is recyclable 
Costs and delivery options
The pod's natural barrel shape lends itself to being positioned in areas of uneven ground and can easily be moved around the farm or campsite with the aid of a tractor/telehandler. Once sat on the sturdy timber staves, they provide for a quick and flexible pop-up campsite.
The costs of the Barrel Pods range from supply only flatpack: £3,900 exc VAT inc delivery to UK mainland post codes (Highlands and Islands cost to be advised). Or fully assembled (excluding options) from £4,950 exc VAT inc delivery to UK mainland post codes (Highlands and Islands cost to be advised).
Delivery currently is 10-12 weeks from order. However the company has two pods which have recently been completed for display at its show site in Leyland, Lancashire. Both these are available for immediate dispatch on a first-come-first-served basis.
Alternatively the company can provide these on a season long hire basis – contact the company to discuss if this is of interest. Visit https://cabinslogsandpods.co.uk for more information.