Massive torque and plenty of power
Land Rover has added a new V8 engine option to its Defender line-up, offering blistering performance and promising a superb on- and off-road driving experience. David Williams tried it.
2022 line-up
The 2022 Defender line-up features significant upgrades compared to earlier models. The range includes body styles with two and four doors, a wider choice of trim levels, and a choice of petrol, diesel, and hybrid power units. A 5.0-litre, V8, petrol engine option is new, and with up to 525hp and 625Nm of torque, it provides superb performance on- and off-road as well as for towing.
Farmers Guide tested the 90-inch (short wheelbase, two-door) model.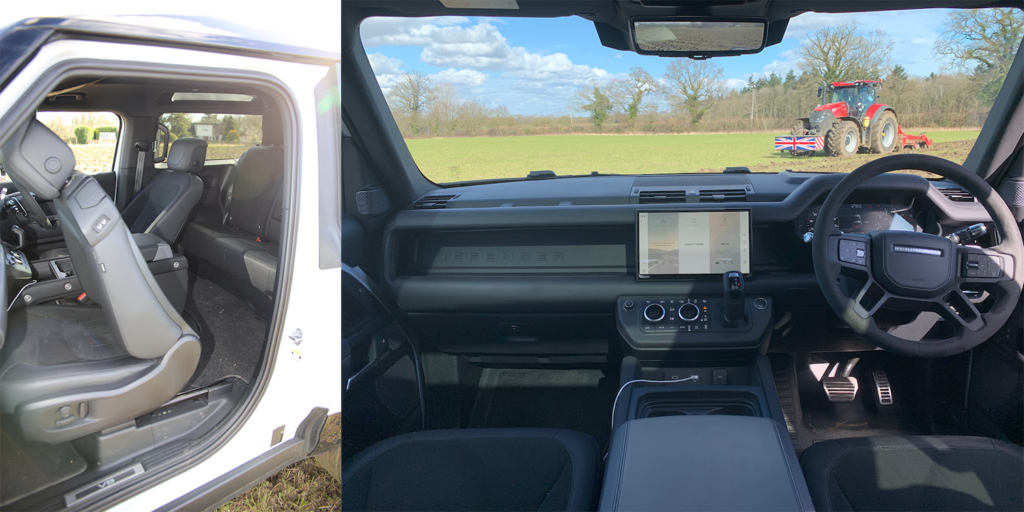 The equipment level is generous and the Defender V8 is comfortable.Generous specification
V8 models come with a high standard specification. The seats are part fabric and part leather, and the front pair are heated and cooled with 14-way electric adjustment. The rear seats are similar material and heated. Although not as spacious as the long wheelbase, four-door version, the two-door test vehicle had plenty of legroom for the driver and front seat passenger, and enough in the rear for those of medium height to remain comfortable on longer journeys. Accessing the rear seat is relatively easy as the two front seats fold forward to provide a large gap.
Practicality
The internal storage is exceptional – including large door pockets, a small glovebox, and a very large tray in the centre console. A concealed storage compartment in the centre armrest doubles as a powerful fridge. There are also many smaller trays and compartments.
A full-length panoramic roof adds to the spacious feel, and it opens at the touch of a button. Front- and rear-seat passengers benefit from separate climate control. Power sockets in the rear are handy for charging phones or tablets.
Equipment
The large central touchscreen is used for navigation, media, mobile phone, and most vehicle settings. The screen is clear, and the menus are logical and easy to use. Driving modes are selected through Terrain Response 2.
Options include Normal; Auto; Grass, gravel, and snow; Mud and sand; Rock crawl and Eco. A new Dynamic mode – exclusive to the V8, improves throttle response and stiffens the suspension for a sportier feel. For almost all situations the extremely capable Defender will conquer on-farm challenges in Normal mode, and without having to select Low Range which doubles the number of gear ratios to 16. For most of the test-week, Eco or Normal modes were used on-and off-road – including when pulling farm trailers.
The air suspension allows the ride height to be adjusted. Low can be selected for easier access, standard height is for road use and suitable for most off-road situations, and maximum is for deep water fording, and it also increases the approach and departure angles for extreme off-road driving.
Practicality
The short wheelbase Defender achieves an excellent compromise between space for passengers and loads at the rear. The back seat folds forward to create a surprisingly large load area although the floor isn't flat.
All-around vision is good, and large door-mounted, rear-view mirrors provide a clear view when reversing trailers. When high loads obstruct the rear window then the interior mirror can display images from a rear-mounted camera instead.
Capable
The V8 is rated to tow 3,500kg – the same as other models in the line-up. Although the impressive acceleration isn't needed for most towing situations, the massive 625Nm of torque means that it pulls away smoothly and easily and maintains cruising speeds effortlessly on the steepest slopes, even when towing heavy trailers.
Handling and ride
The V8's air suspension ensures excellent ride comfort. Driving across cultivated fields the uneven ground is tackled without fuss, and on the road at cruising speeds the vehicle feels stable and secure. Large 275/45R22 Continental CrossContact RX tyres grip well and steer in and out of deep ruts on muddy farm tracks with ease, but also feel glued to the surface on wet and dry roads.
Performance and handling
Most of the time – at speeds up to 60mph, the engine tends to sit comfortably at approximately 1,500rpm. With so much power available the transmission isn't constantly changing up and down through the gears, so it is a relaxing and quiet car to drive.
The huge amount of torque also makes the Defender easy to drive off-road. Very little throttle is required to keep the travel speed constant, even while tackling steep slopes.
Fuel consumption
The V8 Defender is extremely responsive and applying full throttle results in electrifying acceleration. Obviously, this comes at the expense of fuel economy, but a relatively considerate driving style during the test-week resulted in 19.8mpg average consumption, and on one longer journey an impressive average of 25.1mpg was achieved.
Verdict
The 2022 Defender line-up features many improvements over earlier versions, including styling, comfort, and practicality. Few other multi-purpose vehicles achieve such a great combination of on- and off-road comfort and performance.
Disadvantages of the V8 include higher fuel consumption compared to other engine types, although the test vehicle proved surprisingly economical when driven gently. It also has a high price tag which ventures well up into Range Rover territory.
Other engine options will sell in higher numbers than the V8 for typical farm transport, but for those pulling heavy trailers or with extreme off-road conditions to tackle – the bigger engine has plenty to appeal. It combines the performance of a sports car with a rugged, practical package capable of transporting people and equipment across almost any terrain, – and it is very enjoyable to drive.