New brand and dealer impress on Cambridgeshire farm
Changing tractor brands and dealers is proving a good decision for a large Cambridgeshire arable farm. David Williams reports.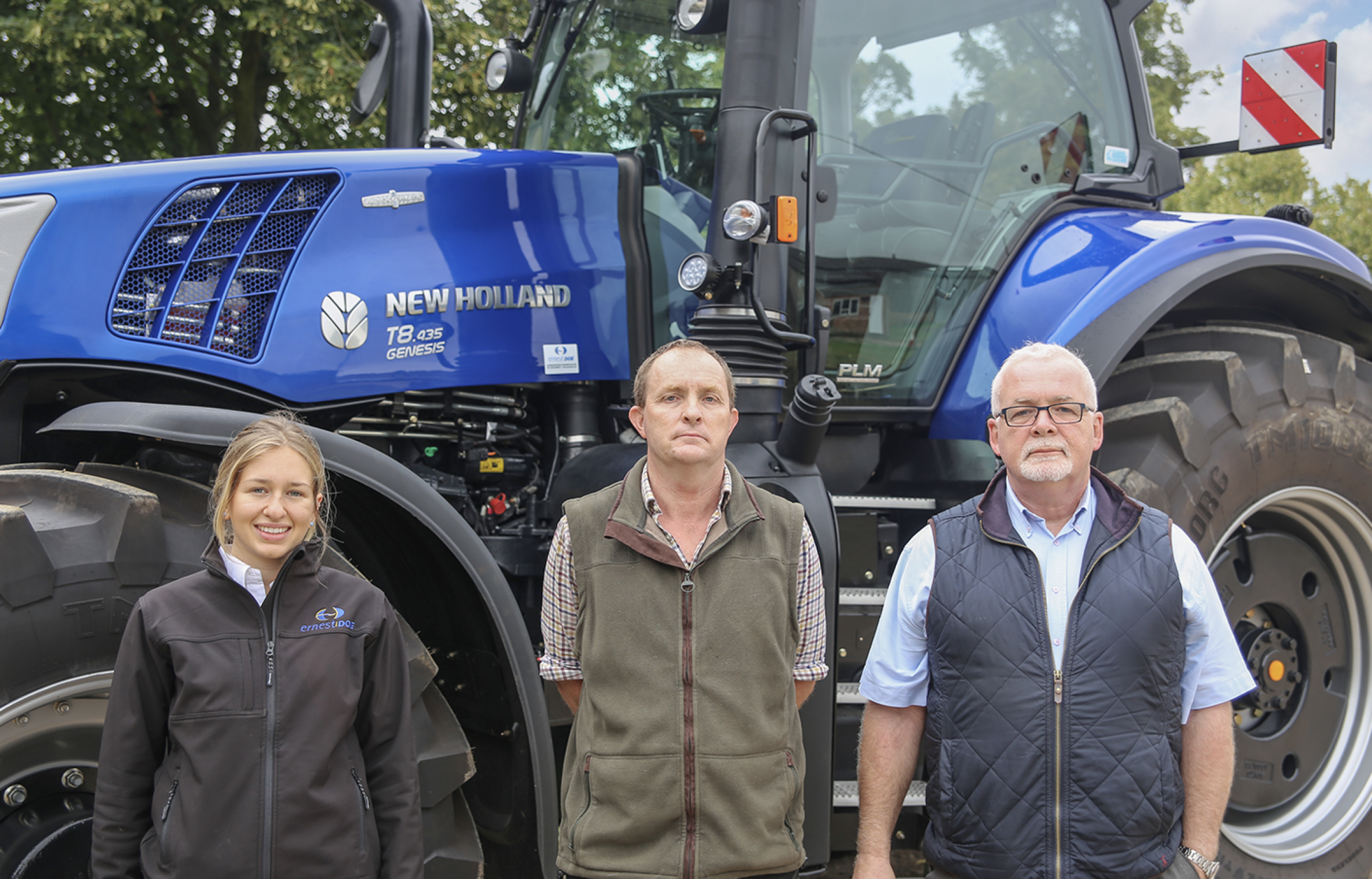 Based at Weston Colville near Cambridge, Nigel Clayson is farm manager for Henry D'abo Farming. Arable crops are grown on 900ha of challenging soils, ranging from heavy clay to sand over chalk.
"Early last year, our 260hp main wheeled tractor was due for updating and, although we had used another brand for many years, the Ernest Doe area sales representative happened to call in to our yard asking us to try a New Holland," Nigel explained. "The farm used Ford and New Holland tractors many years ago, until a previous farm manager changed brands. Because the tractors performed well and we received good back-up from the local dealer, there was no reason to consider alternatives."
Successful demonstration
A New Holland T7.290 HD was trialled, and the farm's operators preferred it. When quotes were considered, the Ernest Doe offer appeared better value. "Being able to buy a tractor we liked more for less money made it an easy decision – so we ordered the ex-demonstration machine," confirmed Nigel.
Change of policy
For many years tracked tractors were preferred for heavy cultivations, but advances in tyre technology including better grip, and the ability to operate at lower inflation pressures to increase the ground contact area and reduce compaction led to a change in farm policy. "Our twin-track crawler was excellent for heavy draft work, but we only used it for part of the year as it couldn't do other tasks," continued Nigel. "We believed that a powerful wheeled tractor with the latest tyres could replace the crawler for heavy draft work, but it would also be suitable for lighter cultivations and top work as well as transport tasks. Changing to the wheeled tractor would also solve the issue we experienced with uneven headlands caused by the twin-tracks scuffing during turns."
Second successful demo
As the New Holland T7 HD tractor was performing so well and the service from Ernest Doe had proved excellent; Nigel requested a demonstration of a larger New Holland T8 last autumn. The crawler's main role had been pulling a Vaderstad Top Down cultivator and the Rexius press, but the T8 handled each of them easily, and it proved just as popular with operators as the farm's T7 HD. In January this year, a new T8.435 Genesis was ordered with delivery anticipated in time for the start of autumn cultivations.
The new T8 Genesis arrived in early September, several months later than planned, and was one of the first of its type supplied by Ernest Doe. "The delay was unfortunate although we weren't inconvenienced because the dealer loaned us an equivalent model until ours arrived," commented Nigel. "We couldn't have asked for better service, and we always had a suitable tractor available for the work we had planned for our own machine."
Great working environment
Harper Adams placement student Emma Mayers was the loan tractor's main operator and spent more than 100 hours in the cab. "My previous experience was limited to corn carting with the T7, so it was quite daunting when I first used the T8. However, Nigel and the farm's main machinery operator Glynn Taylor gave me good instruction, and finding my way around the bigger tractor's IntelliView 12 monitor and SideWinder Ultra armrest proved really easy. The cab is comfortable, and the visibility is excellent which was a big help getting used to the machine."
New Holland preferred
Glynn Taylor has worked on the farm for 11 years and is very impressed by the New Holland tractors. "We got on well with the previous brand but I think the tractors were overpriced. Having spent a lot of time on the T7 HD and some time on the T8 Genesis loan tractor I now far prefer New Holland," he confirmed.
Olivia Abrey is Ernest Doe's area sales representative responsible for the farm's account. "I'm really excited to have delivered the new T8 Genesis to Nigel and his team. It has plenty of power to achieve the productivity the farm needs, and it comes with technology and user aids which will match or exceed anything offered by competitor brands. It has lots of advanced technology systems which are well thought-out and easy to set up and use, and provide benefits for the farm. The tractor was purchased with a four-year, 4,000-hour warranty and an Ernest Doe service package for peace-of-mind and which means the farm can budget accurately for costs of ownership. New Holland tractors have an excellent reputation and hold their value well. With its state-of-the- art technology the T8 Genesis will be capable of making the most of future developments in precision farming technology and machine automation, and is a great investment for the farm," she added.
Extremely efficient
Ernest Doe New Holland brand manager Ian Roberts also attended the new tractor's handover. "The T8.435 has an impressive power-to-weight ratio and needing only SCR to meet Stage 5 emissions regulations means it is extremely efficient," he stressed."The cab is superb and for operators working long days it's a great place to spend the time. With excellent back-up from Ernest Doe it's an ideal package."
Future business
"Although there is an Ernest Doe depot quite close to us, we hadn't bought anything for decades until we borrowed the demonstration T7," Nigel added. "We deal with Olivia, plus the Fulbourn branch and sales manager Andrew Buttress as well as the depot service manager Matthew Thomas mainly, but the whole team is great."
A smaller tractor of the previous brand remains on the farm and is due for updating shortly. Asked whether it will also be replaced by a New Holland; Nigel confirmed this is likely."The service from Ernest Doe is excellent, so it would make sense to buy another tractor with the same back-up from the same team," he explained. "Since buying the T7 HD we have also bought other machinery. Persistent wet weather last winter meant we struggled to get seed in the ground using our disc drill, and we replaced it with a KRM tine drill from Ernest Doe which performed well and will be used for all our crops in future.
"I'm sure we will buy a lot more from Ernest Doe. The service we have received from the dealer and from New Holland will encourage us to consider additional products from the range in future. We know our business is valued," he concluded.