New series release to lift comfort and productivity to new levels
Massey Ferguson, a worldwide brand of AGCO (NYSE:AGCO), has announced the introduction of the latest MF TH telehandler Series, which features a new cab plus other significant changes that further enhance comfort, operation and productivity.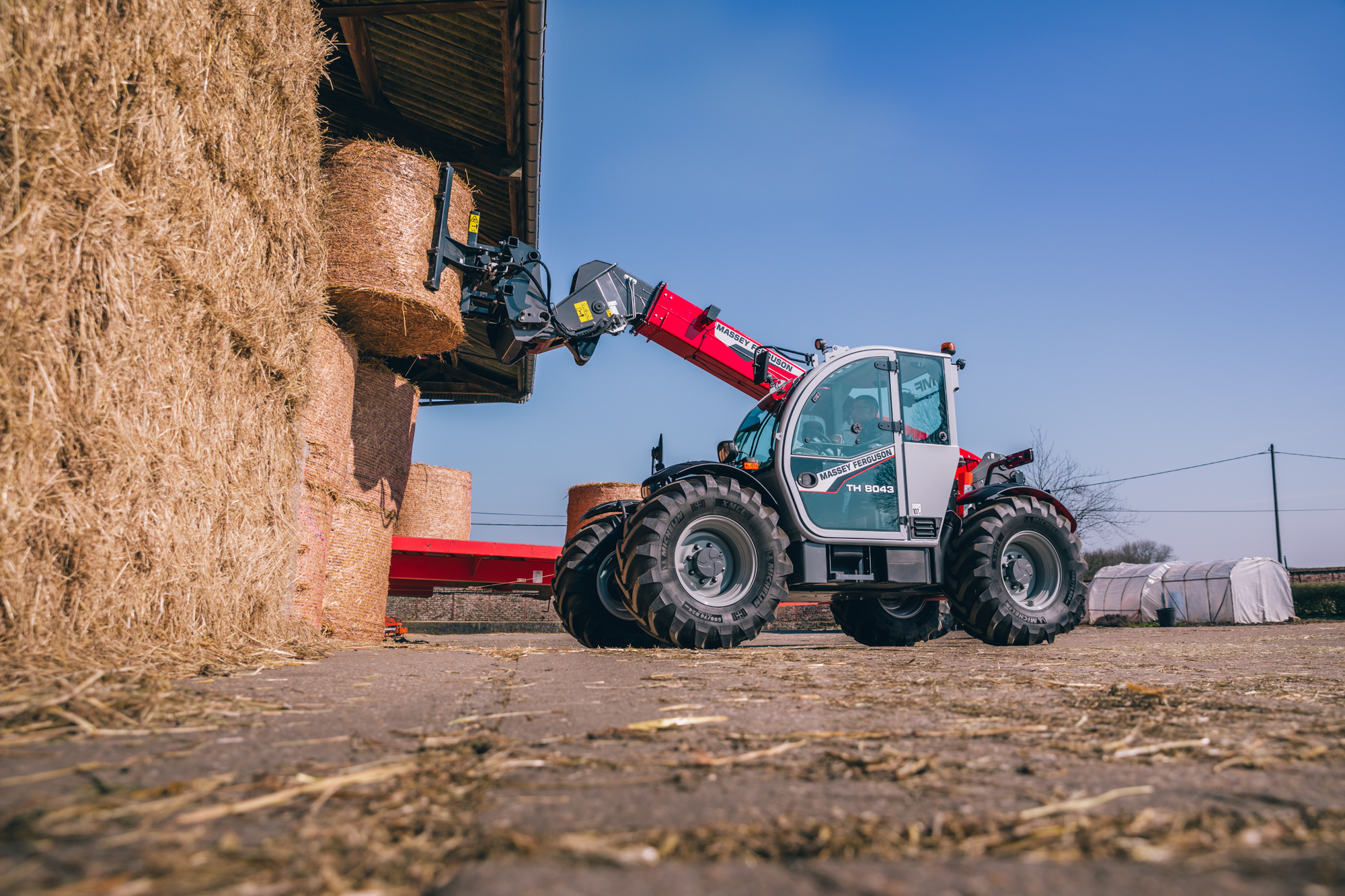 Six models in the latest generation MF TH Series are designed to handle every job with ease. The line-up starts with the semi-compact MF TH 6030 and goes up to the latest MF TH.8043, which provides a maximum lift capacity of 4,300kg and height of 7.5m, and it can be equipped with a 3,500-litre capacity bucket.
Significant improvements to the hydrostatic transmission, which include a new operating mode, ensure the MF TH Series operate more smoothly to ease operation and increase productivity. Powerful and high flow hydraulics, equipped with proportional control, deliver optimum materials handling accuracy and productivity.
"Massey Ferguson TH Telehandlers already have a strong reputation for excellent performance, productivity, visibility and manoeuvrability. These new models now introduce the most exciting developments in 10 years' of MF TH production. This is not just an upgrade – it is a breakthrough," says vice president and managing director Massey Ferguson, Europe & Middle East, Thierry Lhotte.
"The MF TH Series is completely transformed. Now equipped with a high comfort cab, this new generation delivers outstanding comfort and control, combined with smoother operation and additional automation," explains Mr Lhotte.
As well as a new seat, there's also a new joystick that offers the effortless operation of the hydraulics and transmission, while a new colour display provides a range of operating information.
Additional automation for the boom suspension, parking brake, boom height setting and third hydraulic function controls further ease operation.
All models are powered by advanced four-cylinder, Stage V engines, with power increasing to 135hp on the MF TH 6534, MF TH 7038 and MF TH 8043, while remaining at 100hp for the other models. Lift capacity and height specifications remain unchanged.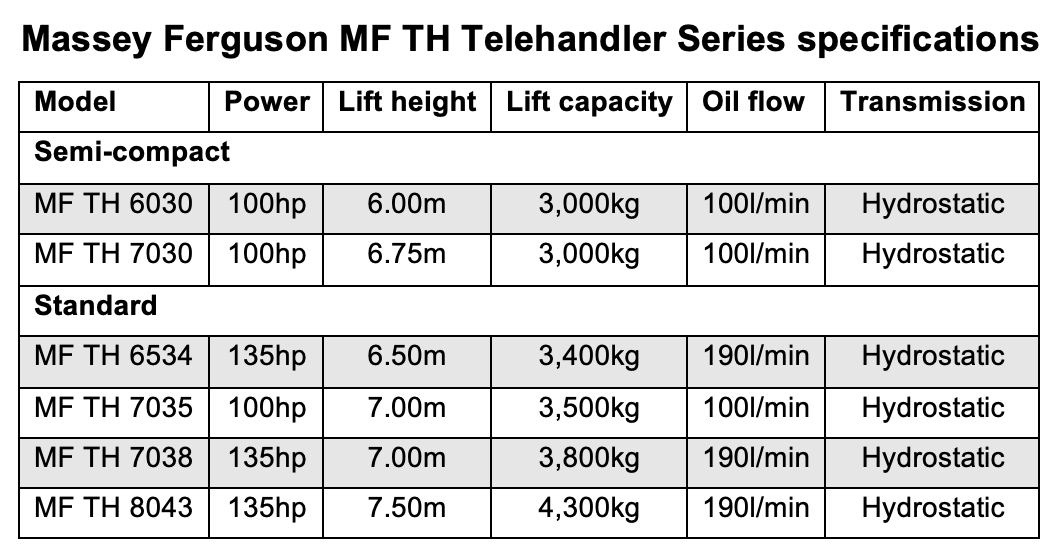 Features include:
Wide choice of models to suit all handling requirements and investment levels
Quiet and comfortable cab design offers outstanding visibility and control. New, lower profile engine bonnet shape maintains a completely unobstructed view to the rear three-quarter right-hand side
New Massey Ferguson family neo-retro design first introduced on the MF 8S tractors
Significantly enhanced operation with high specification seat, new MF Power Control lever, hand throttle, optional 7" colour touch-screen display and a rear-view camera
New joystick designed exclusively and specifically for MF TH telehandlers, with new armrest-mounted joystick option
New optional bucket shake function
Excellent control from the smooth and responsive hydrostatic transmission
New transmission mode to vary the travel speed of the telehandler – perfect for work requiring steady and changing forward speeds
Load-sensing, high flow hydraulics delivering up to 190 litre/min
Latest design Stage V compliant four-cylinder engines generate power with economy
Economical engine setting provides more torque at low rpm for lower fuel consumption
"The new MF TH range not only reflects the new Massey Ferguson design initiated on the MF 8S, but substantial changes to the cab enable operators to benefit from modern, advanced controls in a quiet, comfortable workplace. Our renowned MF Power Control lever, as used on all Massey Ferguson tractors, is now standard, providing excellent operation with the left hand," adds director of marketing Massey Ferguson EME, Francesco Murro.
"High performance, combined with great comfort, make the MF TH Series a real operator's machine," concluded Mr Murro.