New transmission will tempt additional users
A new, stepless powershift transmission with electronic control and automatic shifting is expected to boost sales volumes for Deutz-Fahr's popular 6-series tractors. David Williams tried them out.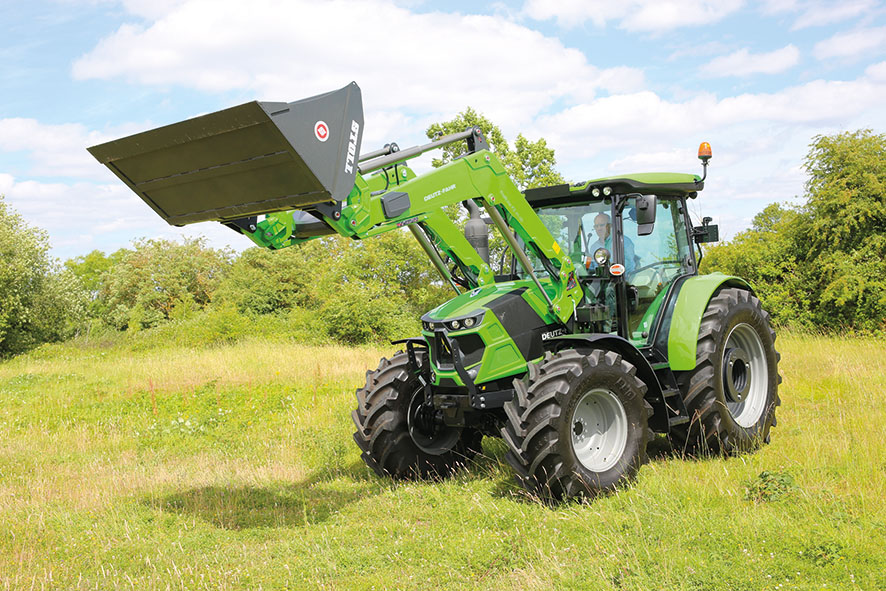 The new RVshift is an option for latest 6C-series models which replace the previous 6120–6140 machines. The 6C-series includes three models with three transmission options from 120hp (rated) to 143hp (max). Transmissions available include standard powershift, the new RVshift, and TTV continuously variable transmission.
Power is from Deutz 4-cyl, 3.6-litre engines or Farmotion 3.9 litre engines, all meeting Stage 5 emissions standards. Maximum power is at 2,000rpm and maximum torque is produced at 1,600rpm. Approximately 7hp extra is available for all models in boost mode – available for PTO applications, or when travelling at more than 15kph.
Transmissions for all applications
The base Powershift features five gears with either two (high/low), or three (high/medium/low) powershift steps, and there is also a creeper option. Manual shifting is standard for the 6115C, but Automatic Powershift (APS) is included standard for 6125C and 6135C models, and an option for the 6115C. Top speed is 40kph.
The new RVshift has 20 forward, and 16 reverse powershift steps, and creeper is an option doubling the number of ratios available. Cruise control, Stop&Go with advanced functionality and Automatic Powershift (APS) are all standard.  A SuperEco version offers 40kph  and Eco is 50kph.
The TTV stepless transmission offers a choice of driving strategies and the ability to set two cruise control speeds in each direction. 40kph and 50kph versions are available.
Welcome addition
Deutz-Fahr product specialist David Jefferson said the RVshift transmission option will be welcomed by dealers and customers. "A transmission offering this sort of automatic operation is in high demand, and sales account for 70% of the market. We had a range of superb tractors in this size class, but nothing to fill the gap between functional powershift and the premium TTV versions until now,"  he stressed.
The RVshift transmission is a high efficiency full powershift, and all 20 forward and 16 reverse speeds are selectable without using the clutch pedal, and without interrupting torque delivery, making the system ideal for draft and transport applications.
Control is through the RVshift controller three-way joystick, located on the multifunction armrest mounted on the driver seat. Nudging it forward causes the transmission to upshift one gear ratio at a time; holding it in the forward position causes shifting to continue through the gears; and pushing it forward and pressing the 'consent' button means the gears jump several steps at a time – depending on the speed and working load. Pulling the stick back results in a downshift and moving it to the left activates cruise control and memorises the current speed.
Simple but versatile
There are two driving modes – field and transport, and a button press switches between the two. Default modes are pre-programmed at the factory but the gear ratios within each range can also be set by the operator – for example working within a restricted range of gears 5–8 for cultivations in field mode, then having gears 9–20 available for higher speeds in the transport mode. Additional settings which add convenience include pre-programming the start-off gear in each range. All adjustments are made through the dashboard-mounted Infocentre Pro display. Gears can be selected manually using the joystick, but with APS (automatic powershift function) the engine and transmission management system constantly adjusts the engine speed and gears to achieve best possible working efficiency and economy.
The optional creeper range allows travel speed adjustment from only 20 metres per hour to 5kph.
Added features
Additional features available through the RVshift transmission include a Stop&Hold function which keeps the tractor and any load stationary – even on steep slopes, until the accelerator pedal is pressed again.
Many 6C tractors will be specified with loaders, and standard PowerShuttle with five different drive take-up settings is standard on all models and for all types of transmission.
A braking assistance system is also a new option. The hydraulic engine brake is activated by a foot button on the cab floor and works by increasing drag on the engine to slow it down. The viscous fan operates at maximum speed, a lower gear ratio is selected, and a dedicated hydraulic spool valve is pressurised.
All 6C tractors have genuine four-wheel braking with brakes on the front axle, and a brake booster system which reduces the pressure required on the brake pedal is standard on RVshift and TTV variants.
How does RVshift work?
The RVshift transmission is designed and manufactured by SDF and, in simple terms, it is the TTV models' CVT transmission, but with virtual operating ratios to mimic the behaviour of a powershift transmission. There are a few physical differences including the hydrostatic oil operating pressure, but it is the same transmission unit, and the RVshift versions of the tractors cost approximately £6,000 less than the equivalent TTV models.
Operator environment
Three versions of the cab share the same four-pillar design. The more basic TopVision cab is only supplied for the base 6115C Powershift. The other two Powershift models get the upgraded TopVision+ variant. All RVshift and TTV models have the TopVision Pro version – which adds extra comfort and additional technical features including the InfoCentre dashboard display. Rubber Hydro Silent block suspension is standard across the range, but mechanical cab suspension is an optional upgrade for all models with the TopVision+ and TopVision Pro cabs.
Hydraulic performance
Hydraulic lift capacity is 5,410kg  on the 6115C Powershift, while  all other models lift 5,000kg  although an upgrade to 7,000kg  is an option. Front lift capacity is 3,000kg.
Hydraulic oil flow rates of 55 litres/min are standard on the 6115C with an upgrade to 90 litres/min available as an option. All other models have 90 litres of flow as standard, but an impressive 120 litres/min delivered by a load-sensing pump is an option.
Precision farming
New 6C-series RVshift and TTV tractors can come auto-steer ready. An optional 8in iMonitor 3 display allows advanced functions including individual control for up to 200 sections, AutoTurn for added convenience and working efficiency during headland turns, and full Isobus compatibility.
Competitive package
"What we are offering with the RVshift surpasses a lot of what the competitors can offer in this power segment," stressed Deutz-Fahr UK country manager, Graham Barnwell. "The new RVshift models won't replace anything we are doing in terms of other models in our line-up, so our dealers expect to gain a lot of additional sales."
Test drive
The press preview event featured two new RVshift models to drive – one with a front loader. The RVshift transmission is exceptionally easy to set-up and use. The main joystick action is intuitive, and it has a very progressive feel which makes it easy to achieve accurate control. A test-drive on public roads highlighted the exceptional smoothness of the adapted CVT transmission. Gear changes are progressive, the transmission is quiet, and under full acceleration in APS mode, the changes between the virtual gears were barely noticeable and the power was delivered smoothly. Nudging the joystick forward or back overrides the automatic gear selection and pushing it to the left engages cruise control and maintains the current speed.
Ride comfort on an uneven back road was good, the cab was quiet and there was little noise from the transmission.
The four-pillar cab is spacious and well designed, and the interior layout is attractive but functional. The optional Advanced satellite armrest includes additional functions such as three freely assignable control buttons, a programmable thumbwheel, and an additional engine speed memory.
The loader tractor had the optional high specification Electric cross lever control rather than the standard mechanical lever with Bowden cable loader operation. The stubby loader joystick allowed precise control, and cycle times were quick – without needing to select fast engine revs.
Summary
For ultra-precise, stepless speed control for specialist applications the higher-priced TTV version remains the best option, but for most farms selecting a tractor for typical field and transport tasks, the new RVshift models will have lots of appeal. Mechanical drive optimises working efficiency, and the hydraulic drive element ensures smooth changes between the gears.  It's a relatively simple design based  on a proven gearbox, and it is even easier to operate than the standard powershift models.