Over 100 tractors tour streets to raise money for charity
Thousands of people turned out to support the tour, which aimed to bring the farming community together and raise money for Garden House Hospice Care in Letchworth.
After another challenging year for the farming community and the world in general, Hertfordshire arable farmer and contractor Richard Hill wanted to bring farmers together for some festive cheer, whilst raising funds for a worthy cause.
A total of 102 festively-decorated tractors and farm vehicles – representing nearly every farm in Hertfordshire and Bedfordshire – took part in the 7.5-mile Farmers on Christmas Lights Tour through Baldock, Letchworth and Hitchin on Saturday (18th December).
"I wanted to try and get the farmers together because otherwise you don't always see people from one year to the next," Richard commented. "I've never seen so many smiling faces in one night."
He added: "A dream of mine has massively come true and I really need to thank everyone who came and got involved. I'm really surprised, I thought we'd have 20-30 tractors and start from there but the support from everyone has been incredible with over 100 tractors taking part! It was amazing to bring Christmas cheer to the towns. […]
"I'd like to thank North Herts Council, our sponsors North Herts Farmers and the NFU and all the public who turned out and helped support us."
Thousands of people turned out to cheer them on and the Garden House Hospice said it had never collected so much in a night before, Richard says. Whilst the final count has not been completed the tour is thought to have raised around £6,000 so far.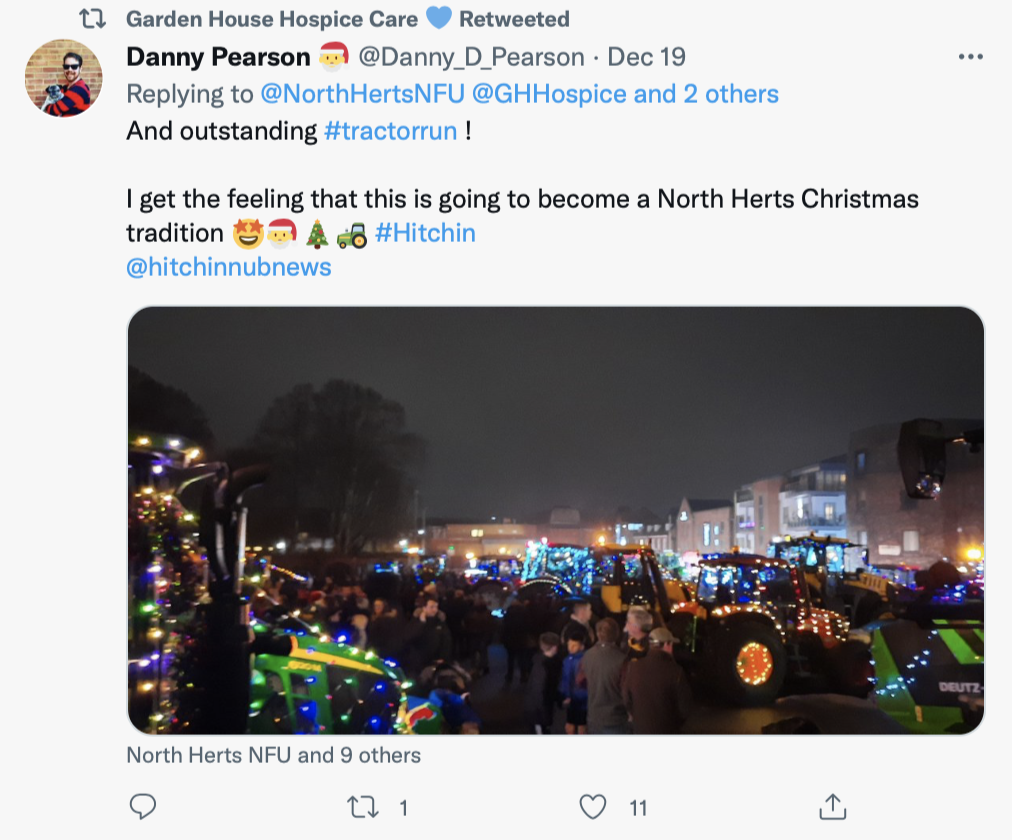 The charity's director of income generation Carla Pilsworth commented: "I've been working in fundraising for almost 18 years and this was probably the best thing I've ever seen. The atmosphere was out of this world and just the lift that everyone needed after a difficult few years. We are currently up to £6,000 in charitable donations for this event. It costs the Hospice £7,500 a day to run our services and it's incredible that one cold night in December will help us fund the Hospice for a whole day.
"Fundraising has been a real struggle for the last two years and for everyone to come together and support a charity in need at this time really is what community fundraising is all about. We hope we can make this an annual event for the farmers, for local people and local families who need our charitable support 365 days a year."
Commenting on his reasons for choosing Garden House, Richard said a relative of his partner had been cared for by the hospice and "the care is out of this world and they go above and beyond".
The event was supported by North Hertfordshire councillor and tractor fanatic, Sam Collins: "Garden House Hospice Care are a fantastic charity that do a lot of great work in our community supporting hundreds of families each year. They need to raise about £5 million in charitable donations every single year which is why Richard put together this fantastic event and hopefully he will be doing it next year and every year to come to raise even more funds."
Richard plans to run the tour again next year and will again raise money for Garden House.
To donate this year, visit www.ghhospicecare.org.uk or text TRACTOR to 70460 to donate £5.