Pick-up updates are more than a refresh
Overdue updates to one of the most popular farm pick-up ranges will be welcomed by users and dealers. David Williams was at its UK press launch.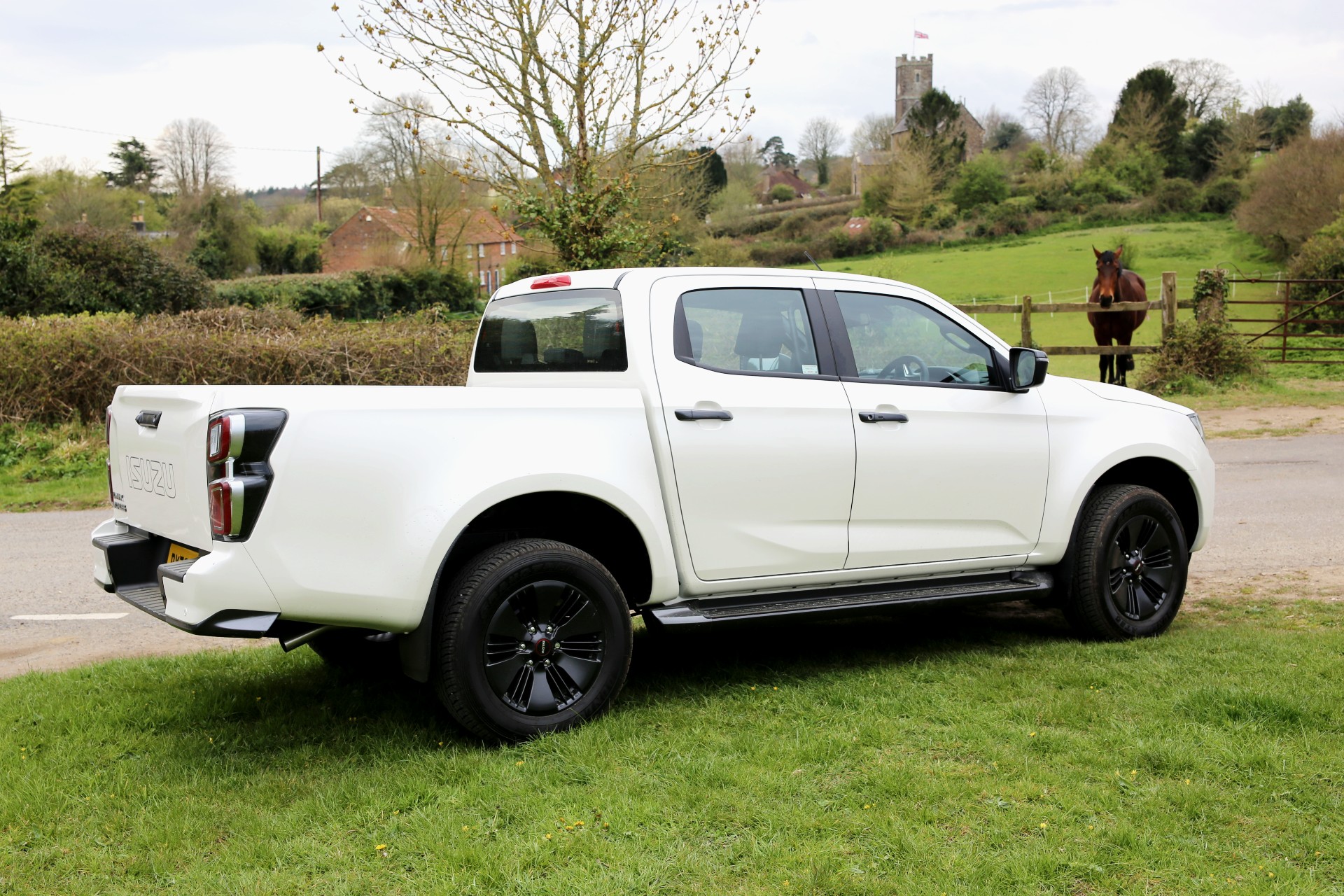 First available in 2012, Isuzu D-Max pick-ups are a common sight on UK farms but in recent years the range had fallen behind some of its main competitors. An all-new D-Max sharing few of the previous version's components was demonstrated to UK press in late April, boasting a new chassis, cab, engine and transmission. The new D-Max looks similar
but has more aggressive styling. The wheelbase is 30mm longer, the load bed and cab are both longer, the 'waistline' is 30mm higher but the vehicle's overall length is 30mm shorter – mainly due to a steeper rake to the front radiator grille.
There are three body styles – single, extended and double cab, and four trim levels – Utility, DL20, DL40 and V-Cross. Utility is available as 2wd single cab or 2/4wd single, extended or double cab and all with manual transmission. DL signifies higher specification models with a locking rear differential (new to the D-Max range) and DL20 models are available only as 2/4wd, with manual transmission on extended cab versions, or with a choice of manual or automatic in double cab format. The DL40 and flagship V-Cross are only available in 2/4wd, with manual or auto transmissions, and with a double cab.
Engine and transmission
Power is from a new 1.9-litre, 4-cyl diesel engine producing 164hp and up to 360Nm of torque between 2,000–2,500rpm, but an upgrade to 200hp is available from most UK dealers. The manual and automatic transmissions are both six-speed, but the latest automatic has 25 per cent faster shifting than before for a smoother ride and improved off-road and towing performance. Models with 2/4wd have 2wd-high, 4wd-high and 4wd low operating modes.
In low range and at speeds under 5mph the rear differential lock can be engaged using a button beside the main gear stick. It automatically disengages when the speed exceeds 19mph.
Practicality
All variants weigh less than 2,040kg unladen, which means they can travel at the maximum legal
speed for passenger cars on dual- carriageways and motorways rather than being restricted as a commercial vehicle. Maximum trailer weight is 3,500kg across the range except for the 2wd single cab which can tow 2,500kg. A trailer sway detection system is standard on all models, and automatically reduces the speed if early stages of sway are detected. Maximum payloads are from 1,070kg to 1,205kg depending on model.
Ground clearance is 225mm for Utility variants and 235mm for all other versions and there is a 1.5mm steel front skid plate. For those with deep water to negotiate, class-leading wading depth capability is offered across the range.
The rear load bed is tough and practical. The length varies from 1,495mm for the double cab to 2,315mm for the single cab, and on all models it is 1,530mm wide. The rear tailgate is tough enough to withstand heavy farm use including pallets rested on it during loading, and it also comes with a damper for safe and controlled lowering.
Generous specification
Driver aids standard across the range include cruise control, forward collision warning, autonomous emergency braking, traffic sign recognition, a speed limited with manual or intelligent modes and a lane departure warning and prevention system.
Double cab models come with rear radar to monitor blind spots, provide emergency lane keeping and alert the driver to rear cross traffic. Automatic versions also feature adaptive cruise control. Extended and double-cab models have all achieved the top 5-Star Euro NCAP safety rating. Hill-start assist and hill descent control are standard.
All models come with new, speed- sensitive power steering; making it lighter at low speeds for improved manoeuvrability and reduced 'kick-back' on uneven ground. The steering is heavier at higher speeds for improved stability. The turning circle is 12.5m kerb to kerb.
Interior upgrades
Rear seat access is improved on double-cab versions as the mid-pillar is 25mm further forward than before allowing a wider point of entry. Seats are finished in a hard-wearing tricot material in Utility models, and more comfortable woven fabric is used on the DL20. Leather is standard on the DL40 and V-Cross.
Current D-Max users will immediately notice the improved interior. New seats provide more comfort and extra support. All front seats are heated and have adjustable lumbar support and the DL40 and V-Cross both come with electric eight- way adjustment.
Rear seat passengers have more space and there are vents in the centre console to improve ventilation and heating.
Interior storage is also improved. There are up to 10 cup holders (depending on model), two gloveboxes, multiple smaller trays and compartments and a handy phone holder in front of the gearstick. Double cab versions have a large concealed compartment under the rear seat.
Great package
The dashboard and instrument panel are completely new. Utility and DL20 models come with a DAB radio, CD player and Bluetooth connectivity standard whereas the DL40 has a 7in touchscreen with Apple Play and Android Auto connectivity. The V-Cross has a superb 9in touchscreen with similar functions.
A new 4.2in display between the speedometer and rev counter includes the trip computer, system health checks and infotainment, and displays information from the parking sensors.
The interior is excellent. Everything is well laid out, easy to use and the displays are clear and easy to read. However the biggest improvement is the addition of Bluetooth to the base models in the range. Previously, connecting a Bluetooth phone relied on routing through a radio then accessing functions through fiddly menus, but now full integration allows the user to pair the phone once, and then enjoy automatic connection for future journeys. Even for those who rarely travel outside their farm boundary this adds safety and convenience.
Test-drive
The press day was in a Dorset stone quarry, which provided plenty of challenges for the vehicles. All models and variants were available to test.
To prove the all-around performance capability, standard tyres were fitted and inflation pressures were set for normal road use.
The off-road course included mud, deep water, loose sand and steep slopes as well as very deep ruts. Ground conditions were rough but the ride comfort was excellent. The 1.9-litre engine had plenty of torque so there was no need to increase the revs much above an idle while negotiating tight turns and deep ruts. The automatic transmission changed up and down smoothly and pushing the selector to the left allowed gears to be selected and held manually. Although the previous D-Max could have made it around most of the course without a problem, the new version completed it with less noise and more comfort.
A 40-mile road journey demonstrated good performance from the 1.9-litre engine and well-spaced gear ratios in the manual gearbox. All- around vision was good and the large rear-view mirrors were excellent.
Driver comfort was good – the V-Cross seats were comfortable and  supportive and it was easy to achieve a suitable seating position. Handling generally was good – there was plenty of 'feel' through the steering wheel and the ride was firm, as expected from a one-tonne pick-up, but the suspension achieved a good ride at all speeds.
Verdict
Last year we suggested that potential buyers should avoid the base model due to lack of comfort and equipment, but there is no such problem with the new Utility and, at £22,179 for the 2/4wd single cab and £23,679 for the 2/4wd double cab, it should be high on the list of contenders for those looking for a practical vehicle for general farm transport. Isuzu UK expects the V-Cross to be its best seller, and at £32,759 excluding VAT on the road it's probably worth the extra £1,500 over a DL40 for those wanting a dual-purpose vehicle for farm and family use. The warranty is five years or 125,000 miles and Isuzu has an excellent UK dealer network including many specialising in agriculture. The new D-Max is well worth a look.