Popular pick-up will come with even more engine and spec options
Ford has announced updates to its new Ranger pick-ups which are due to replace current models later this year. David Williams reports.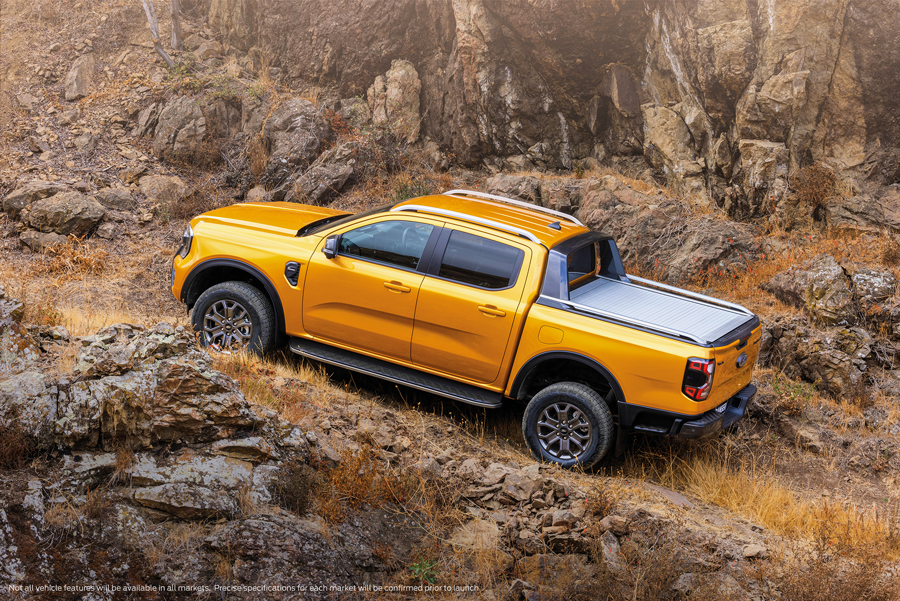 Improved styling includes a larger, more aggressive-looking front grille, with new headlight options including halogen and matrix LED. The interior is just as comfortable but even more practical than before, and access to the load bed is easier and safer with an integrated side-step. A clever cargo management system helps arrange and secure loads.
Powerful V6
Engine choices include two 4-cyl, 2.0-litre turbo-diesels with single or bi-turbo configurations and there is also a more powerful 3.0-litre V6 which is bound to be a favourite for towing. Transmission options are six-speed manual or auto, or a 10-speed automatic. The 4-cyl single turbo power unit comes in two different performance levels and the 4-cyl bi-turbo is claimed to offer greater versatility for a wider range of tasks and combines high power output with excellent fuel economy.
Comfortable and practical
The revised interior provides more comfort, technology and functionality. The dashboard and control layout in current models is popular with users, but the new version is even better in terms of appearance and quality.
One of the most obvious changes to the controls is a huge 10.1in touchscreen in the centre of the dashboard, and an even larger 12in version is an option. Both can be used as a single display or split down into sections to monitor and control different aspects of the vehicle.
The new gear shift lever is short and stubby, and incorporates the electronic parking brake.
There are up to six driving modes available – similar to the options provided on the current flagship Raptor specification.
Wireless data transfer (telematics) allows software updates to be sent direct to the vehicle saving a visit to the dealer, and allows maintenance requirements to be monitored and servicing to be planned.
The rear seats in double-cab versions fold flat providing extra load space, and there is also concealed storage below the seats.
A new 360-degree camera system makes it easier to keep an eye on what is happening around the vehicle – particularly useful when operating in confined areas and narrow gateways.
Ford says the new Ranger was designed based on feedback from customers, and as the current Ranger is Europe's leading pick-up in terms of sales volumes – achieving a 39.9% market share during the 12 months to September 2021, the new version has a hard act to follow.
Although a choice of three engines at the launch is already an increase on what is available currently, it is likely that additional options will also
be added.
Inside
High equipment levels are standard and there is added functionality through the large touchscreen which looks after communications, entertainment and provides information. Connectivity allows users to access vehicle information remotely through the FordPass smartphone app, and it also brings new features such as the ability to start the engine remotely, giving the vehicle time to warm up or cool down before the driver and passengers arrive.
Most traditional driving mode controls have been moved from the dashboard and centre console to a dedicated display where the user
can conveniently monitor vehicle status including drive-line settings, steering angle, as well as pitch and roll angles.
In-vehicle storage featured strongly in the design brief, and there is plenty for small and larger items for front and rear seat passengers.
Ride and handling
Demand for the Ranger is anticipated from a wide variety of users, so the pick-up has to be sturdy and capable, but comfortable and smart looking too. The front wheels have been moved forward 50mm for a better approach angle and outboard for better articulation – improving off-road ability. The rear suspension dampers have been relocated too – for a better ride.
Transmission choice includes 2wd, selectable 2wd/4wd, an electric shift on the move 2wd/4wd, and an advanced new full-time 4wd.
Practicality
The rear load bed is easier to climb into, using the innovative steps behind the rear tyres, and there is also more space for bulkier items due to its extra width. A tough, plastic bed-liner and extra adjustable cargo tie-down points will be valued features on farms.
Great expectations
Little is known so far regarding the final specification or model variants that will be available for the European market, but already the new Ranger is creating a lot of interest with potential buyers.