Power on the Land – Muck & Slurry
The topic of December's Power on the Land is muck and slurry equipment, brought to you as always by Mike Williams.
The benefits available from investment in improved manure and slurry handling efficiency can include better utilisation of fertiliser replacement values, and minimising pollution risks can also be an important factor.
Improved spreading accuracy combined with reduced ammonia losses are among the benefits claimed by the recently introduced dribble bar and trailing shoe applicators in the Major Equipment range. Both are based on a 7.5m working width, with 30 outlets spaced at 26cm intervals, and they are designed for retro-fitting to slurry tankers using a rear-door mounting system. Both applicators are equipped with a Vogelsang macerator, and they have a galvanised finish.
A galvanised finish is also available on Major slurry tankers, with a painted finish as an option. The tanker range includes tandem axle models with approximate load capacities from 9,100–18,200 litres, and its Alpine series models have a single dropped axle to lower the centre of gravity and reduce the ground pressure.
Major tankers have internal baffles to reduce surge movements while travelling, and the tank is mounted on a separate chassis for strength.
The BlackBird trailing shoe application system, recently added to the Vogelsang slurry equipment range, is designed to deliver the plant nutrients more accurately while reducing the contamination risks and the environmental impact. It is designed as a retro- t attachment to an existing slurry tanker, and Vogelsang offers a wide range of mounting systems for different tanker makes. Design features include keeping the centre of gravity close to the rear of the tanker to provide optimum weight distribution plus precise placement control for the liquid in the soil. BlackBird working widths are from 12–24m, hose outlets are spaced at 25cm and the transport width is 2.95m.
New developments in the SlurryKat equipment range are the Premium Plus front hose reelers with three models providing 600, 800 and 1,000m hose capacities. Design improvements compared with the previous SK series introduced 12 years ago include 30 per cent weight reduction, the open reel format has adjustable sections, and the new tubular design has special coupling sockets to clamp the hose at the start of the rolling-up process. Only two parking stands are needed instead of four previously, a 20cm increase in ground clearance when parked simplifies mounting or removal on a large tractor and there is an increase in the torque available for the drive system. Equipment in the SlurryKat range also includes a selection of tankers, umbilical systems and storage tanks, as well as pumps and mixers.
Design improvements introduced by Ktwo on the Mk 5 versions of its Bio and Evo series manure spreaders include using flared body sides to increase the load capacity, and the body shape also helps the emptying process by reducing the risk of bridging. There are nine models in both the Bio and the Evo series with maximum load capacities up to 36t, and with single, tandem or triple axles, and they all have four-bed chains with 128t breaking strain.
The Bio series spreaders have twin horizontal beaters and are recommended for an even spread of high value manures such as poultry litter, while the Evo series with twin vertical beaters have a reputation for high output spreading.
Ktwo also offers the Mk 6 Duo series spreaders, which already feature the design improvements, and the range also includes the smaller Eco series spreaders.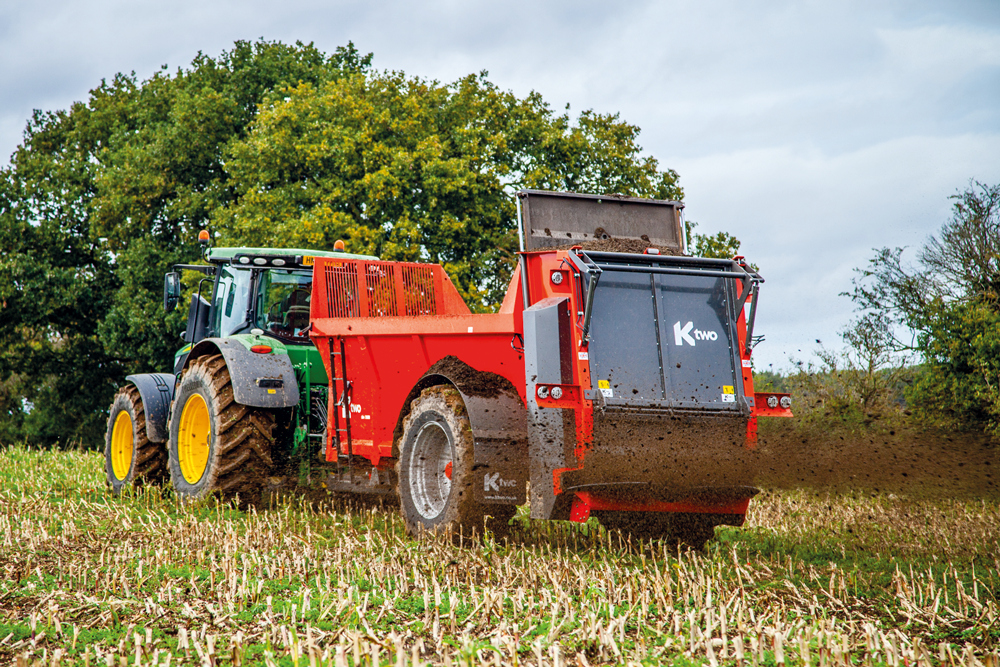 Spreader options from HiSpec Engineering Ltd include slurry tankers – there are two ail chain Side Spreader models with the versatility to handle yard manure, slurry or a mixture of both, plus the distinctive Xcel 1250 rear delivery spreader equipped with a shredding rotor and twin spreading discs.
The Xcel uses a moving floor with four hydraulically-powered chains, and an electric control can be added to regulate the delivery rate to the spreading mechanism. The Xcel has a 12t load capacity, a recent increase in the spreading disc rotation speed boosted the distribution width to 24m, the typical time for emptying a load of yard manure is between 3–5 minutes, and the ow rate for liquid manure can be varied by adjusting the galvanised slurry door.
Ploeger tractor units, with either three or five powered wheels, are made in Holland and designed for application work using either a tanker body for liquids or a moving floor spreader for farmyard manure and material such as compost. Power is supplied by Scania engines delivering 400–550hp, with hydraulic drive to the single front wheel while single or tandem rear axles are powered mechanically with a 40kph maximum travel speed. Equipment includes a Claas Vista 2 cab, the solid manure spreading bodies with rear delivery are supplied by Tebbe and feature weighing equipment, and load capacities are up to 25t for the five-wheel model with an 18m spreading width. Slurry tank capacities are 8,000 or 12,000 litres, and boom widths are up to 21m.
The six tractor models in the Tafe range imported by Tractors UK were originally designed and built by Massey Ferguson. Although replaced many years ago in the Massey Ferguson range, they are still built in large numbers in India, and or UK customers they offer small-scale, low-cost power to meet special requirements, such as working as yard tractors for manure or bale handling on livestock farms.
The two 37hp models are two-wheel drive, with four-wheel drive optional on the 47 and 60hp models, and there are also optional extras that can be added for yard scraping such as radiator guards, wider wheels and LED work-lights.
For general agricultural work, a standard or level lift loader can also be fitted.