Practical alternative or green elephant?
A new era starts on New Holland's Basildon production lines this autumn with the assembly of gas-powered tractors alongside conventional diesel-fuelled models. David Williams visited a UK farm involved with early trials of the new machines.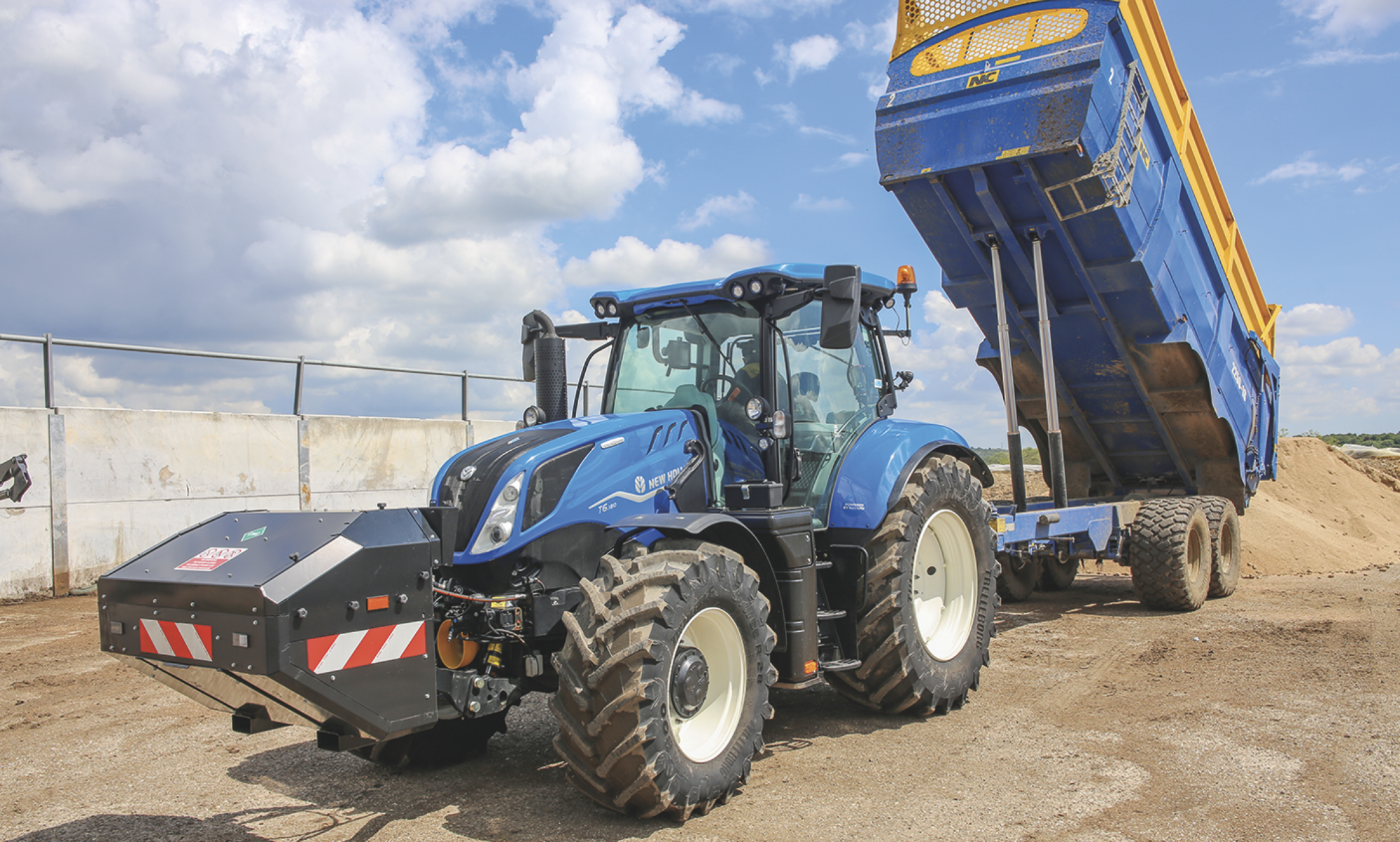 The first model to enter production is the T6.180 Methane Power, with an FPT 6-cyl 6.7-litre engine developing up to 179hp and 740Nm of torque. It can run on 100 per cent natural gas, CNG or LNG and it is bio-methane compatible. The engine block is the same as the diesel version, but a different top-end includes spark plug ignition, no EGR, and only a three-way catalyst is needed to meet Stage 5 emissions regulations. The turbocharger is liquid-cooled to compensate for higher running temperatures.
Enough gas
Up to 453 litres of gas can be carried. This includes 183 litres in on-board tanks below the cab, and an additional 270 litres for extended operation between three tanks in a carrier on the front linkage, weighing 850kg and replacing the front weight block. Each cylinder has an automatic shut-off which activates if a leak or  damage occurs. For working with a front loader, it can be moved to the rear linkage to act as a counterweight.
The tractor looks almost identical to the standard diesel model, and without a careful inspection of the exhaust stack which has additional guarding, there is nothing apart from badging, the absence of diesel and AdBlue fillers, and some CNG (compressed natural gas) warning stickers to indicate that it is a gas version.
Diverse test farm
The farm selected to test the tractor is owned by the Sell family, based at Vange near Basildon in Essex. In 2017, the Sells selected a New Holland T6.180 tractor to replace a competitor brand, and they were so pleased with the tractor and the back- up from their local main dealer, Ernest Doe, that when larger tractors were needed, three T7.210 tractors joined the fleet. Extra tractors are hired for silaging and harvest. The farm and an agricultural contracting operation are run by brothers Alex and Ben Sell, assisted by Alex's wife Gemma and their uncle Jonathan. The arable crop rotation across 300ha includes wheat, barley, maize and grass, while there is also 600ha of rented grazing on marsh grassland for up to 350 cattle comprising 160 pedigree South Devon suckler cows plus followers, and 100 Suffolk Mule sheep.
Self-sufficiency attractive
In 2016, the family installed an anaerobic digester producing 0.5MW of electricity which is sold to the grid. Grass and maize are grown on site and within 10 miles of the base for silage, which is used for livestock feed when the animals are inside, and as fuel for the AD plant – combined with manure and slurry from the livestock. Liquid and solid digestate from the plant is returned to the land as fertiliser and to improve the soil condition.
"We like the ideal of self-sufficiency in terms of energy consumption, feed for our livestock and fuel for our tractors," explained Ben. "The only way to achieve net-zero carbon efficiency for farm operations is to use machinery like the methane- powered tractor, and we are keen to do our bit, so we were delighted when New Holland asked us to be involved with the trials."
The T6.180 arrived this February and had worked more than 200 hours by mid-July. The objective was to use it for as many tasks as possible and assess its suitability, while New Holland monitored its performance through telematics. "If it would pick up an implement then we tried it," stressed Ben. "There was no ploughing in the test period, but it pulled our Keeble two-leg subsoiler working at 15 inches with no problem, although our heavier T7 tractors would have achieved better traction. We did lots of transport work pulling an 18t silage trailer, plus loader work around the yard and in the farm buildings, straw spreading, grass harrowing, tedding and raking, and applying digestate through our 3,500-gallon tanker."
Teething issues
A few initial teething issues were quickly cured by software updates. "Once these were sorted we could detect no difference in performance between the gas tractor and a standard diesel model. With the Electro-Command transmission, the response when pulling away at busy road junctions is excellent and it's very smooth accelerating through the gears."
Impressive working times
With 330 litres of standard on-board diesel capacity replaced by 79kg of gas, running times varied depending on the task. "Operating at lower revs the long running time surprised us, and we easily achieved 6.5 hours without refuelling while working with our Krone 9m rake," stressed Ben. "Working on our silage clamp with the front loader it managed six hours."
Operating data from the Sell's T6 and other test tractors has been used by New Holland to quantify gas consumption for various tasks, plus potential running times based on starting with full 79kg tanks.
New Holland tractor product specialist David Redman said the methane T6.180 has similar boost characteristics to the diesel model."The rated power is 145hp, but for more demanding applications boost up to 179hp is available, and we have replaced 455kg of diesel with only 79kg of gas. The gas costs under 20p/ litre, so even though the running time at maximum load is less, the running costs are much lower."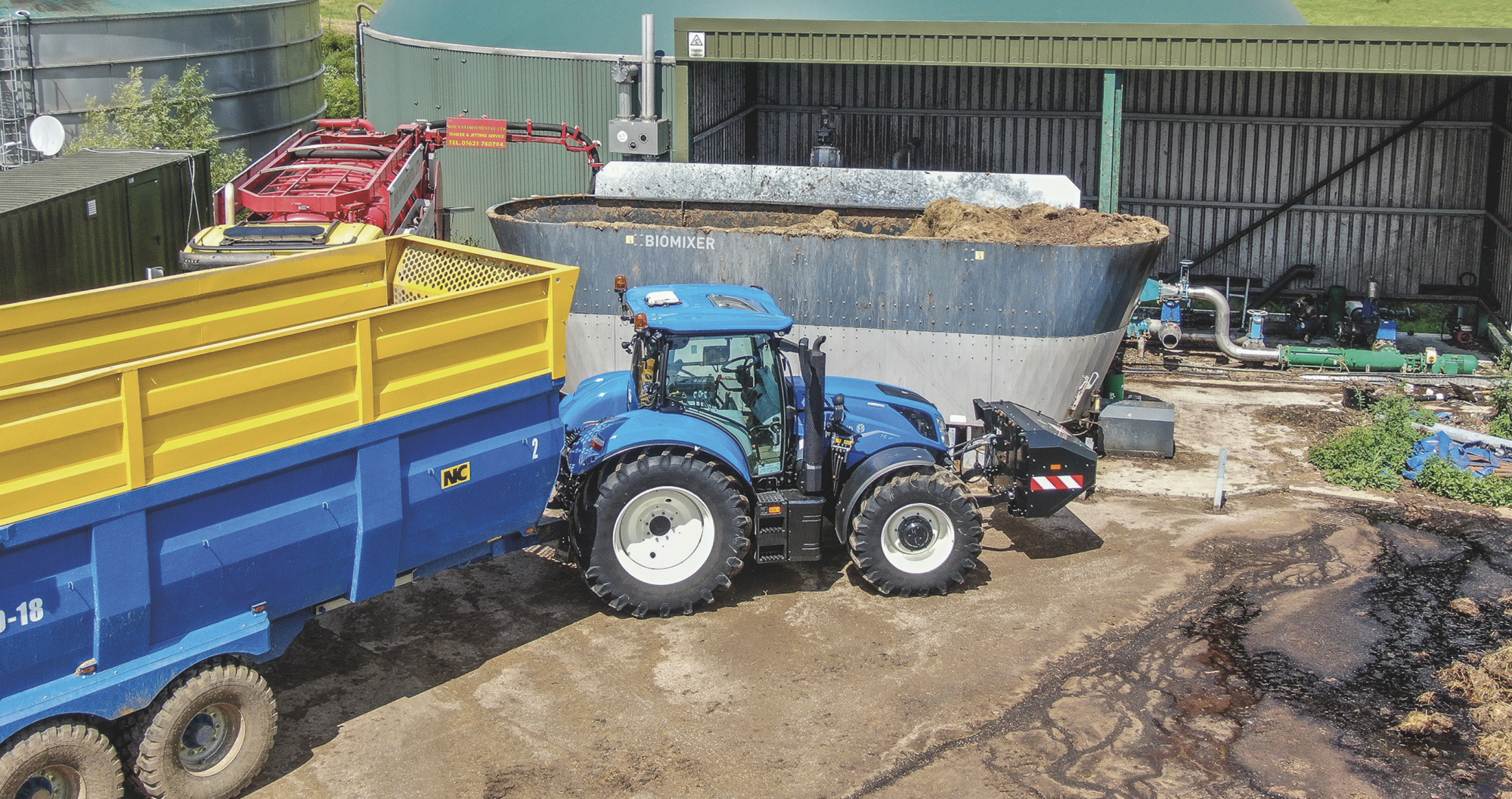 Fuel from the farm
Because gas from the Sell's AD plant powers an electricity generator rather than being pumped straight to the grid, the purity is too low to fuel the tractor so, for the test period, a virtual pipeline has been used. This consists of a trailer-mounted gas tank and refuelling station. "Gas from the plant is only 75 per cent methane and 83 per cent is needed for the tractor,"explained David."Where AD plants supply gas rather than electricity to the grid, then a 'scrubber' increases the purity to 95 per cent, so only a refuelling station would be needed."
Ben said that the family is considering installing a second AD plant of 2MW capacity. "The prices for gas and electricity supplied to the grid fluctuate, and we believe that if we install a 'scrubber' then that would give us the option to export gas or electricity depending on which provides the best return. It would also allow us to run our own tractor very cheaply using gas produced on our farm, just by installing a refuelling point."
Filling the tractor's gas tanks is quick, clean and convenient. The filling point is behind a flap within the cab steps and the operator simply connects a high-pressure gas hose, locks it in position and opens the valve. There is no pump and filling is achieved by pressure differential. If the tank is nearly empty then refuelling takes up to five minutes, but for jobs when the tractor frequently returns to the yard such as hauling silage, then most operators prefer topping up the tank each time which takes less than one minute.
Environmental benefits
Compared to the equivalent diesel T6, the methane engine reduces CO emissions by 75 per cent, NMHC by 90 per cent, PM by 98 per cent, NOx by 62 per cent and CO2 by 10–15 per cent.
Test farm conclusions
After trialling the gas tractor, Ben is convinced of its suitability for farm work. "It's been very useful having the opportunity to try the methane tractor before committing to the investment. We are impressed by its performance and the running time for most tasks between refuelling," he confirmed. "We couldn't replace all of our diesel tractors currently as for heavy field work when the tractor is away from the yard all day then a conventional diesel model remains more suitable. For subsoiling, or ploughing with our 6f reversible, then our larger T7 tractors are better on our heavy land. But for lighter work such as grass raking or tedding, or for fertiliser applications and spraying then the methane- powered tractor is practical and offers adequate working times between refuelling. It's better for the environment and cheaper to run than a diesel alternative too, even when buying in the methane as we do currently. Ideal applications include yard work, and those involving frequent travel back to the yard which provide opportunities to refuel without making extra journeys."
Test drive
Farmers Guide tried the methane-fuelled tractor on an extended test drive with one of the farm's large trailers. The route included major roads and several busy road junctions as well as uphill gradients. For the operator, there was no discernible difference in performance between the test tractor and an equivalent diesel model at any speed – from manoeuvring in the yard, to 50kph on the road. All the cab controls and displays are identical, and the gas tank contents are shown on the standard fuel gauge.The gas model's exhaust tone is slightly deeper, but the engine is approximately 5db quieter which does make the transmission noise more noticeable. Refuelling is clean and simple. There is a slight hiss when the delivery nozzle is attached and removed, and gas can be heard flowing as the tanks fill. There is no smell of diesel, no mess and no AdBlue to consider.
Verdict
Full production of the T6.180 Methane Power on the same line as diesel models starts this autumn, and orders have already been placed by several UK farms involved with early testing. "It's an obvious choice for farms with AD plants offering the possibility to power the tractor using gas produced on the farm, and in many situations there will be grants available to assist with the purchase," said David. "There has also been interest from councils, local authorities and amenity contractors keen to reduce carbon emissions. For operations close to a gas pipeline there is often the option to install a refuelling station and take gas direct from the grid, so the lack of an AD plant on site needn't be an issue. We've also had considerable interest from mainland Europe where methane availability is more widespread.
"It won't suit everyone and diesel will have its place for a long time to come, so we are also looking at alternative fuel options for different applications. The T6 Methane Power is just the tip of the iceberg."