Surge in sales due to changing weather patterns
With the potato industry having to adapt to a host of market changes and an increasingly changing weather pattern, Scotts has reported a signifficant surge in windrower kits and retro-fit Evolution separator sales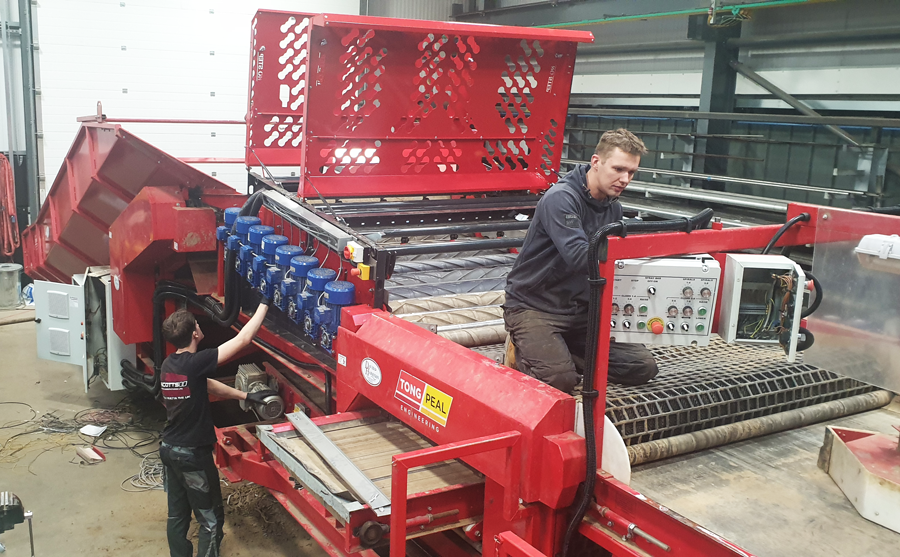 "Over the last eight years or so, we have seen an increasing number of growers leaving crop in the field – at times here in Lincolnshire as much as 50 per cent. Almost all growers have lost some crop over the last decade due to adverse weather now being the norm," said owner Derek Scott.
"Having been in the industry for almost 40 years working with relatively basic harvesting machinery compared to these days, I am staggered that we seem to have gone backwards in managing our potato lifting. Of course, the weather is the primary factor, and most of all the relentless topping up of rain in already saturated fields. Whilst we cannot control this, we can prepare better for future harvests both in the field and store. Increasing lifting capacity is an obvious one with many more of the larger growers now adopting self-propelled harvesters and more recently the addition of windrowers – the latter providing a significant benefit when opening out fields in wet conditions."
The latest Grimme GT170 extended cross conveyor conversion allows up to 8 rows to be gently lifted and deposited into adjacent rows without moving the crop twice, creating plenty of space for the following harvester and trailers to operate without fear of 'nipping' the un-lifted rows and eliminating the need for an opening out trailer with narrow wheels.
"Furthermore, the windrower generally lifts more crop per day than the harvester, as the windrower never has to wait for trailers to be in position and can start sooner in the day to create an opening yet only needs to be a few yards ahead at the end of the lifting period," continued Mr Scott.
Off the back of another challenging lifting season there has been a real surge towards upgrading in-store equipment too with a distinct focus on better cleaning. "Our customers are asking for the ultimate in cleaning systems to make every day as close to 100 per cent efficient as possible. These days we fit much larger systems in graders with 6 and 8 rows commonplace and the occasional 10-row where space allows.
We offer a full turn key solution ourselves here in Boston and through our dealer network. The investment cost of a high-performance cleaning system compared to the value of crop in the ground is negligible. Yet quite possibly the most important part of the chain, certainly the most labour saving and definitely worth some consideration," he concluded.