Suzuki ATVs chosen by land management contractor
A nationwide council contracting company has chosen to purchase its Suzuki ATVs from a family run business in Bedfordshire.
The Deacon family business, MKM Agriculture based in Marston Moreteyne, Bedfordshire sold the Suzuki KingQuad 500X ATV to undertake a number of land management tasks for the council contracting company.
MD of MKM Agriculture, Anthony Deacon, said, "Our client chose the Suzuki KingQuad because it delivered the quality level of specification they needed in a value for money package."
"The machines are easy to ride and reliable and we were able to adapt them to our client's requirements by adding the Logic spraying attachments."
The fleet of Suzuki ATV models the company chose have been adapted with Logic amenity spray kits, so they can treat footpaths and highways across the UK.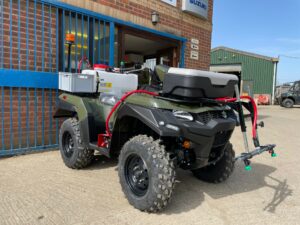 Suzuki GB, Harvey Day, said, "It was a pleasure to work with MKM on this contract, which acts as another example of just how widely our utility ATVs are used."
"From farming and land management to equestrian use and more, our market-leading KingQuad 500 and 750 KingQuads are the perfect machines for a wide variety of applications."
Suzuki's KingQuad 500 models all have a theft-deterrent system as standard to help keep these valuable assets safe. Other benefits include; selectable 2/4-wheel drive, Suzuki ATVs renowned comfortable T-shaped seat – great for those long distances – oil-immersed rear braking system for lower user maintenance, to name a few.
After a severe fire ripped through the MKM Agriculture workshop destroying some 80 machines, tools and equipment back in April this year – this contract will be a welcome addition in recovering from the blaze and the pandemic impact.
In the wake of witnessing 30-40ft flames in the air with loud explosions, Anthony Deacon's advice to others is to make a plan and fully check insurance documents, including those last 6 pages.