Top pedigree herd goes for gold
An award-winning Essex-based pedigree Holstein herd has made it through to the final round of the 2020 NMR/RABDF Gold Cup.
With a strong focus on breeding, the Curtismill pedigree herd from Stapleford Abbotts, near Romford, is among the top 12 herds in the UK for PLI, which averaged £218 in April 2020. As breeder achievements go, the heights reached by John Torrance and his family's herd is certainly something many producers aspire to. And this is yet another feather in the cap of a business that has been hoping for Gold Cup success for many years.
"It's been many years since we entered – we were actually nominated by our consultant this time. And we were over the moon when we heard we'd made it to the final six herds," says John.
Withstanding volatility
John and his family – father Robert, mother Janet and wife Lucy – run their 670-cow herd, and 430 followers, on 429 hectares of Crown Estates land, just inside the M25 corridor. The family has a three-generation tenancy at Battles Hall and John is building a dairy herd and business, which is managed on 297 hectares, that can withstand the rigours of volatility and changing customer demands.
The all-year-round calving herd has expanded during the past few years, from 500 milkers, and John is aiming for 700 head. "We're growing the herd using our own replacements and more than 30 per cent of the herd are in their first lactation. We expect to hit our target of 700 cows within the next six months," he says.
The herd has been pedigree Holstein since the early 1970s, with a focus on breeding functional cows. "We focus on breeding average sized, functional, healthy, high producing cows – our aim is to breed cows that will produce 70,000 litres milk, during an average of five lactations per cow. We currently have 21 hundred-tonne cows milking in the herd. This has played a key role in improving milk production efficiency.
Sexed semen is used on maiden heifers and the top 25 per cent of the herd to produce replacements. Beef semen is used on the remainder. "We are currently evaluating the benefit of genomic testing heifers to aid replacement selection," adds John.
Comfort and welfare
The herd is housed all year round and fed a TMR. "Our attention to cow comfort and welfare when redesigning the dairy unit has contributed to the high levels of performance that our three-times-a-day milked herd is now achieving.
"And our team recognises that genetics, feeding, cow health, comfort and welfare all play a role."
John adds that they all strive to ensure that the farm is always 'audit ready' and that there are never any non-conformity issues.
They also pay close attention to the cow environment and parlour routine to prevent and reduce health issues. Cubicles are, for example, sand bedded, and when it comes to milking, all cows are pre-milked. Any cows with clots or hard quarters are given pain relief and drench (fluid therapy), and there's a cluster flush system to prevent cross-infection. "We use Cow Manager, which is an early detection system for cows with health problems," adds John.
He says that the business is committed to producing an environmentally sustainable, and healthy product. "Having made significant investment in cow housing and facilities during the past six years, we are now profit focused and are keen to continue to improve herd performance and break new performance barriers.
"As our young herd matures, we hope to continue to improve performance without compromising cow or staff welfare. Both are critical to business success.
"We also plan to sell surplus heifers for breeding in the future," he adds.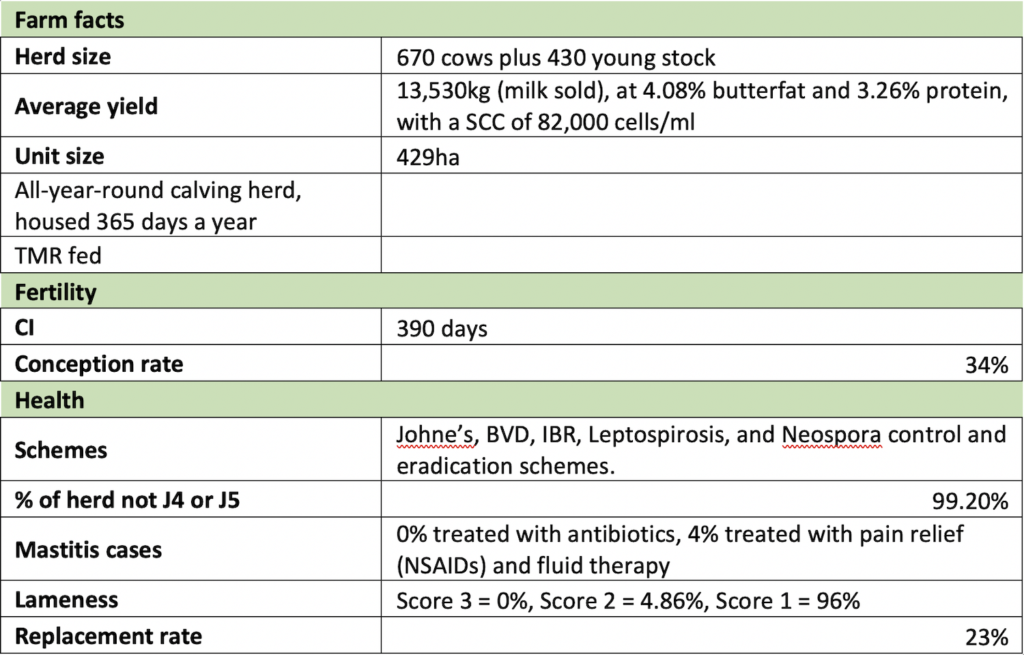 Look out for more articles on the six dairy businesses that are up for the 2020 NMR/RABDF Gold Cup – Farmers Guide will be publishing a profile on each in the run up to Dairy Tech Online in February.