Women in Agriculture Scotland: Putting you in the picture
After a successful AGM and the announcement of the new committee, Women in Agriculture Scotland (WiAS) has shared some exciting plans for the forthcoming year, including a monthly photography competition celebrating farming.
With the committee combining a wealth of experience and expertise with fresh, diverse ideas and perspectives, 2021 is set to be a year to drive the group's values: to support, influence, inspire and develop. Therefore, despite current challenging times, they are embracing ways to stay connected and share a passion for agriculture.
Staying social
The idea of Women in Agriculture Scotland was born at a lunch table in April 2015. June Geyer, committee chair, describes the aim of the group: "It's about expanding our knowledge, sharing experience and supporting each other, which leads to personal development with other like-minded people out there, giving us the confidence to move forward and grow."
She continues: "We are a standalone, voluntary group and have hosted spring and autumn daytime events every year since November 2015 for up to 180 people from all over Scotland and from all organisations.
"However, we are all dealing with the struggles of Covid-19 and have had to embrace and adapt to new ways of thinking – particularly with the event sector that we usually celebrate."
Therefore, to start the year, the organisation has dedicated time to enhancing its social platforms to ensure everyone can be frequently updated on the latest news, updates and virtual events. The group's social reach has expanded with the community now able to contact Women in Agriculture Scotland via Facebook, Twitter, Instagram and LinkedIn.
June enthuses: "It's great to have such a variety of strengths within the committee that we are able to broaden our reach further and also get our members involved. Our social media has really lent itself to compliment traditional communication and allows all generations to be a part of what we do. We hope that these transitions will help spread the net to a wider and larger audience even without the physical interaction."
Putting you in the picture
In addition to the regular updates, Women in Agriculture Scotland has launched a monthly photography competition, with a prize, to involve those passionate about agriculture and to highlight the fantastic work our farmers do.
Lizzie McLaughlin, WiAS Committee member, states: "We really want to build a space that allows not only our members to get involved, but anyone with an interest in farming or rural affairs too. We feel photos can speak a thousand words and what better way to bring people together when we can't physically do so. We have had some fantastic entries so far and hope to showcase the exciting and diverse roles agriculture has to offer."
Using the hashtag #WiASLOVE, the competition kicked off in February with the theme of love, seeing many different sectors from dairy to poultry, sharing heartfelt captured moments. The theme for March wants to emulate such a success, with a focus on the blossoming of spring; this will be supported with the hashtag #WiASSPRING. They want to see sunshine, new beginnings and the promise of brighter days ahead.
The winners of each theme will be announced at the end of every month and they will then be entered into a draw to win an amazing prize at the next AGM in November 2021.
To enter, simply follow WiAS on Instagram or Twitter and use the hashtag of the month; the full terms and conditions can also be found there.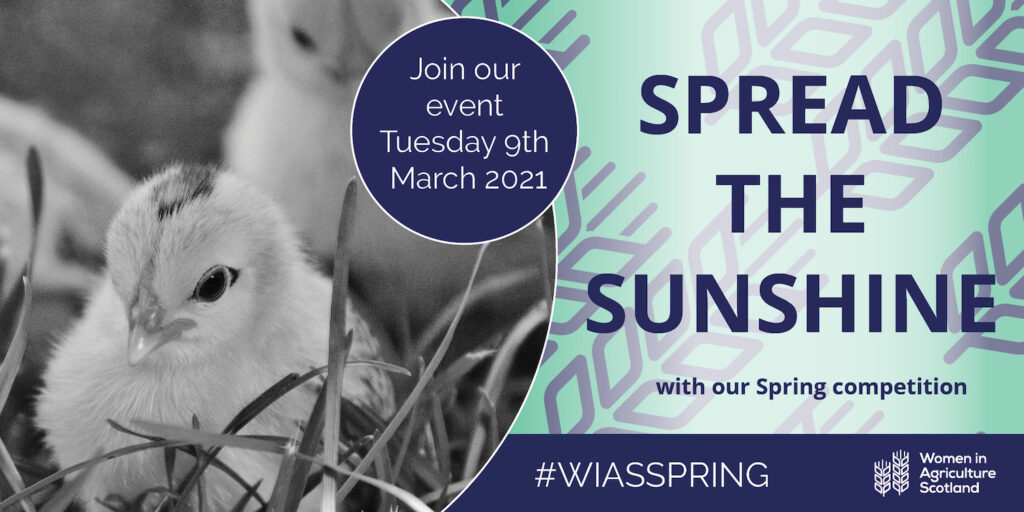 You're virtually invited
Although industry events are still looking uncertain, that isn't stopping Women in Agriculture Scotland from encouraging virtual discussions and interaction. They have their first online event on Tuesday 9th March 2021, hosted by Vencomatic UK, which is open to all to sign up and watch. Starting at 11:30am, the digital event will see a host of speakers and the opportunity for people to come together; it is easy to register and all who do so will be sent a link to join.
Committee member Heather Wildman, states: "It's important that we continue to share successes, challenges and moments despite the current climate. We are really excited to do this and to introduce some new and familiar faces."
"There will be a range of talks, all focused on relevant and interesting topics, and the chance for everyone to join together for an hour. I think that it's really crucial in times of lockdown and isolation to add a little sunshine and remind others that they are not alone."
The Women in Agriculture event is further supported by Northern Farmer and free for anyone to attend.
To register for the event, enter the competition or find out more, visit their social media pages or contact the group using the details below.
Contact: womeninagriculture@gmail.com
Website: www.womeninagriculture.scot
Instagram: @WomeninAgricultureScotland
Twitter: @WiAScot
Facebook: Women in Agriculture Scotland