"You can get through it": Nigel Owens shares mental health struggles with farmers
Welsh rugby referee and beef farmer Nigel Owens spoke candidly of his struggles with mental health, as well as his passion for farming, as he gave the opening address at this year's British Cattle Breeders' Club (BCBC) Conference.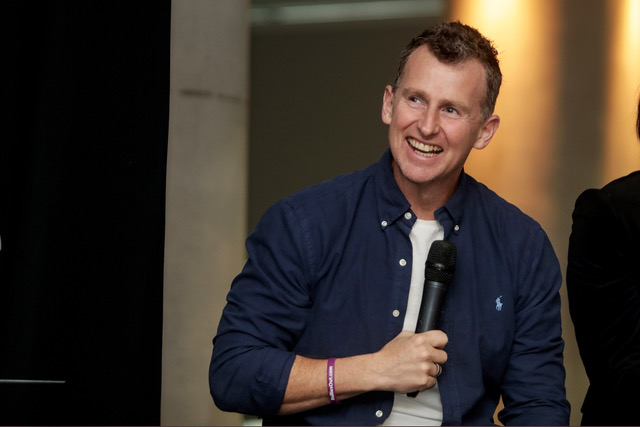 Speaking to delegates at the conference – held virtually on 25th January – Nigel Owens shared his battle with severe depression, alcohol and steroid abuse, which eventually led to an attempt on his own life, as he urged farmers to seek help early for mental health issues.
Accepting that you are struggling, identifying the root cause and taking steps to deal with it are of key importance – but we also need to create an environment where people feel able to be themselves and be open about their struggles, he said.
He described the fear and loneliness he felt aged 19 when he began to suspect he was gay, having had a very traditional upbringing in a small, close-knot community in west Wales in the 70s – a time when homophobic language was in common usage. This triggered a downward spiral into alcohol and comfort eating, followed by bulimia, steroid addiction and severe depression.
Eventually, Nigel told delegates he did something he will "regret for the rest of my life". Leaving a note for his parents he left the house with a bottle of whisky, a packet of pills and a shotgun. He slipped into a coma and was discovered by police using heat sensors.
When he came out of the ICU a few days later, doctors told him that just another 20 minutes and it would have been too late to save him.
The experience led him to a realisation. "I said to myself, this is who I am. There's no choice here. There are many things we choose in life – where we live; where we work; what herd you keep, beef or dairy; what car you drive; sport you play; team you support. But sexuality is not a choice. It's who you are."
He added: "The biggest challenge of my life was accepting who I truly was."
When he refereed the World Cup Final between Australia and New Zealand in 2015, the pressure was "massive", with 85,000 people in the stadium and millions watching around the world, scrutinising his decisions. If a mistake costs the team a game, his career could well have been over. But that was nothing compared to the challenge of accepting himself, he said.
"That, I believe, is the biggest challenge you come across in your life. Unless you're happy within yourself and allowed to be yourself, there's no way you can enjoy your life and be the best you can be."
Sharing issues and seeking help
One of the biggest challenges in dealing with mental health issues, Nigel believes, is identifying the source of it – he noted that he still has many sleepless nights when the annual TB test is due on his farm. Accepting that you are struggling is the first step, then understanding what can be done to help.
With a particularly high rate of mental health issues and suicide in the farming industry, one delegate asked Nigel how we can turn this tide in agriculture. He said sharing your own issues is important.
"You don't just learn from things that people do well, you probably learn more from things people didn't do well; the mistakes they made. Being open, having conversations and showing you do care are important. Not forcing the issue, but creating the environment."
When asked about one thing farmers could do to improve mental health, he said: "One piece of advice is to know you can get through it. The key is to deal with as early as you can. It's a little bit like an illness that has a terminal effect – cancer for example; if you identify it in the early stages, there's a good chance you'll be cured or if it's not curable, there's a good chance of treatment and living a good life. […]
"It's the same with mental health issues. The sooner you accept you're struggling, the sooner you can identify what the issues are. Or it may be that you know what the issues are but you're painting over the cracks.
"One you've identified the problem you move to do something about it. Sometimes you can do this yourself, sometimes you can share with family or a friend and they can help, or you can seek professional help."
A safe environment
In a wider sense, Nigel said we need to create a safe environment for people to share their struggles without judgement or fear it will be seen as a sign of weakness. "It's actually a sign of great strength to talk about it. We can encourage and create that."
He added: "Imagine going to work scared of people finding out who you are; scared that if you open up about your mental health issues people will judge you […].
"It shouldn't matter what country you come from, the colour of your skin, sexual orientation or religious and political beliefs. All that should matter is if you are a decent human being, you should be treated the same. No better, no worse, none of this ticking of boxes. Just respected for the person you are and judged on the content of your character and nothing else."
He believes political correctness has gone to an "extreme", however, and there is a lack of common sense and empathy. He urged people not to be afraid to enjoy each other's company, but to remember the value of respect.
"The key is to take that responsibility yourself and seek help. It's not a sign of weakness," he concluded.
Now as he prepares to retire from rugby at the end of the season, Nigel will be focusing on farming and other pursuits. Having wanted to be a farmer since the age of eight, a career in agriculture was his first dream before he started his career as a referee.
As it can be difficult to start farming ventures without being born into it, Nigel said it took many years to reach his goal. With 60 head of pedigree Hereford cattle, he noted wryly: "It's not going to make me a millionaire but it's something I'm very passionate about."
If you are struggling with mental health, you can contact the following organisations: