Celebrating 40 years of progress
Wheat breeder Bill Angus looks back over the past 40 years and highlights some of the successes and challenges of wheat breeding and growing over that time, while looking to the future with optimism.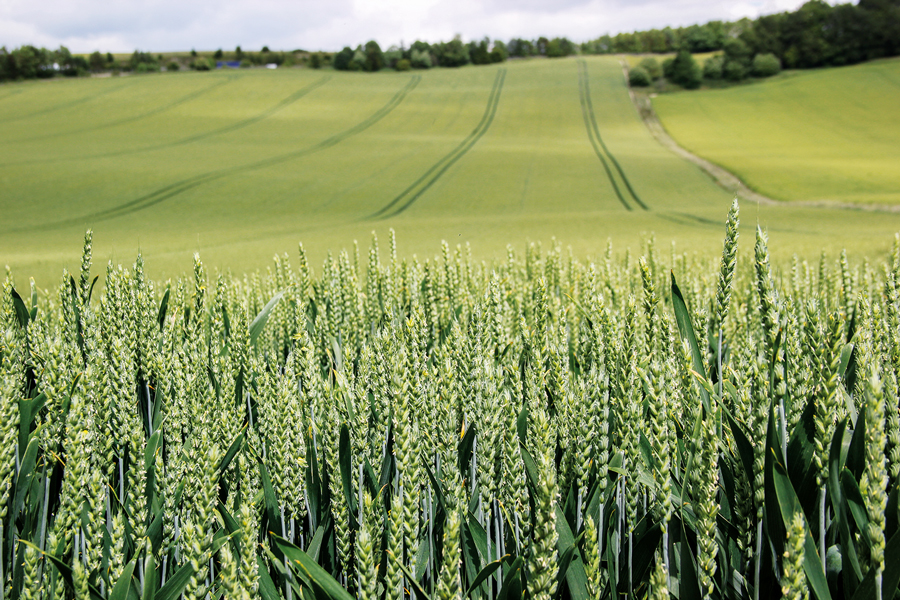 Farmers Guide is celebrating 40 years of publishing this year – the first magazine was printed in September 1979. Here, wheat breeder Bill Angus looks back over the past 40 years and highlights some of the successes and challenges of wheat breeding and growing over that time, while looking to the future with optimism.
The average farm wheat yield in 1979 was around 5.5t/ha and wheat looked a 'very different animal' to that growing today. Of course growers have seen yields increase significantly over this time (by 45 per cent) to an average of 8t/ha. This significant yield improvement came about through a combination of various factors driven by the introduction of new varieties. Following the Second World War the UK Government invested in breeding new varieties in the UK. In the 1940s, 50s and 60s the UK wheat acreage was dominated by French bred varieties – particularly Cappelle Desprez which was introduced in 1953 and dominated the UK landscape until the advent of new varieties from the Plant Breeding Institute in the 1970s – notably Maris Huntsman. However it was in 1979 that the UK Recommended List recorded the dominance of semi-dwarf wheats including Brigand, Virtue, Mardler, Hustler and Hobbit. These short-strawed varieties changed the landscape of Britain as well as delivering higher grain yields.
Agronomic challenges
These new varieties led to agronomic changes which allowed their yield potential to be unlocked. Introduced in 1969, Cycocel allowed crop height to be reduced further and straw strength to be increased. Wheat diseases, once controlled by robust genetic resistance, became prey to a range of systemic fungicides introduced in the 1970s. Nitrogen rates were raised to fuel yield increases and other technologies including better seed drills, tramlining and, more latterly, Global Positioning Systems (GPS) all contributed to more economic grain production through higher yields per hectare. Nitrogen use doubled in a 10-year period from the mid 1970s but stabilised in 1983, and yet yields continued to increase thereafter, showing the increased level of nitrogen efficiency in modern wheat varieties.
New varieties became the bedrock upon which consistent high yields were developed. Key new varieties such as Slejpner (1986), Riband (1989), Brigadier (1993), Consort (1995), Claire (1999), Robigus (2003) and many others contributed to ever increasing yield potential.
The period 1979–2019 was not however without its challenges. Septoria tritici became an endemic disease as the first semi-dwarf varieties, notably Longbow, Norman and Avalon were highly susceptible. These were followed by the 'iconic' variety Riband which was grown on 30 per cent of the acreage at one time. This variety was highly susceptible to Septoria tritici as was its successor Consort. With a vast array of chemistry available this disease was seen as only problematic rather than very serious. As we fast forward to today we would not hold this view now as we see resistance build up to fungicides. We also saw the arrival of wheat orange blossom midge (presumably because we grew many highly susceptible varieties) but in time this problem was overcome with the introduction of resistant varieties with Robigus becoming a major contributor of this valuable trait.
Quality wheats
Apart from higher grain yield we have seen additional benefits through improved quality wheats. The first semi-dwarf bread making varieties such as Avalon and Mercia replaced the tall and low yield potential Maris Widgeon. This resulted in a major increase in UK grown wheat being used in the bread grist and a consequential decrease in expensive imports. Through the varieties Riband, Consort and Claire we saw new export markets develop in Portugal, Spain and Italy for soft biscuit wheats. Many distillers moved production from maize to soft milling wheat for the important whisky market.
Some question the use of high input wheat growing systems but increased yield per hectare allows the release of land for other purposes.
Yield potential
Though growers now look back upon these 'halcyon days' of rapid increases in yield, today they look upon farm yields that seem reluctant to increase. However we know that the yield potential of new varieties continues to increase, albeit at a more modest rate. So looking forward we need to understand why and how we can continue to make further improvements in wheat production and yet minimise environmental challenges. It is naïve to think that we can continue to sustain high yields in an organic rotation. This can play a part in the mix and new varieties are being assessed for this market. However the mainstay of production will be through better management of resources with more precise targeting of inputs and better timing of applications.
New technologies such as precision sowing and better prediction of diseases and pests to enhance control strategies will play a part. Breeders will need to dig deeper into the vast array of genetic resources available to them to offer growers new varieties which will be targeted to particular growing regimes or UK regions, as well as more sophisticated end-user markets. There will be exciting developments in hybrid wheat which will add to the mix of genetic variation available to growers.
The UK Recommended List has been at the forefront of new variety developments over the past 40 years. However we will be moving into a new era of wheat genetics and agronomy and this publication (currently under review) will need to meet this challenge to help growers make better decisions. Wheat genetics will become a more powerful force with regard to wheat growing, but we should not underestimate the contribution required from new agronomy practices to partner these new varieties.