Field focus – July 2018
Nottinghamshire agronomist Andrew Wells reflects on what has been a manic season so far
Fresh back from the Cereals event, Nottinghamshire agronomist Andrew Wells reflects on what has been a manic season so far.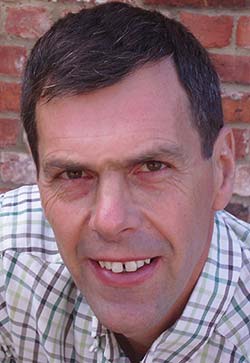 East Midlands
Speaking a week after Cereals, Arable Alliance and AICC agronomist Andrew Wells said that he quite liked the more compact look of the event in Cambridgeshire this year – with less distance to cover between the stands and, from his perspective, most of the key players exhibiting. "The variety plots all looked busy which I think is a good sign of growers making plans for the season ahead," he commented.
Meanwhile, back at home; Andrew reckoned that things were starting to become a little dry and that most of the combinable crops in the area could do with some rain.
However, maize irrigation was getting under way and irrigation of potatoes had been on-going for some time.
"Heavy land wheat should be OK in the dry conditions while crops on the lighter land are starting to turn in colour," he said.
Reflecting on the season so far, Andrew said that there was a time when every crop needed looking at, and all at the same time – whether it was spring cereals, winter wheat, oilseed rape or sugar beet. It had been a case of a squeezing three months worth of work into two, he stressed.
"Black-grass control has certainly improved this season but it could always be better," he continued. "It was interesting to see when driving to the Cereals event that many of the fields in Cambridgeshire – one of the key areas for black-grass problems – were cleaner than many fields back home. This is probably because of growers in East Anglia having to start taking severe action on black-grass ahead of most other affected parts of the country," he suggested.
"Weeds in spring crops aren't looking too bad, except in odd fields where the pre-drilling glyphosate application hasn't given complete black-grass control which could have been due to the newer tallow amine free formulations of glyphosate, or simply due to the poor application conditions we experienced in the spring.
"Disease-wise everything appears clean in terms of spring crops, mostly because it has been so dry since shortly after crop emergence," he added.
Considering variety choices for autumn plantings, Andrew said that he didn't have plans for any drastic changes, although he would be encouraging growers to select orange wheat blossom midge (OWBM) resistant types, to avoid the anxious time at ear emergence for winter wheat growers.
"Midge resistance is a priority for me when selecting varieties and this is closely followed by their resistance to septoria, and standing ability."
In terms of quality wheats, Andrew suggested that Skyfall would remain a popular variety on farms in the area, while RGT Gravity and KWS Kerrin look set to increase their share of the hard Group 4s.
"Soft Group 4 LG Sundance has looked good this season and so we may well see an increase in this variety at the expense of hard feeds such as Graham and JB Diego."
Conventional OSR
Campus, Picto, Nikita and Flamingo are all favourite oilseed rape varieties with Andrew's growers and are all conventional types. With no hybrids in the mix, he said that clean, undressed seed gives crops the best possible start in terms of quick establishment. "A lot of farm saved seed is used in the area for its lower cost and so it's critical that it is tested properly for erucic acid and cleaned well before drilling.
"If using farm saved seed growers must do a professional job," Andrew emphasised.
He said that drilling oilseed rape between the 20th August and the 1st September seemed to be the worst time to sow the crop in relation to flea beetle and if growers can drill either just before, or just after these dates, then this might help avoid some of the worst affects of the pest. "I'm not going to tell growers to not drill in that window if conditions are ideal to go, but they must get everything right in terms of establishment.
"Fertiliser applied at drilling plus double rolling for good seed-to-soil contact will also help," he added.
Andrew said that his potato growers were making good use of Corteva's (DowDupont) new potato blight fungicide Zorvec (oxathiapiprolin) this season, topped up with a full rate of mancozeb in the mix. Although Zorvec has been promoted as offering growers a 10-day spray interval, this doesn't fit in with irrigation schedules on Andrew's farms and so the more traditional 7-day interval is being used with the product applied at two-thirds rate.
With most sugar beet crops meeting in the rows by mid June, Andrew said that he is not relishing the prospect of growing the crop next year without neonicotinoid seed treatments following the extension of the EU ban to apply to non-flowering crops.
"We will have to try and drill beet as early as possible in the spring before aphids arrive in large numbers although, with conditions as they were this season, that wouldn't have been possible. 
"We may of course get emergency use exemptions for neonics on beet, and hopefully breeders will eventually introduce genetic tolerance," said Andrew.
"This ban, and those affecting other plant protection products, will drive us further along a more integrated approach to farming which is good, but when you see the affects of virus yellows on beet, for example, growers will also have to ask themselves the fundamental question as to whether or not they can continue to grow certain crops," he concluded.