Getting on the right side of potato blight
With main crop planting well underway, Dominic Kilburn has a brief catch up with an East Anglian specialist potato adviser on his thoughts for the coming season, in particular on keeping blight out of crops.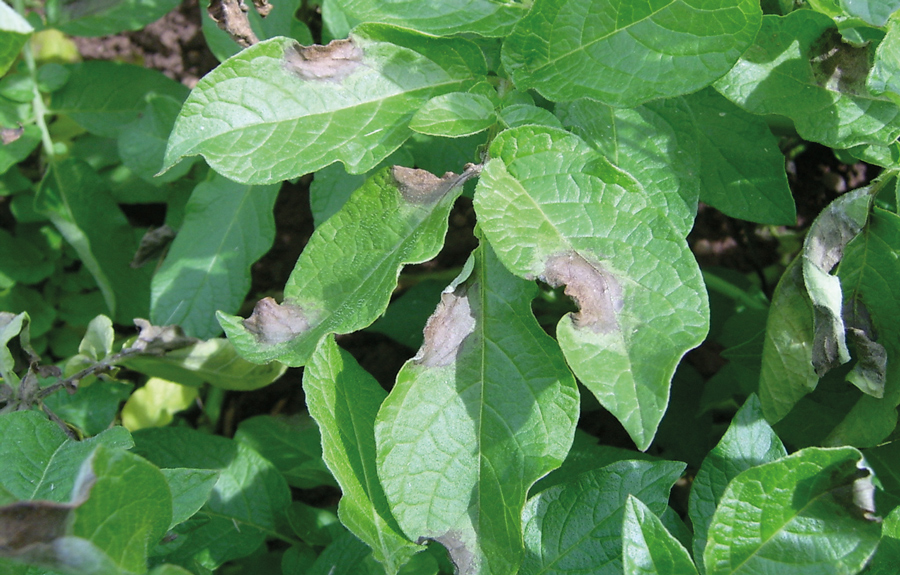 With main crop planting well underway, Dominic Kilburn has a brief catch up with an East Anglian specialist potato adviser on his thoughts for the coming season, in particular on keeping blight out of crops.
Norfolk-based Andy Alexander has spent much of the early season checking over seed stocks which are now going in the ground in key potato planting areas of East Anglia. Without wanting to state the obvious, he says that quality of seed is key and this season, due to the effects of a dry 2018, there are some challenges. "Because of low seed production across Europe in 2018 I am seeing a greater variation in seed size compared with a more normal year as I check stocks pre-planting," he explains. "This will mean growers may need to get out of the habit of using the seed rate that they are used to. The size of the seed determines the volume of planting and they will need to consider whether rates need to be upped (for larger seed) or reduced if they are smaller, if yield and quality are not to suffer.
In addition, and again due to the dry conditions last year, he says that the incidence of dry rot in seed stock is greater this year because of increased mechanical damage at harvest.
"That said, as things stand in the middle of April, we are experiencing a dry planting season this year which is fortunate," adds Andy.
Good housekeeping
While the threat of recently found, aggressive blight strain 37_A2 is the talk of the industry when it comes to protecting crops from blight, growers can help themselves significantly by getting the basics right from the off, suggests Andy. "Good housekeeping with volunteers is essential; volunteers in other crops need to be controlled and those in outcast dumps need to be desiccated," he says.
"Volunteers in game cover crops must be dealt with too – often they get forgotten about and, as well as potentially spreading blight during the season, they can host PCN populations which could affect a potato crop in a later rotation."
Prevention key
Although he admits that he's been repeating the same mantra for years, Andy continues to remind growers that prevention of blight is critical, rather than trying to cure it once it has got established in crops. "And that means robust programmes from the start, and keeping the spray intervals to 7-days," he states.
There's a range of chemistry available to keep blight out at different stages of the crop, but if growers keep to robust programmes and intervals, they shouldn't have too many difficulties in keeping their crops clean.
"But start to stretch spray intervals from 7 to 10 days and there will be problems," he stresses.
And with evidence that the 37_A2 blight strain has a reduced sensitivity to long established blight active fluazinam, Andy says that while achieving control of it is still not yet fully understood, it is even more important to have a preventative approach to blight this season with strict spray intervals.
"I will still use fluazinam for spore control early in the programme and also later to prevent spore infecting the tubers, but only in a mix with multisite products. The strains of blight it does control are still out there and so it still has a role to play but less so where the 37_A2 strain is known to be.
"We don't, as yet, understand enough about 37_A2. Last year was so dry in East Anglia that we didn't see it at all but I saw how aggressive it can be in crops in the West of the country in 2017, breaking down stressed varieties. However, I also witnessed longer spray intervals than I would have been comfortable with over there – some as long as 12–14 days and I don't think that will have helped the situation.
"There's a big difference in the approach to intervals with growers in the West compared with the East," he adds.
New product
Also much talked about this season is new blight product Zorvec Enicade (oxathiapiprolin) which Andy says he has seen in trials over the past 8–9 years. "It's a good product from a new class of chemistry and I've been impressed with its performance against foliar blight in terms of its length of protection, which is beyond that of other products, but I still need to see more evidence of its performance against tuber blight.
"At the moment I haven't determined exactly where it is going to fit in the programme but it will be mid-season, when pressure on the crop is at its highest, and probably in a mix with Curzate, which contains mancozeb.
"Its label recommends a 10-day spray interval, but it's taken me a long time to persuade growers to stick to 7-days and so I will stick to this in order to keep the protection going.
"I used it in trials work across different varieties and different canopies last year – and it showed that spray windows could be stretched, but 2018 was a low pressure year.
"As yet we don't really know if it's a better product on 37_A2 than other products and, depending on the season ahead, we should have a better idea come the autumn," he concludes.