Easy-to-use packaging makes chemical handling safer and more convenient
Adama has announced the launch of a new range of easy-to-use packaging for its portfolio of herbicide, fungicide and insecticide products.  Featuring design elements which are the result of feedback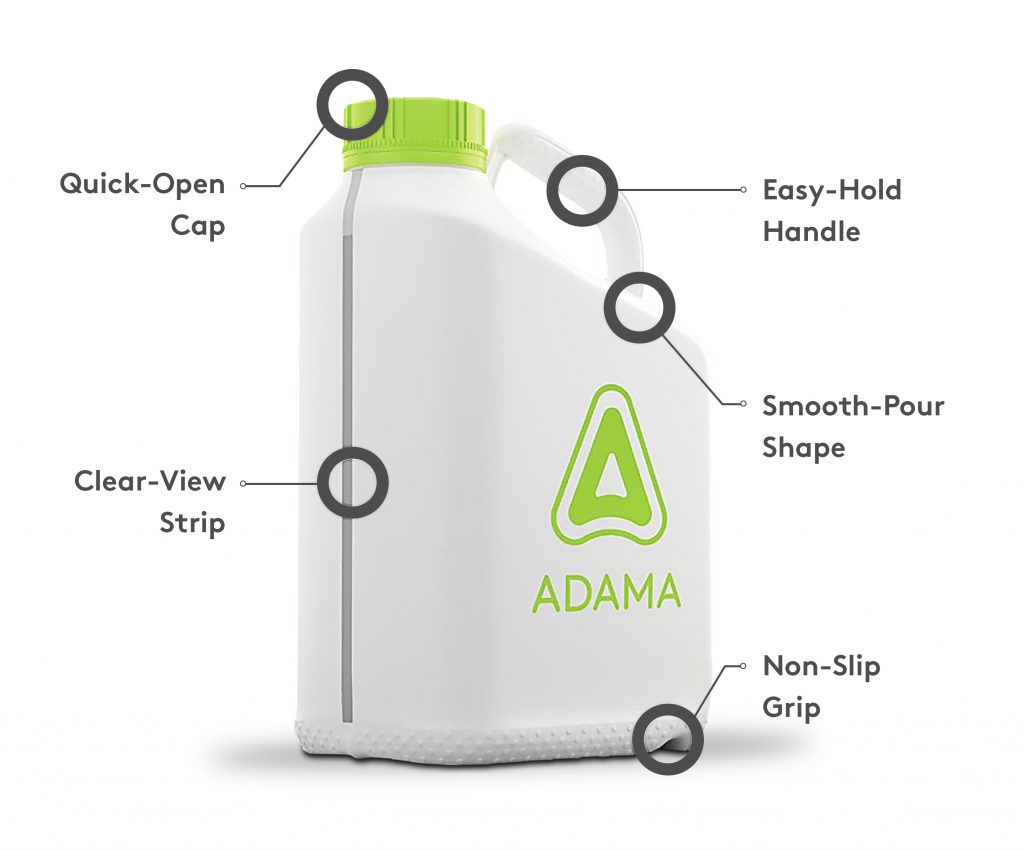 Adama has announced the launch of a new range of easy-to-use packaging for its portfolio of herbicide, fungicide and insecticide products.  Featuring design elements which are the result of feedback from farmers and sprayer operators, the new containers make it easier, quicker and safer to use the company's range of crop protection products.
 The new 5-litre containers feature a standard 63mm diameter pouring neck which is now sealed with a foil-less, easy grip cap which requires less torque and effort to open.  The container itself features a strengthened and textured handle which is easier to grip, especially with gloved hands, for more accurate pouring with fewer spillages.  The base of the new containers is also textured with raised dimples to further enhance safe handling.
A clear 'visi-strip' which runs vertically along the full height of the new cans makes it easy to see how much product remains within the container, while a graduate scale, measured in 1-litre increments, makes dispensing the right amount of product simple to achieve.
Rounded, wide radius internal corners make rinsing the new containers a quicker and hassle-free process which enables sprayer operators to spend less time washing out empty containers and more time treating crops.
"We've listened to feedback from our customers who told us how we could improve our packaging to simplify their roles and worked with their ideas to finalise a new can design which makes opening, handling, pouring and rinsing less of a chore," explains Adama's marketing and technical director, Ali Bosher.
"We've removed the foil cap so that sprayer operators don't need to, and colour-coded the easy to open lids to make it simple for users to recognise our products (Adama's fungicides have a blue lid and label, herbicides a green lid and label, and insecticides a purple lid and label).  We've also made the containers easier to grip by adding textured dimples and a raised Adama logo in key locations.  The new packaging isn't going to be a game-changer in terms of how effectively crops are protected against weeds, disease or insects, but it will simplify processes for sprayer operators and enable them to do their jobs that little bit more conveniently and efficiently."
The first shipment of the new containers is already in circulation, with 5-litre bottles of Falcon, Adama's propaquizafop based herbicide for the control of a range of grass weeds in oilseed rape, sugar beet and potatoes, already in distribution throughout the UK.