United Oilseeds co-operative reports £1.44m PBT
Break crop specialist and independent farmers' co-operative United Oilseeds has announced a pre-tax profit of £1,445,387 million for the trading year 2018 to end June 2019.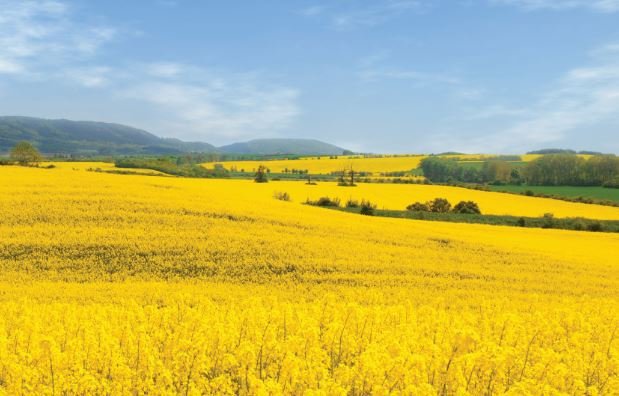 Break crop specialist and independent farmers' co-operative United Oilseeds has announced a pre-tax profit of £1,445,387 million for the trading year 2018 to end June 2019.  The company has also announced a profits redistribution payment to its trading members of £402,000.
Speaking at a press conference at Newbury on 7th November, United Oilseeds Managing Director. Chris Baldwin said:  "This is a hugely impressive result for our farmers'  co-operative, especially as it has been achieved against a background of highly adverse trading conditions, which included lower than average yields at harvest 2018 of 3.29 tonnes per hectare.
"Despite the continuing reduction in the drilled area of rapeseed in the UK, United Oilseeds traded over 500,000 tonnes of oilseed rape and collected and moved 210,000 tonnes of its members' crops at harvest time 2019 and we now have a 25% share of the market. Since 2011, we have traded 500,000 tonnes of rapeseed on average every year," he continued.
"Our 2019 profit reflects a 15% growth in the rapeseed tonnages in our pools marketing programmes, which increased to 222,405 tonnes in 2019 from 193,296 tonnes the previous year. This is the most we have ever traded through our pools and United Oilseeds now has the largest rapeseed tonnages under pool management in the country,"
Mr Baldwin also reported that the United OiIseeds co-operative's net worth grew by 15.5%, from £10,377,496 in 2018 to £11,985,392 in 2019 and that since 2011, the organisation's net worth has grown by 250%.
"We are very aware of the economic uncertainty and on-farm challenges our member growers are currently facing, so it is very advantageous that United Oilseeds has established such a stable and financially sound base from which to operate.  For these reasons, we are particularly pleased to be able to make a share of profits payment to our trading members of £402,000, at a time when it is particularly needed." said Mr Baldwin.
Over the last 14 years, the United Oilseeds co-operative has paid back £4.59 million in profits redistribution payments to its trading membership.
Mr Baldwin reported that small seeds specialist company, Hubbards Seeds, which is owned by United Oilseeds, recorded a turnover of £2,263,983 for the trading year 2018, to end June 2019.
"Hubbards Seeds is an important part of our group's seed offering and we are delighted to have just last week appointed Nick Birkinshaw as its new Commercial Manager," he said.
Looking forward, Mr Baldwin highlighted the damage caused by the cabbage stem flea beetle to crops as a major concern for agricultural sector, predicting that the harvestable area of the OSR crop in 2020 is likely to be as low as 450,000 hectares, down 15.3% from 531,000 hectares drilled this year.
Since 2012, when the UK's rapeseed crop stood at 758,000 hectares, there has been a steady decline in the crop's harvestable area by 36.9%, to 478,265 hectares in 2019.
"Rapeseed continues to be in high demand with a ready market and, in 2020, we estimate UK rapeseed consumption will be 2.0 million tonnes. But with an expected production figure of just 1.485 million tonnes in 2020, we predict the UK will need to import 515,000 tonnes of rapeseed in order to make up the shortfall.  Much of this will likely be imported from non-EU countries where the use of neonicotinoid pesticides is still permitted. This is an absurd situation and it is easy to understand how such an "uneven playing field" is so frustrating and unfair to UK farmers," said Mr Baldwin.
"However, we believe that rapeseed prices are likely to firm next year with the price approaching over £400 per tonne with quality bonuses included, for the first time since 2013," he continued.
Mr Baldwin went on to call for a united sector-wide industry response to the continuing threat posed by Cabbage Stem Flea Beetle, in order to provide growers with the best advice for establishing a commercially viable rapeseed crop.