Ayr County Show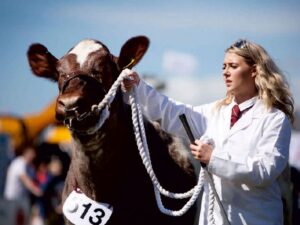 The gates at The Ayr Racecourse will be opening on Saturday 13th May for the spectacle that is the Ayr County Show.
Celebrating the traditional and embracing the future, the Ayr County Show has earned its place as a 'must do' event on the calendars of both the farming community and families looking for a fun-packed, good value day out.
The event includes agricultural exhibitions and competitions, trade stands, crafts, vintage tractor displays, SWI Competitions, Young Farmers competitions, family entertainment, music, the children's marquee and 'TT Ayr·(Trucks & Tractor) Show.
Food & Drink is very much part of the event, highlighting the important link between 'Field to Fork'.
The Ayrshire Agricultural Association are committed to keeping this event going forward with a good range of attractions throughout the show field whilst not losing the true agricultural roots of Avr County Show.
Tickets are available to purchase here.