Down To Earth – North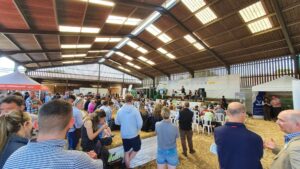 The UK's top regenerative farming event for livestock producers, Down to Earth, is back with two events this year – one in the north and south – following unprecedented demand from the inaugural 2022 event held last summer.
Down to Earth is tailored specifically for livestock farmers interested in understanding the principles behind the regenerative farming approach.
Each of the events this year promises to have something for everyone! Whether you're new to this topic and just curious, or a farmer looking for practical take-home strategies to implement and enhance what you are already doing on your farm, through to those who want to follow a full regenerative journey, then Down to Earth North and South are for you.
Then, on Thursday 6th July, Mark and Jenny Lee, Park House Farm, Torpenhow, Cumbria, will showcase their organic unit. Their farm consists of 175 milking crossbred cows, certified 100% pasture fed by Pasture for Life and mob-grazed on a 30-40 day rotation using 2.5km of
grazing tracks.
Whether you're about to start on your journey or a seasoned professional at this environmentally friendly farming approach – there's something for everyone.
Book your tickets here.