Hutchinsons & Helix Demonstration Day – Northumberland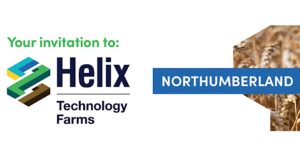 Driving Farm Decisions
Come along for:
Introduction to Helix concept and the farm.
Cereal variety demonstration with Nickerson Seeds.
Soils: interpreting Gold Soil test and TerraMap data.
Omnia & TerraMap data supporting on-farm decisions.
A range of supporting technology stands to view.
Regular tours from 11am to last tour 3pm.
Programme:
Arrive and welcome.
Guided tour with Hutchinsons and Limagrain specialists (2 hours).
Conclude and depart.
Refreshments will be provided throughout the day.