Mzuri Trial Farm Spring Open Day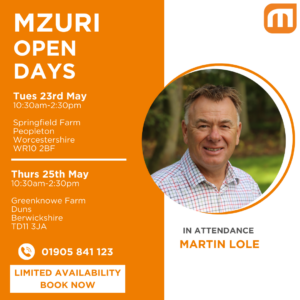 Visitors to the Mzuri trial farm at Springfield Farm, Worcestershire will see live drill demonstrations including a first look at the new Mzuri Pro-Til iGen before its official launch at Cereals later in the year.
This will be a great opportunity to speak with existing end users to share knowledge and experience, as well as meeting Martin Lole who first developed the Mzuri system at Springfield Farm 12 years ago.
Taking place between 10:30am – 2:30pm on the 23rd May and situated at Springfield Farm, Peopleton, Pershore, WR10 2BF.
To reserve your place email info@mzuri.eu.