Farm vet lands top development role
A farm vet has landed a pioneering business development role which also aims to help farmers build a more sustainable future. Sally Dixon, 36, has taken on the role of Farm
A farm vet has landed a pioneering business development role which also aims to help farmers build a more sustainable future.
Sally Dixon, 36, has taken on the role of Farm Animal Practice Development Manager for the independently-owned Willows Veterinary Group.
The vet-run group, which has a network of 25 small animal practices, a referral veterinary hospital, two equine centres and seven farm veterinary sites, has expanded significantly over recent years and the size of the group's farm veterinary team has more than doubled.
From a 10-vet farm practice with two sites in 2004, Willows Veterinary Group's farm division now has a 24-strong veterinary team, with seven sites which stretch across Cheshire and into North Wales.
In the last two years, the group has merged with Charter Veterinary Surgeons based in Cheshire and Staffordshire, and the Cheshire-based Manor Court Veterinary Surgery in Tarvin and Hampton Veterinary Centre in Malpas, which all have their own dedicated farm animal services.
Farm partners at Willows have recruited Sally to help 'streamline' the operation and ensure the group maintains its high level of service to its farming clients.
Sally's role will also focus on the use of the latest data capture technology to ensure both Willows vets and their clients can make the most informed decisions regarding the welfare of their animals and the future sustainability of their businesses.
Her role is thought to be the first of its kind in the UK farm animal veterinary industry and she is based at the group's main farm office in Hartford, Cheshire.
For Sally, who has worked as a farm animal vet for most of her career, the new job will call upon the skills she has built up over more than a decade, which have included specialising in pharmacovigilance (the study of adverse drug reactions) and a spell as a field-based Area Veterinary Manager for animal health giant Zoetis, formerly known as Pfizer.
Sally, 36, of Hulland Village near Ashbourne, who is married to farm vet James and has two children, Thomas, five, and Lucy, three, said: "My main role with Willows is to help the group identify key goals for the farm side of the business and then to empower the whole team to turn these goals into a strategy and turn that strategy into action.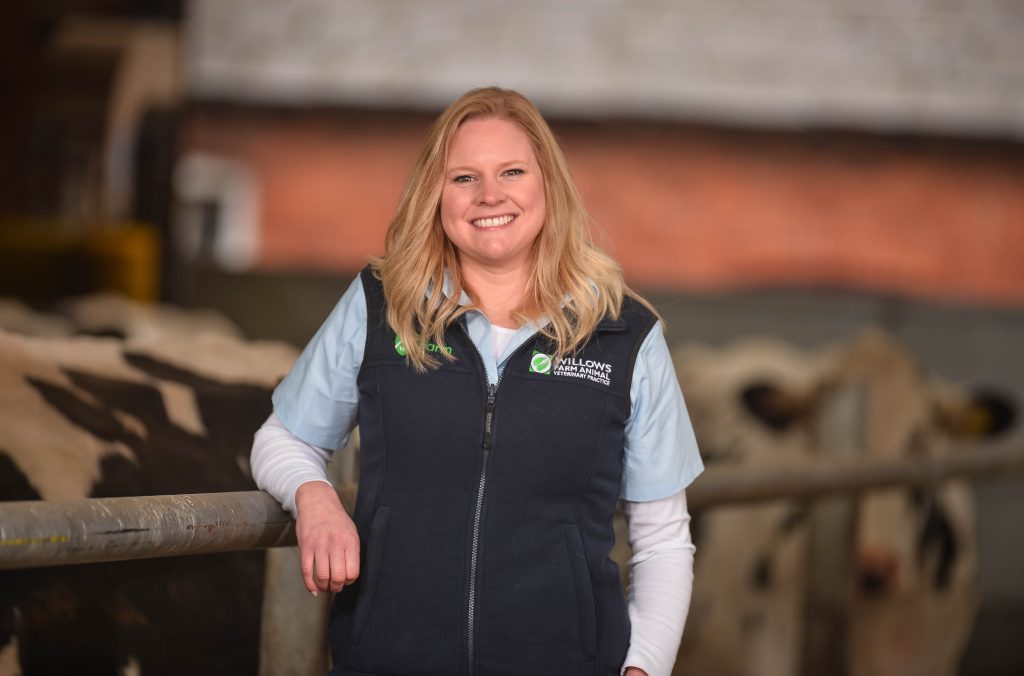 "My role is to focus everyone on the achievable objectives we can set which will make a difference to the business and the farming clients we serve.
"One of the most important things I have already started to look at is internal communication within the business because there has been a lot of change in a short period of time.
"Animal welfare and a client focussed approach is at the fore of everything which Willows does and my role will be to ensure that these core values remain in sharp focus as the group continues to grow and expand.
"The practices which have recently joined the group will all have their own uniqueness and we don't want to lose that, but equally there needs to be an element of consistency to ensure we are all doing the very best by our farming clients."
Sally has also initiated the Willows Data Drive which will involve the farm vet team gathering more information via their clients about a range of topics.
Sally, who trained at the Royal Veterinary College in London and qualified in 2003, said: "For example, we might look to collect young stock weights and growth in dairy heifers and note any diseases they have and then follow these animals through so we can see how much milk they are producing later in life.
"Pneumonia in calves under three months is proven to have a 2.2 per cent reduction in first lactation milk yield. The aim of gathering data is to help us spot other patterns which can influence the decisions we make on how best to manage the animals, making us better informed.
"By understanding this better, we can build on the work we are doing with farmers to make a real difference to the welfare of their animals and the productivity of their business.
"Capturing data like this is so straightforward for both vet and farmer, for example via a smartphone app, and at Willows we want to make sure we are all making the most of this valuable source of information.
"Willows is passionate about being a serious and considerate partner in their farming clients' businesses and my goal is to ensure we can continue to work closely with them to help ensure their business remains sustainable into the future."
Future sustainability will be one of the key topics at the first Willows Dairy Conference for farmers which Sally is organising for March 29 at Nunsmere Hall Hotel in Oakmere near Northwich.
Key speakers will include dairy vet and large herd vet manager Nial O'Boyle who has worked in Cheshire, New Zealand and the US and Amy Rook, a Business Consultant in the animal health industry.
Sally said: "The inaugural Willows Dairy Conference will focus on how to get the most out of the mountain of data which you find on a farm, from simple ways to collect, through to powerful tools for analysis.
"The conference is aimed at anyone keen to capitalise on modern data analysis tools and use the information generated daily on a farm to form the basis of smart decisions for a sustainable future."
Speaking about the appointment, Sally's line manager and Willows Board Partner, Ben Pedley, said: "We are delighted to have Sally in post and it has taken us some time to find and recruit the right person to help us continue to grow and develop the farm side of the group.
"The idea for the role came from the need for us to have a consistent approach across the practices and communication will be one of Sally's key roles. That is within the group itself, with the vets and office staff, but also outwardly to our valued farm clients via various channels such as the website, newsletter and social media.
"We have always been keen to be at the fore of new ideas, studies and the latest thinking in regards to topics such as disease control and eradication. Once we have scrutinised the latest idea and we feel it is something we want to adopt, Sally will be there to help us drive this forward and follow up to ensure our good ideas are turned into action."