Agritechnica GOLD for John Deere electric-mechanical transmission
John Deere has been awarded a gold medal and three silver medals by the DLG jury ahead of Agritechnica 2019.
John Deere has been awarded a gold medal and three silver medals by the DLG jury ahead of Agritechnica 2019. With these latest awards, the Innovations Commission recognises John Deere's ongoing efforts to develop advanced technology solutions and its collaboration with partnering companies. In total the industry entered more than 290 innovations in this year's award competition.
"John Deere invests more than five per cent of its sales in research & development, and the medals demonstrate our innovative strength," said Dennis J Docherty, John Deere's Region 2 Vice President Sales & Marketing. "We are particularly proud of our ongoing collaboration with industry partners and service providers. Partnering and system openness are the main success factors for the further digitalisation of the farm industry. Our company is developing innovative solutions that allow farmers and contractors to make more profit from their field operations."
"We have strengthened our worldwide network of research associations, and all John Deere's product platforms as well as the European Technology Innovation Centre (ETIC) at Kaiserslautern are significantly involved," said Martin Kremmer, Director of ETIC Kaiserslautern. "We also benefit from our collaboration with universities and research institutes when it comes to advanced technologies such as artificial intelligence, automation systems and electrification."
Gold Medal:
John Deere eAutoPowr transmission and intelligent e8WD system
Tractors, mobile agricultural technology, transportation technology
Partner: Joskin
The all-new John Deere eAutoPowr is the first electromechanical split-path IVT. The infinitely variable transmission provides maximum reliability and durability compared to other gearboxes. The integrated generator delivers up to 100kW power for external applications and implement electrification. John Deere and Joskin have also worked together to demonstrate a highly productive traction assist system solution for liquid manure application. The modified Joskin slurry tanker, with two drive axles, features a significant increase in traction and less wheelslip.
Silver Medals:
Predictive Feedrate Control
Combine harvester technology
Predictive Feedrate Control is the first feedrate control system which combines two proactive input sources from GPS satellites and cab mounted sensors. This self-learning technology uses forward-looking perception information as well as crop data. The system allows the combine to react to changing harvest conditions and particularly to special situations such as a lodged crop. Predictive Feedrate Control offers an unprecedented level of rate control productivity combined with significantly improved operator comfort in all harvesting conditions.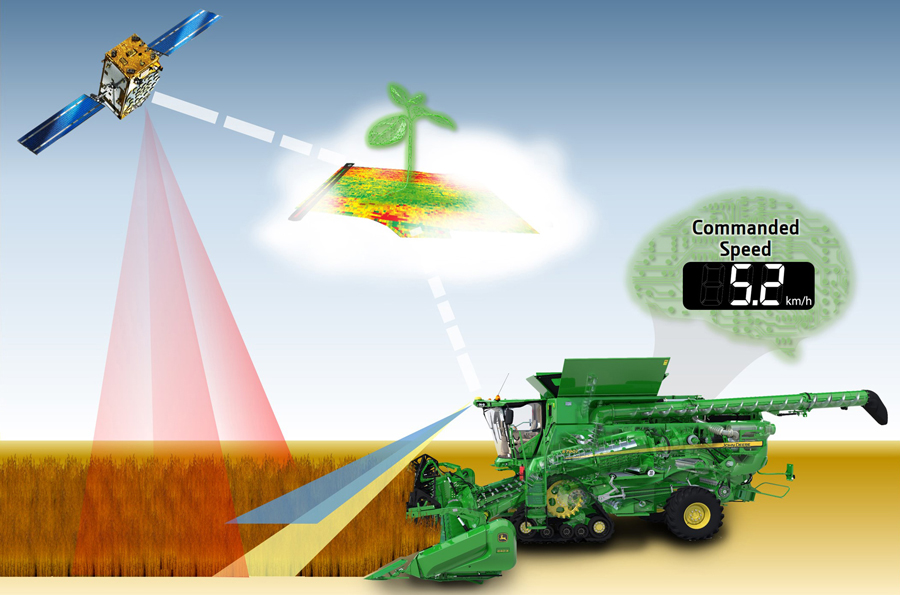 Intelligent large square baler ride control
Tractors, mobile agricultural technology, transportation technology
In large square balers, periodic fluctuations in power and torque can cause significant tractor pitch vibrations, which puts considerable strain on the operator. Using intelligent control of the transmission and a self-learning control algorithm, this active pitch dampening system almost entirely eliminates such annoying movements. Furthermore, the system helps to protect the operator's health and increase his performance capability.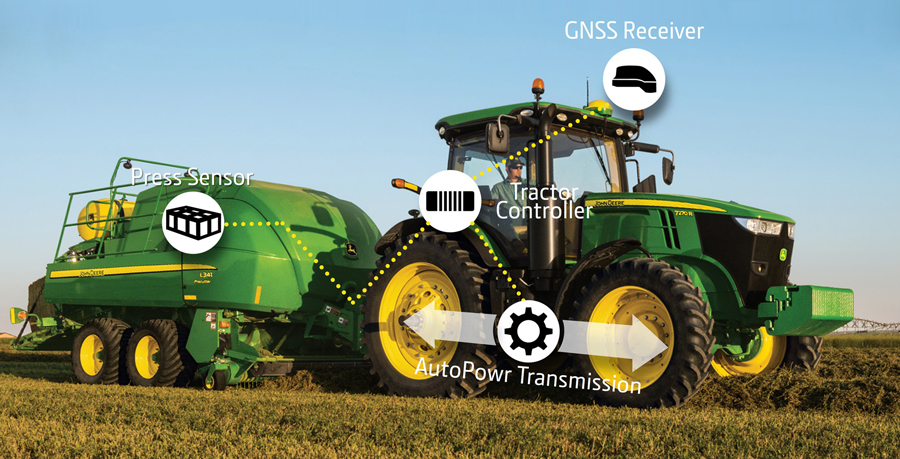 Large combine efficiency package
Combine harvester technology
John Deere has optimised all the critical functional areas of the combine to significantly enhance overall system efficiency. A lean drive concept with innovative drive belts makes this possible, while at the same time reducing power requirements. Further efficiency gains have been achieved in the engine, transmission, separation & ventilation systems and the straw chopper. Overall, these efficiency improvements have led to a significant increase in harvesting capacity using the same engine power and with losses of less than one per cent. This performance is also delivered in the majority of harvesting conditions without the need to continually fine-tune the combine settings.


See Farmers Guide December issue for a full report.