Ben Burgess celebrates new depot in Cambridgeshire
One of the UK's two original John Deere main dealers has celebrated the opening of a prestigious new depot in Cambridgeshire.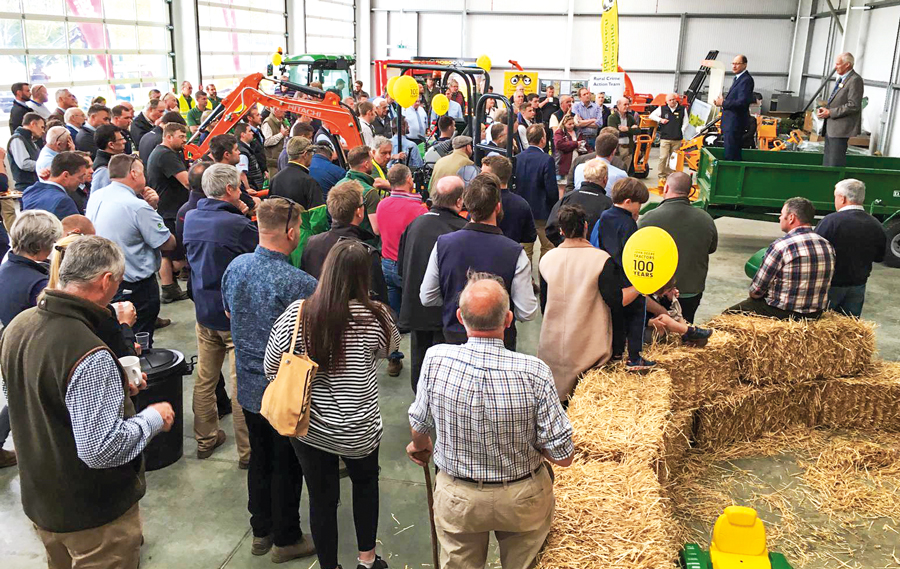 One of the UK's two original John Deere main dealers has celebrated the opening of a prestigious new depot in Cambridgeshire.
Ben Burgess started trading in 1931, took on the John Deere franchise in 1964, and now the family-owned business operates from six depots in Norfolk, Suffolk and Cambridgeshire looking after agricultural, construction, grounds care and retail customers.
The new Ellington depot was completed in early 2019 and replaces previous rented premises at the same location which the business had outgrown. Adjacent to the A14, the 3ha site offers easy access for all sizes of vehicle and open road frontage makes it ideal to display all the dealer's product lines.
Quality brands
Along with John Deere, key brands represented include Manitou, Kuhn, Weidemann, Avant, Stihl and Timberwolf, and a large showroom and retail store displays a wide range of complementary products such as work clothing, tools, mowers and grounds care equipment plus toys and scale models.
The open day, in mid-May, attracted more than 300 visitors keen to inspect the new premises and find out about the product ranges displayed. Depot manager Tim Vacher was delighted with the attendance; "The open day was a huge success. The new building is light and spacious and the location is convenient for customers who have seen it growing over the past few months to have their machines serviced, and browse the new machinery and the latest technology. The Ben Burgess team has worked incredibly hard to make this open day a success and they succeeded. It was great to see so many existing and new customers and I would like to thank our team for its commitment to our customers."
Most agricultural customers served by the new depot are in Cambridgeshire, Bedfordshire and Northamptonshire as well as some further afield, but the dealer also looks after many grounds care customers including major golf clubs and amenity contractors across the Midlands.
Ben Burgess-owned Greencrop Irrigation products and services are also available through the new depot.
Investment was needed
"Our business had grown to the point where the previous premises limited what we could achieve," explained Tim. "The workshop could accommodate one large combine and a tractor and, although we were very busy and needed a larger team, there wasn't the space to allow them to work efficiently. Our new workshop includes six bays, one dedicated to grounds care products and the other five can each accommodate the biggest combines or tractors. An additional building is available for storing larger machines or for product handovers and training, with five large bays, each with its own roller door for access.
"Since moving in to the new premises we have increased the team size from 11 to 22 of which 12 are in the workshops, and we plan to take on at least another 2 staff later this year."
Two of the new workshop staff recruited are apprentices and Tim said that this fits well with the dealer's ambitions for the future including ensuring those with enthusiasm and interest in agricultural machines can have the opportunity to develop their skills with structured training and guidance.
The official opening was by North West Cambridgeshire and former government minister Shailesh Vara MP, who had supported the planning application and he complimented its architecture, position and appeal. "Ben Burgess is going from strength to strength and engaging the next generation in this business," he said.
Next generation
Ben Burgess managing director Ben Turner, is keen for the company to not only expand, but also support anyone with an interest in the industry. He said, "It is often the case that business events like this are restricted to those in the commercial world and not open to the general public, children and families. Here at Ben Burgess we wanted to ensure that as many as possible could join us and enjoy the great atmosphere and food. By doing this; we hope to inspire the next generation to learn more about the agricultural, grounds care and construction industries."
Confidence for the future
Attending the opening was farmer and contractor Jon Eayrs. "The new depot is just what was needed to maintain premium service backing up premium products," he said. "As well as extra workshop space, additional room for more second-hand equipment will make it easier for us to look at and consider options when anything is needed. We started dealing with the team in 2000, so have known quite a few of the staff for many years, and they are all friendly and easy to deal with. We worried that as the business grew personal service would be lost, but that hasn't happened. The larger parts stores and a bigger service team ensure even better service for our farm and our grass cutting and agricultural contracting operations, so we look forward to working with John Deere products and Ben Burgess in the future."
Tim added: "Customer comments at the event were extremely positive and feedback confirmed the view that Ben Burgess is here to stay with its long-term investment in the industry. This building and our expanding team reassures users that we have the capability to look after their needs for the future."