Kuhn i-Bio+ baler-wrapper will feature at Royal Welsh
KUHN Farm Machinery has announced that the latest version of its i-BIO+ baler-wrapper combination machine will be on display at this year's Royal Welsh Show in Builth Wells from 23rd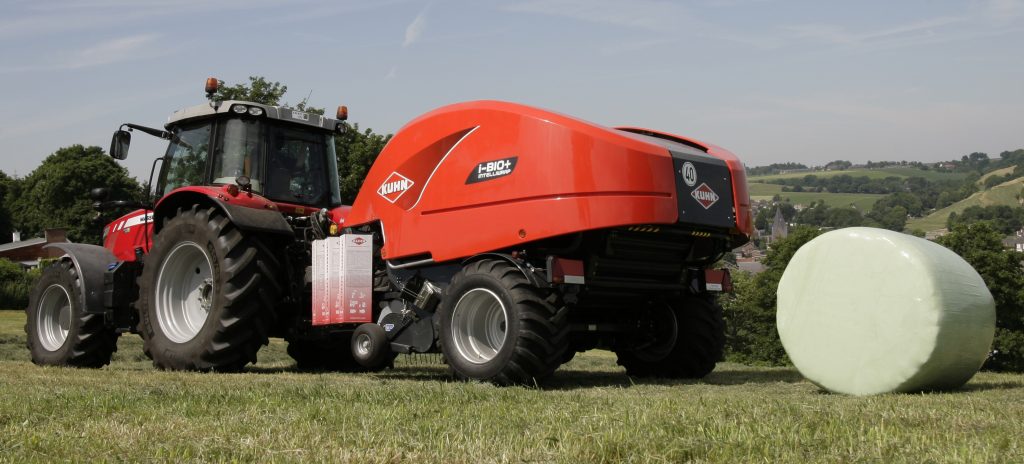 KUHN Farm Machinery has announced that the latest version of its i-BIO+ baler-wrapper combination machine will be on display at this year's Royal Welsh Show in Builth Wells from 23rd to 26th July.
The latest version of the i-BIO+ baler-wrapper features KUHN's patented film binding system to produce 100% airtight, perfectly formed, round bales.
Unlike other film binding systems which use wide mantle rolls to perform the bale binding function, the KUHN system uses two standard 750mm stretch film rolls to fully encapsulate the bale. As well as improving silage preservation and making the recycling of waste plastic easier, this system also reduces plastic usage by up to 30% by pre-stretching the binding film by 70% prior to application. Film loading is also quicker and easier as each roll weighs just 27kg, compared to the wider rolls which can weigh between 40-90kg.
The i-BIO+'s high-speed wrapping ring allows film to be applied at up to 50 revolutions per minute and produces well-shaped, tightly sealed bales for improved crop preservation.
The i-BIO+ also uses KUHN's IntelliWrap system which gives complete control of the wrapping process by allowing the operator to select even and odd numbers of film to be applied. 
For more information about the KUHN range visit www.kuhn.co.uk