Kuhn to unveil latest stubble cultivator at Tillage-Live
New mounted tine stubble cultivator to be unveiled at Tillage-Live  Kuhn Farm Machinery will be debuting a new version of its mounted Cultimer tine stubble cultivator at the AEA's Tillage-Live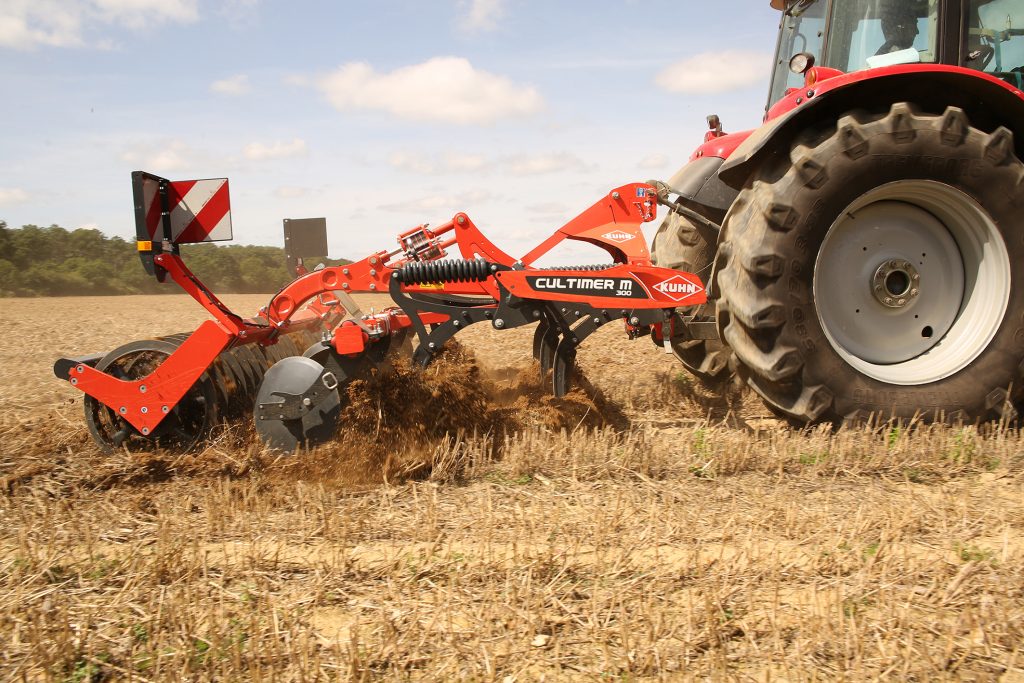 New mounted tine stubble cultivator to be unveiled at Tillage-Live 
Kuhn Farm Machinery will be debuting a new version of its mounted Cultimer tine stubble cultivator at the AEA's Tillage-Live event at Dunbar, East Lothian on Wednesday 26th September.
The new machine, the Cultimer M 300 is positioned as a lighter weight alternative to the range's other mounted machine, the Cultimer L 300: instead of the L 300's three rows of 10 tines, the Cultimer M 300 is equipped with two rows of seven tines. This makes the overall machine shorter and lighter and therefore suitable for use with tractors in the 75 to 135hp bracket.
The Cultimer M 300 has a 3m working width and is capable of working soils to depths ranging from 50 to 350mm.  Its two rows of tines are followed by a single row of eight levelling discs mounted on maintenance free hubs, and a roller bar.  The working depth of the tines is easily and accurately adjusted using spacers, while the levelling discs are adjusted with a winding handle.  An optional hydraulic roller depth adjustment system can also be specified.
The new cultivator can be equipped with extra wide 480mm wing tines for stubble cultivation after harvesting, deep point tines with an 80mm deflector to restructure the soil before drilling, or 50mm points with straight deflectors for working soils at depth. Hard-wearing carbide tips are also available as an option.
Two safety systems are available: a traction (T) bolt safety system which activates at 3,000kg of pressure, or a non-stop mechanical (NSM) double spring system which activates at 600kg of pressure at the tine point and which enables the tine to shift sideways by 150mm before shifting vertically by up to 300mm.  The Cultimer's levelling discs can also be specified with or without safety.
A choice of three 600mm diameter rollers is available: the light T-Ring roller which produces 130kg/m of pressure and is ideal for breaking clods and silty soils, the multipurpose T-Liner roller which produces 140kg/m of pressure and is designed for use in stony and wet conditions, or the rubber coated Packliner roller which produces 165kg/m of pressure and ensures maximum surface area tamping in light soils.
The new Cultimer M 300 has an underbeam clearance of 85cm and is attached via a Cat. 2 hitch as standard, with a Cat. 3 frame available as an option.
Retail prices for the Cultimer M 300 start at £9,833 for the entry-level T safety bolt and T-Ring version and rise to £16,051 for the NSM and Packliner equipped version.