Landini REX 4 Model Year 2019 at SIMA in Paris
Landini's impressive exhibition line-up will represent its range of specialised tractors, featuring REX 4 Model Year 2019, fresh from its success at EIMA 2018.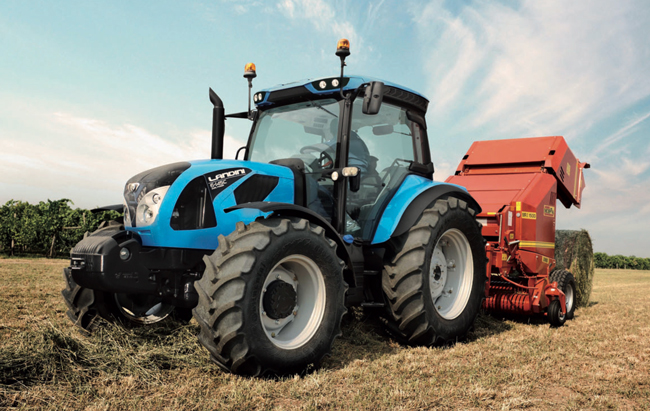 From 24th to 28th February, Paris will be hosting SIMA, the biennial event dedicated to agriculture and farm machinery.
Landini's impressive exhibition line-up will represent its range of specialised tractors, featuring REX 4 Model Year 2019, fresh from its success at EIMA 2018. Sporting an original metallic blue livery and matt black wheel rims, Landini REX 4 has won the favour of both the public and experts, among other things when it was selected as a finalist for the Tractor of the Year Award 2019 in category "Best of Specialized". It won the Technical Innovation Award at EIMA thanks to its Advanced Driving System, a project that enhances comfort so that operators can focus on the job ahead rather than on driving the vehicle. This innovative hybrid driver assist system uses cutting-edge mechatronic solutions to assist operators in manoeuvring both in field and road operations, that makes steering stiffer as a function of speed and causes the wheels to return to the central position automatically after a turn. The ADS also guarantees full connection to satellite guidance, memorisation and control of wheel positions during slope and in-furrow operation, and offsets the effects of external stresses on steering accuracy. In addition, the operator can manage the functions of the machinery under many conditions, as the configuration of the one monitor in the cabin automatically changes according to the functions used.
REX 4 is available in 6 models in version F and in the newly added version S, featuring a narrower cab to facilitate operation between rows of wide-crowned trees, whereas cab versions GT and V come in 5 different models. Power outputs range from 70 up to 112 hp, with 2.9-litre Deutz AG engines equipped with EGR & DOC exhaust gas treatment system with no DPF and regeneration. The Engine Memo Switch is standard equipment and adds convenience in operations that require a specific engine rpm to be stored and recalled.
The version with suspended axle is equipped with front disc brakes and electro- hydraulic diff-lock for guaranteed efficiency. The axle offers up to 55° steering angle to facilitate manoeuvring in all terrain conditions.
Transmissions feature a mechanical or hydraulic reverse shuttle and 4 gears with 3 ranges, specification can also include: Hi-Lo and High-Medium-Low, as well as the creeper. The broad range of power take-off options include a mechanical and a hydraulic version, depending on the reverse shuttle, and two or four speeds (540, 540 Eco, 1000 and 1000 Eco).
The hydraulic system is available with double pump for 55+30-litre/min. capacity (60+30 litre/min. in the GT version) or triple pump for 25+55+30 litre/min capacity. Optional equipment includes control valves (up to 7), flow selector and diverter valve, and the controls can be mechanical and/or electro-hydraulic. Operation efficiency can be optimised thanks to a multi-function all-in-one joystick controlling hydraulic characteristics, electronic management of daily hours of operation, field and service registers by the Landini Fleet Management protocol, as well as by the availability of real-time remote diagnosis.
The cabins may also be specified with the high tech CAT 4 protection: a new pressurisation system that insulates the operator's area and protects it from harmful substances during pesticide application. The system operates on the inputs from an on-board sensor that monitors internal pressure and the efficiency of the activated charcoal filters.
Agile and compact – Landini Series 2
Versatility and compact design make Landini Series 2 ideal for use in orchards/vineyards, greenhouse horticulture, open-field and municipal operations. The range includes three models with 44, 48 and 51hp power outputs delivered by Yanmar TNV Naturally Aspirated and Turbo-Charged 4-cylinder engines.
The basic transmission (12FW+12RV) can be supplemented with creeper at request to achieve 16FW+16RV total ratios. In line with the new construction standards, the instrumentation is simple and intuitive.
The contemporary 4-post cab with the ergonomic controls provides good vision for easy handling. Operator comfort is enhanced by an optional powerful air conditioning system.
Series 2 is available in the standard version and in a new "GE" (platform-only) configuration whose rear final drives and platform have been designed specifically to lower platform height by 95mm, for guaranteed performance in spaces with limited height and width, such as vineyards using trellis system or in greenhouses. The 48 l/min hydraulic pump is ideal to operate the rear lift with 1,200 kg capacity, 2 or 3 rear control valves and an optional 400 kg front lift available at request.
Landini Series 4, ultimate versatility
The unique features of Landini Series 4 in terms of power, compact design and versatility, guarantee excellent productivity in many different applications, both in open-field and row-crop operations.
The series features six models: 4-095, 4-100 and 4-110 feature 4-cylinder turbo- charged 3.6-litre Common Rail Deutz Tier 4 Interim engines with 90, 99 and 107 hp, as well as three more models (4-070 / 4-080 / 4-090) with 69, 75 and 88 hp, equipped with 2.9-litre Deutz Tier 4 final engines.
Landini Series 4 uses an Argo Tractors transmission with epicyclic final drives, front axle with optional integral braking system and electro-hydraulic 4wd engagement. Wheelbase is 2,230 mm on the three high-power models, 2,100 mm on the three entry-level models. The hydraulic system uses a double pump with 28+49 l/min capacity in the entry-level models and offers up to 32+57 l/min capacity for the three high-power models. Up to 5 remote control valves can be configured, including 3 rear valves and 2 mid mounted valves controlled by a joystick, to operate the front lift or a front loader. 2-speed PTO can be synchronised with forward speed.
The versatile base transmission (Speed Four) comes with 4 synchronised gears with three mechanical speed ranges to offer 12FW+12RV. Also available is the Power Four transmission with HI-LO and electro-hydraulic reverse shuttle, offering a total of 24+24 gears and 40 km/h at 1900 engine rpm, for greater fuel economy. When a creeper is installed, gears increase to 32FW+32RV and minimum speed is 300 m/h.
The compact size guarantees a minimum width of 1.75 m, making Series 4 also ideal for specialised operations.
Landini Series 4D, 2 and 4 wheel drive, available in platform and cab versions. All 4-070D, 4-080D and 4-090D models feature Deutz Tier 4 Final engines with a 2.9-litre displacement and maximum power outputs of 70, 75 and 88 HP. The mechanical transmission has been developed and manufactured in Italy by Argo Tractors and features 4 gears and 3 speed ranges (with optional 300 m/h creeper). 4wd engagement is electro-hydraulically operated in the 4RV versions. The single- or 2-speed PTO is synchronised and the open-centre hydraulic system provides 45 l/min flow rate for the control valves and a rear lift with up to 3400 kg capacity with supplemental cylinder. 2 or 3 control valves are available depending on the version.
Series 5 – versatility and high-performance
Landini Series 5 is the new generation of versatile open-field Medium Utility tractors suitable for any type of operations. Available models 100, 110 and 120 are equipped with 4-cylinder 16-valve Deutz AG Turbo Intercooler 3.6-litre engines, with power outputs up to 113 hp and compliant with Stage IIIB / Tier 4 Interim emission levels simply thanks to the EGR + DOC systems. Driving comfort is enhanced by the Engine Memo Switch system, which stores and recalls the ideal engine rpm for the implement in use.
When it comes to the transmission, versatility is the keyword. 8 configurations are available starting with Speed Four with 12 FW + 12 RV with mechanical reverse shuttle, through to T-Tronic with 48 FW + 16 RV with electro-hydraulic reverse shuttle, HML and Creeper. The PTO comes in 2 and 4-speed versions.
A hydraulic pump with 32+62 l/min capacity serves steering, 3 rear control valves, 2 mid control valves and a rear lift with 4,500kg capacity with mechanical or (optionally) electronic control. The front lift offers 2,200kg capacity.
The 4-post cabin features ergonomic controls for the utmost comfort, low-profile roof for easy access to stables or tool sheds, see-through hatch providing excellent view of the front loader "L80" controlled via a joystick (option available from the factory). Satellite guidance is available at request to achieve the utmost productivity and profitability.
Series 6C – productivity and design
Landini Series 6C is focused on design, comfort and productivity. It is available in three models equipped with FPT-NEF 4.5-litre engines featuring the innovative SCR + DOC (Selective Catalytic Reduction) system for compliance with the Tier4 Final standard. The Dual Power system increases power output up to 121, 133 and 140 HP, respectively, to use the PTO and in transport. In terms of aesthetics, Series 6C adopts the recent design concept of the Landini family, with compact design, and a four-post cabin offering unique, car-style comfort levels. In terms of technology, the highlights are the T-Tronic 36+12 or 48+16 transmission (3 Powershift gears and creeper), the electronically controlled rear lift with 6000 kg capacity, the (optional) 4-speed PTO and the hydraulic system featuring 66 litre/min. capacity in the standard version and 110 l/min. capacity in the closed- centre (LS) version.
The series also offers two front axle options – rigid fixed beam stiff or with independent-arm suspension – either may be complemented with the mechanical cab suspension system giving the operator greater comfort throughout the working day.
The 6C is an all-round tractor ideal for seeding, hay harvesting and baling operations, transport and handling with front loader.